Results shape perceptions, which is understandable in a tournament because ultimately only the results matter. However, it does mean judgements are skewed. Had it not been for conceding a very poor goal six minutes from the whistle, England's performance against Uruguay would have been regarded as acceptable, if far from perfect.
But given all are agreed this is a team in development, some weaknesses are to be expected. The task for Roy Hodgson is to work on those, both in the immediate context of Tuesday's tie with Costa Rica, and the longer-term outlook of the 2016 European Championship.
Defence
Defence was always likely to be England's Achilles' heel and so it has proved.
The second Uruguay goal was awful from an England perspective (see panel). The first was brilliantly created and executed but one of the four players around Edinson Cavani should have stopped the cross – probably Glen Johnson – and Phil Jagielka was drawn towards the ball, allowing Luis Suarez to drift behind him to score.
Just as Italy could have scored more goals so could Uruguay, with Cavani and Suarez both missing good opportunities. But good teams will create chances; what was worrying about England's defence was the lack of composure and the constant sense that it would come undone under pressure. Too often players hacked clear, and it is all the more obvious at this World Cup when teams such as Chile and Italy are passing the ball out of defence in tight triangles. Until the likes of John Stones develop enough to justify a starting place, that will remain an issue. It is to be hoped he trains on better than Phil Jones and Chris Smalling, whose development appears to have stalled.
Uruguay 2 England 1 player ratings
Uruguay 2 England 1 player ratings
1/22 Fernando Muslera

Saved well from Rooney in the second half, but rarely tested. 6/10

Getty Images

2/22 Martin Caceras

Kept Welbeck quiet for long periods and was solid in the tackle. 6

Getty Images

3/22 Jose Gimenez

Youngster showed no nerves in his first World Cup start. 7

Getty Images

4/22 Diego Godin

Extremely fortunate to stay on the field following a first half foul on Sturridge, having already been booked. 5

Getty Images

5/22 Alvaro Pereira

Battled well at left-back and showed great heart to continue having been knocked out by Sterling's knee. 7

Getty Images

6/22 Alvaro Gonzalez

Offered plenty of support to his Caceres in keeping Sterling and Welbeck under wraps. 6

Getty Images

7/22 Egidio Rios

Veteran showed his experience in battling well in midfield. 6

8/22 Nicolas Lodeiro

Fitted in well in midfield, and started the move that brought Uruguay their first goal. 7

Getty Images

9/22 Cristian Rodriguez

Went close to scoring a first half screamer, but faded as the game went on. 6

Getty Images

10/22 Edinson Cavani

Has been poor in front of goal this World Cup, but set up the opener with a delightful cross for his strike-partner. 7

Getty Images

11/22 Luis Suarez

Clearly not fully fit, but that didn't hamper his finishing. The Liverpool striker has two chances in front of goal and buried them both with deadly efficiency. 8

Getty Images

12/22 Joe Hart

Blameless for Suarez's goal and generally impressive against Uruguay's early pressure. Reacted sharply to two difficult Suarez corners to his near post. 6

Getty Images

13/22 Glen Johnson

England needed quality from their experienced right-back and Johnson, who struggled at first, delivered it with the cross for Rooney's goal. 5

Getty Images

14/22 Gary Cahill

Not as responsible as Jagielka for the goal and generally kept his head above water until the second goal, when he was caught off-guard by Suarez. 5

Getty Images

15/22 Phil Jagielka

Has struggled to contain Luis Suarez in the past and last night was no different, as he lost the Liverpool striker who peeled away from him to score. 4

Getty Images

16/22 Leighton Baines

Worked hard up and down the left-flank but, as in the Italy game, his final-third quality was not quite as good as it needs to be. 5

Getty Images

17/22 Steven Gerrard

England needed leadership and control in the middle but Gerrard was poor again, failing to keep the ball and losing the ball for both of Suarez's goals. 4

Getty Images

18/22 Jordan Henderson

Ran hard without the ball but failed to make much of a contribution going forward as England lacked ideas in the middle of the pitch. 5

Getty Images

19/22 Raheem Sterling

Not as impressive as he was against Italy, Sterling did try to run at opponents, with not much success. The first to be taken off. 5

Getty Images

20/22 Danny Welbeck

Tried to stretch Uruguay, running in behind, but England could not get him the ball quickly enough and he failed to use well it when they did. 5

Getty Images

21/22 Wayne Rooney

Restored to his preferred No 10 role, Rooney looked eager and although nothing came off at first, he persevered for the late tap-in. 6

Getty Images

22/22 Daniel Sturridge

Far less impressive than against Italy, less incisive with his movement, less responsible with his hold-up play and less dangerous in the penalty area. 4

Getty Images
Behind them there is an argument that Joe Hart could have stood big for longer as Suarez bore down on him, but the impish genius would probably then have shot low into the net. Hart has generally been very good at this tournament.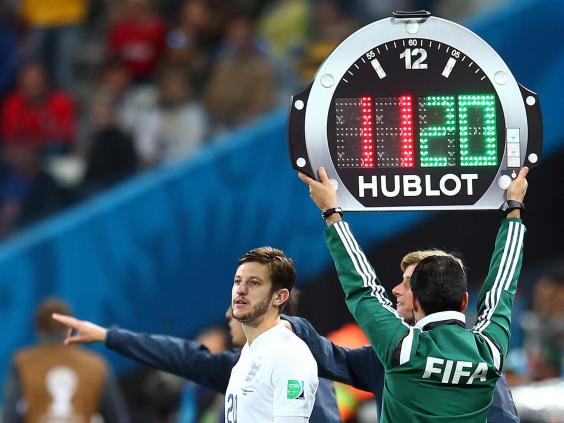 Midfield
England did create chances, but not many clear-cut ones. Much of the time the tempo of their passing was too slow and predictable, allowing Uruguay to get into defensive shape.
England have rarely had so much possession against a major team but for much of the time they did not appear to know what to do with it. There needs to be more imagination around the box and the ingenuity and clever feet of Adam Lallana could have been introduced earlier.
In deep midfield Steven Gerrard has looked off the pace and there is every chance Tuesday will be his 114th and last match for England. He will, though, leave a hole that there are no obvious candidates to fill. Maybe England's midfield future is to eschew a holding role completely and copy Croatia, who have Luka Modric and Ivan Ratikic in the centre. Jack Wilshere and Alex Oxlade-Chamberlain perhaps?
Attack
Wayne Rooney scored, and looked dangerous, but Raheem Sterling, having been shifted to the wing, did not. Danny Welbeck is industrious but rarely threatening and while Daniel Sturridge looked sharp around the box he was not deadly enough in it. The last three named are aged 19, 23, 24; they will improve.
Hopefully that development will include better movement off the ball as England were often static in attack. At one throw-in Leighton Baines had to gesticulate to team-mates to move around and still had to send the ball backwards.
This England do struggle to penetrate a deep defence, whether it be Italian, Uruguayan or Honduran. Ross Barkley's dynamism and Lallana's trickery will help in the long term, but the main issue is poor movement.
What if? The question defenders didn't ask
Coaches tell their players always to think "what if", as in, "what if the ball skims off Steven Gerrard's head and plays Luis Suarez onside? Am I in position for that?" On Thursday in Sao Paulo England's central defenders did not ask themselves that question and paid the price.
Gerrard, once he knew he had misjudged the flight of Fernando Muslera's long kick, should probably have let the ball go over his head, but with Edinson Cavani jumping in front of him he probably only realised it at the last moment. Had Phil Jagielka dropped off deeper once he saw Gerrard trying to head the ball, and Gary Cahill dropped off and tracked Suarez, it would not have mattered. Either Jagielka would have intercepted the ball or Cahill would have prevented Suarez controlling it.
English defenders deal with this scenario dozens of times in every league game. Maybe, after 84 minutes' play, they got lazy; maybe their minds just switched off. Either way, they were clinically punished.