"Winning isn't everything, it's the only thing." The words of the legendary NFL coach Vince Lombardi evoke the sense that in America, the land of endless possibilities, those who fall short are mere losers, even in sport. Yet as the dust settles on the United States' dramatic exit from the World Cup, it seems that one man has singled-handedly shredded that old assumption.
Tim Howard's stunning performance against Belgium in Tuesday evening's epic last-16 contest in Salvador was the talk of the US yesterday after his remarkable, bloody-minded refusal to let the ball past him in the 90 minutes of normal time captured the hearts of sports fans Stateside.
But its true significance may take years to gauge because the performance, and the reaction, may prove the tipping point which confirm the US as a real football force, establishing the sport as a real rival to American football and baseball.
Howard may have eventually succumbed in extra-time but as the New York Times put it yesterday morning: "All around the country, from coast to coast and through the nation's belly, sports fans of every kind were inspired by the performance of a soccer goalkeeper. In a loss."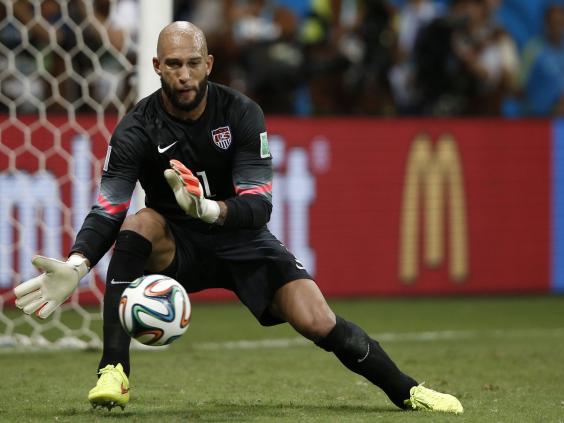 Howard's performance was the best statistically by a goalkeeper at any World Cup since 1966. The Everton man made a record 16 saves according to Fifa, starting as early as the 40th second when he denied Divock Origi after the Belgian striker broke through. That was one of four stops in the first half but it was after the break, when Belgium turned up the heat, that Howard came into his own and the American captain transformed into a footballing Captain America. He made eight saves in a gripping second period to keep Belgium at bay – leaping high to paw away two Origi efforts, while using his feet and legs to block a series of low strikes.
It was only with substitute Romelu Lukaku running at a tired American defence in extra-time that his resistance was broken; Lukaku, his team-mate at Everton last season, set up Kevin de Bruyne before lifting one over Howard himself. If Lukaku's first action at the end of the match was to embrace Howard, it is a feeling shared by millions of Americans.
The goalkeeper's heroics went viral on the internet in the hours that followed, with the hashtag "ThingsTimHowardCouldSave" inspiring pictures of the 35 year-old rescuing Bambi and the swimmer from Jaws. US vice-president Joe Biden tweeted: "Proud that our guys, just like our country, never gave up. Tim Howard - most valuable player in the World Cup."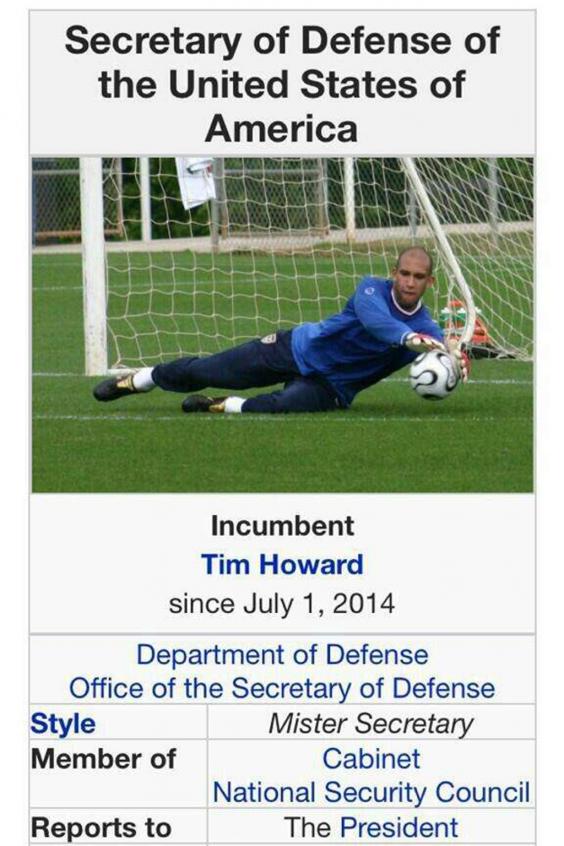 Howard's message from his graduation yearbook at New Brunswick Township High School also found its way on to Twitter. It read: "It will take a nation of millions to hold me back", which just about summed up his performance as he kept bouncing back off the ropes for more at the Arena Fonte Nova.
Even in extra-time he made another four saves. That he performed in this way at the venue which has produced the most goals – and in a World Cup where goalkeepers have already conceded more times than in the entire 2006 and 2010 competitions – only enhanced the picture of defiance. There have been decent displays by other members of the goalkeeping union – Mexico's Guillermo Ochoa, Costa Rica's Keylor Navas and Brazil's Julio Cesar – but this was something else.
"An absolutely amazing match," was his coach Jürgen Klinsmann's verdict but Howard said that his man-of-the-match award was no consolation at all: "It hurts, losing always hurts. But I think when we played so well it stings that much more."
Belgium 2 United States 1 player ratings
Belgium 2 United States 1 player ratings
1/23 Thibaut Courtois

Denied Dempsey with just minutes remaining to complete Belgium's victory. Good throughout but had little to do in normal time. 7

GETTY IMAGES

2/23 Toby Alderweireld

Good energy throughout the game but lack a bit of attacking thrust. 6

GETTY IMAGES

3/23

GETTY IMAGES

4/23

GETTY IMAGES

5/23 Vincent Kompany

Superb again, a real leader. Could have even won it in normal time but mistimed his effort. 7

GETTY IMAGES

6/23 Axel Witsel

Good in the tackle and vital for Belgium in the next round. 7

GETTY IMAGES

7/23 Dries Mertens

Poor game and taken off on the hour mark. Missed one very good chance. 4

GETTY IMAGES

8/23 Marouane Fellaini

Surprised to play the entire game after being pretty ineffective throughout. 5

GETTY IMAGES

9/23 Kevin De Bruyne

Top, top game crowned with his well taken goal and fine through-ball for Belgium's second. 9

GETTY IMAGES

10/23

A true threat throughout normal time and should have scored at least once. 8

GETTY IMAGES

11/23 Eden Hazard

Not at his best but glimpses of brilliance. Belgium will need more from him against Argentina. 6

GETTY IMAGES

12/23 Best from the bench: Romelu Lukaku

Emerged from the bench in the 90th-minute and looked back to his usual, terrorising self. 8

GETTY IMAGES

13/23 USA: Tim Howard

Did not deserve to be on the losing side at all. Save after save, 15 in total and a top performance. 9

GETTY IMAGES

14/23 Fabian Johnson

Injured on 30 minutes after promising start. 5

GETTY IMAGES

15/23 Geoff Cameron

Did well at the back to keep out Belgium in normal time but just lacked concentration for De Bruyne's goal. 7

GETTY IMAGES

16/23 DaMarcus Beasley

Tireless effort and put in a really good shift. 7

GETTY IMAGES

17/23 Omar Gonzalez

Like defensive partner, played well throughout. 7

GETTY IMAGES

18/23 Matt Besler

Did fine but lacked that real quality at times. 6

GETTY IMAGES

19/23 Graham Zusi

Tired early on and found it hard to cope with Belgium's midfield. 5

GETTY IMAGES

20/23 Clint Dempsey

Had one chance right at the death to level the game but missed. Wasn't has influential as USA would have hoped. 6

GETTY IMAGES

21/23 Alejandro Bedoya

Didn't have the real weapons to hurt Belgium but still played well. 6

GETTY IMAGES

22/23 Jermaine Jones

Had one or two half chances and looked good once again. 7

GETTY IMAGES

23/23 Michael Bradley

Lovely through-ball for USA's goal and had a fine game all round. 7

GETTY IMAGES
Of course, it was not only Howard who shone as the US team went down fighting in a stadium filled with chants of "USA, USA". The manner in which they nearly overturned a two-goal deficit in extra-time was surely the greatest show of spirit – and fitness – that this World Cup will witness, with Clint Dempsey so close to equalising only to be thwarted by keeper Thibaut Courtois after a brilliant free-kick routine put him through on goal.
Twenty years ago, the Americans' achievement in surviving the group phase on home soil at US '94 was viewed as a major achievement, but not any longer. This was their second successive appearance in the last 16 and Howard added: "We dreamed and we fell short of our dream but I think to [come] out of the 'group of death' playing well, coming up against the Belgian team, it's a tough assignment.
"We nearly had it, so hats off to the way we played. We're proud of ourselves. This is a young group and we'll be back."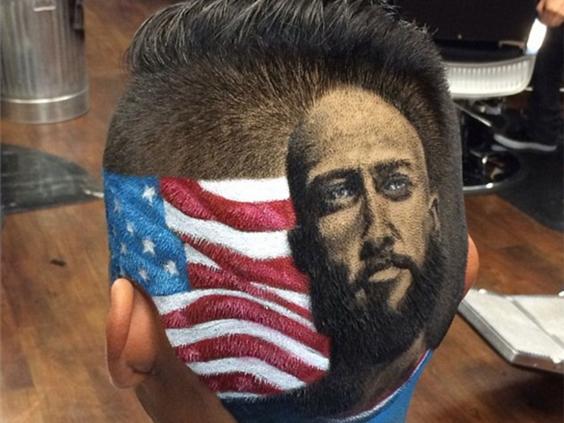 The future was there to see in the impressive performances of their squad's younger players. Right-back DeAndre Yedlin earned praise from Howard for the way he handed the threat of Eden Hazard after coming on for the injured Fabian Johnson. Meanwhile, Bayern Munich forward Julian Green scored with his first World Cup touch.
Klinsmann said in defeat that he will remain in charge for the next World Cup cycle, but whether Howard sticks around to share in the future with them remains to be seen. "Those decisions will be made when I am less emotional and things settle down and I have a few important conversations with important people," he said.
With or without their hero in Salvador, the future certainly looks bright. When the US returned from the 1950 World Cup in Brazil, captain Walter Bahr waited 25 years for an interview request about the famous win over England. For this World Cup, by contrast, only Brazilians bought more tickets for matches than Americans and a record TV audience of 24.7m watched the draw with Portugal – a figure likely to be surpassed by Tuesday's game.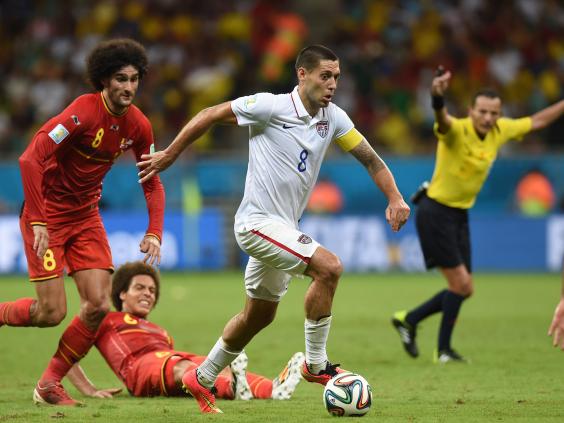 Dempsey had his own statistic to offer. "There is a stat that the average age watching it is 38 so it showed that people who played the game are growing with the game and passing it down to their kids," he said. "It is taking effect and will help us move in the right direction. You are seeing  big TV deals being done and a continual push for MLS in terms of creating more  franchises."
Before turning away from the pack of reporters in the bowels of the Arena Fonte Nova on Tuesday, Dempsey summoned a distant memory from his Texan boyhood to underline the growth of soccer in the States. The former Fulham forward took us back to his first experience of the World Cup via an old video of the Mexico '86 tournament.
"I was able to watch it on VHS and see that passion that people had for the game that I loved," Dempsey said. "Before that I felt like an outsider in terms of growing up in Texas where people didn't feel that passionate about the sport."
That video was called Hero. Today, Americans have their own World Cup hero, his name is Tim Howard and  he won something much bigger than a football match the other night.