For many England fans, Uruguayan football boils down to just two words: Luis Suarez. Yet when Roy Hodgson's national team take on the South Americans in their second World Cup fixture in Sao Paulo on 19 June, they are likely to become acquainted with two more: garra charrúa.
These are, after all, the words that sum up the challenge England face against Uruguay; the words that explain how a nation with a population of just 3.4 million – barely bigger than that of Wales – and sandwiched between the South American superpowers of Brazil and Argentina has two World Cups to its name.
The Charrua were an Indian tribe living in grasslands east of the River Plate in what is modern-day Uruguay; the word garra, translated literally as claw, means bravery, and together the phrase captures the famed against-the-odds spirit of the Celeste team according to Paolo Montero, the former Juventus and Uruguay central defender. "I interpret it as players with a lot of character, with courage, who embrace adversity," says Montero, speaking to The Independent on Sunday from Montevideo. "The Uruguayan Indians were very brave when they went into war and I think it is in the blood."
Montero, a notorious hard man in his days collecting a record 16 red cards in Serie A, is a fitting interpreter. After all, the Charrua Indians took no prisoners either, as evidenced when they killed and ate the 16th century Spanish explorer Juan Diaz de Solis. Montero's victims got off rather more lightly — "Fortunately I never injured anyone" — but his record is a reminder of the darker side of the Uruguayan mentality. It is win at all costs, and a global TV audience saw it in South Africa four years ago with Luis Suarez's infamous goal-saving handball against Ghana — and gleeful celebration when Asamoah Gyan's ensuing penalty was missed. It was even more apparent the last time a team from these shores met Uruguay on the World Cup stage.
That was at the Mexico 86 finals where Scotland faced Uruguay in their final group game and the South Americans — needing a draw to progress at the Scots' expense — survived the first-minute sending-off of Jose Batista with 89 minutes of what Alex Ferguson, then Scotland manager, described as "limitless cynicism".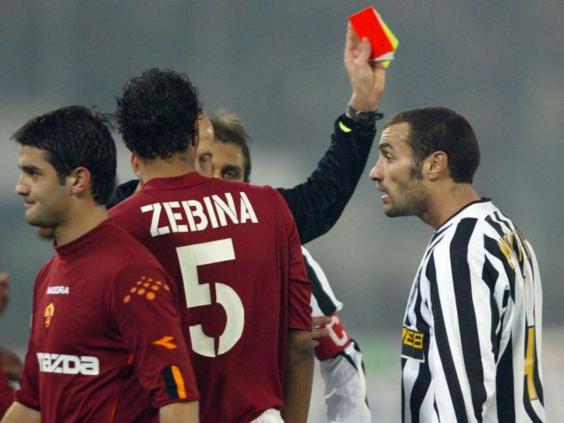 Graeme Sharp, a striker in that Scotland side, remembers a team that "would do anything to win. At corners they were spitting on the back of your head, pulling your hair, putting their fingers in places where you shouldn't."
Uruguayan writer Andreas Campomar, in his book Golazo! A History of Latin American Football, recognises that World Cup campaign as the nadir for his national side; at the same time, he uses in the book a quote from the country's leading author, Eduardo Galeano, to describe just what the team's fortunes mean. "Every time the nation plays, no matter against whom, the country holds its breath."
The republic of Uruguay was just 100 years old when its footballers won the inaugural World Cup in Montevideo in 1930, and this triumph, together with the gold medals won at the 1924 and 1928 Olympic Games, were defining moments of affirmation for a young country. To quote Ondino Viera, coach of Uruguay when they held England to a 0-0 draw at the 1966 World Cup: "Other countries have their history. Uruguay has its football."
Their most historic moment arrived in 1950, on the previous occasion Brazil staged the World Cup, and a team famed for punching above their weight dealt the biggest knockout blow of all with the ultimate expression of garra charrúa.
Beforehand the Uruguayan honorary consul had brought the team copies of the local 'O Mundo' newspaper displaying a photo of the Brazil team with the words "These are the world champions". The response of captain Obdulio Varela was to take a copy and, in front of his team-mates, urinate on it, warning his players: "We have to put our balls on the line to win this game."
As England may discover, the Uruguayan footballer will do that and more. That Suarez handball was simply a "means to an end" according to Diego Aguirre, coach of the Uruguay side that beat England at the 2009 U20 World Cup. He seeks to explain the different mindset: "Players have to look for any way of getting the advantage and winning. There are situations like tricking a referee which are not looked on so badly. If England won the World Cup with a goal after a player dived in the area, they would feel bad. In Uruguay we'll let anything go."
Montero sees it just the same, acknowledging that diving by players like Suarez is an accepted part of the game. "In South America this is criticised less. It is different in Anglo-Saxon countries. I see it as part of the game. It is like a game of poker. With one look you can deceive your opponent and make him think you've got a good hand when you've got nothing. Sport is a game. The most important thing is fair play in life — being a good friend, a good father."
And he is keen to stress that this Uruguay side have class as well as character. "There are great players like Suarez, [Edison] Cavani, [Diego] Forlan, [Diego] Godin," predicting they are "stronger now" than four years ago when they were semi-finalists. "They have been South American champions [in 2011] and the majority are at the best age for a footballer — 27 or so."
And if Suarez does not win his race to be fit? "It's the same as if [Wayne] Rooney got injured for England or Brazil without Neymar," says Montero. True, but history tells us that adversity brings the best out of South America's darkest horses.
Reuse content