Like any other Brazilian, he had been making careful preparations for the national football occasion that this week brings. Pedro Miguel Gomes rigged up a big old TV set on a plastic chair and his three-year-old daughter, Jocely, has been living in her grubby Brazil shirt for at least a month. "Take your hand out of your mouth and say hello," he gently chides her. The universal language of parents the world over.
But Pedro Miguel Gomes will not be watching the World Cup quarter-final between Brazil and Colombia tomorrow night and he is really not like you or me. He is standing in the spot where his kitchen used to be – watching his children shovel up the charred remains of the family home, which was razed to the ground by fire last week. The red-raw skin of his nose, burnt in the struggle to ensure everyone was safe on Wednesday night last week, is not the most eye-catching part of this plainly destitute individual. It is the plastic bag he carries. The bladder problem he is being treated for has left him requiring a catheter, which is so makeshift that he must carry it and its contents around in his hand.
It was no big surprise that the house – built 20 years ago, high in the community they call Morro da Cruz ("Hill of the Cross") – was burnt to the ground. Gomes' home was one of the hundreds there that the state-owned electricity company was unwilling to supply. So, like many others here, he had created a supply in the only way possible. He paid the boys universally known here as "gatos" (cats) to shin up the poles, fiddle around with the 240v supply line and twist wires around it to carry the current down into the tiny shacks and buildings which populate the hill. It is not a sophisticated business. They boys fiddle the wires and shout down "Does it work?" until a light sparks into life.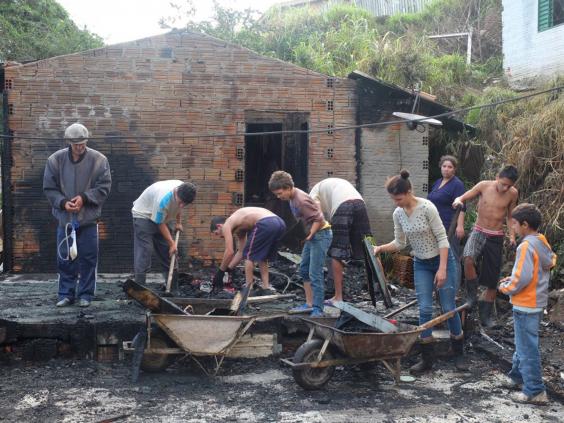 The "gatos" earn between 20 and 30 reals (£5.20 and £8) a time, which is cheap considering some of them will be electrocuted and killed. This dismal industry claimed 35 lives in 2012, with 16 people seriously injured. On average 40 lives were lost each year between 2001 and 2012. One of the latest victims was two-year-old Luana Garcia Donato, killed when buried by rubble after fire engulfed her home on the slopes of Morra.
It is a beautiful day on the hill when we arrive to meet Gomes – the sky is a brilliant blue and the view across the city of Porto Alegre, in Brazil's south-east, is a scene to take the breath away. The four sullen men on the side of the mud track are drug dealers. "But they know why you're here and it's safe," I am told by the woman who has driven me in, Lucia Scalco, a social anthropologist at the Universidade Federal do Rio Grande do Sul, who has worked for 10 years here to understand and improve the lives of the families.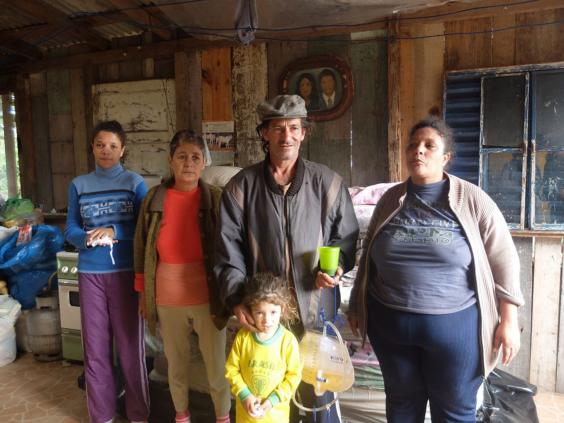 The stench of smoke is in the air, thickening in the short walk along the exposed, makeshift, intermittent sewer pipe down to Gomes' former place. We duck down as we walk under a lattice of overhead wires, some insulated, some not. This is a family of eight children and in the charred debris which Gomes' teenage boys barrow away are signs of a father's attempts to see his children educated for a better life than he could ever have. A Dorling Kindersley book on dinosaurs has survived the fire and so, too, some of those plastic pedal cars which our own children – and perhaps yours – always loved. The joys of Lego Duplo evidently made it to the hill and a few pieces are intact, too. As is the kennel of the family dog. Casa de Chaulin, "Chaulin's House" it says on the side. The creature was under the bed when it died in the blaze.
And also in the embers is a pair of pliers: one of six pairs the Gomes family kept – one per room – to cut the electrical wires when they started to spark. One of the older daughters was considered the expert in this desperate form of fire safety. "She works at the hospital down in the city part-time and she went on an electricity course," says her father. "She always knows which wire to cut." Not so last Wednesday evening at 6pm, when sparks from an overhead wire set fire to the roof which came piling in. His wife raised the alarm.
"I had a negative premonition that night," Gomes says, his words – translated for me by Helena Fietz – reflecting the deeply superstitious strand to Brazilian life. "I knew this would happen. I have been telling the electricity company for two years that this would happen. I asked them to come and look, create a supply. I don't want to create a supply this way any more." A quarter of the house still stands. The surviving part is a solid structure, with mortar slung between the bricks which Gomes' wife accumulated piecemeal, using her bolsa familia social security payment of 265 reals (£68 a month.)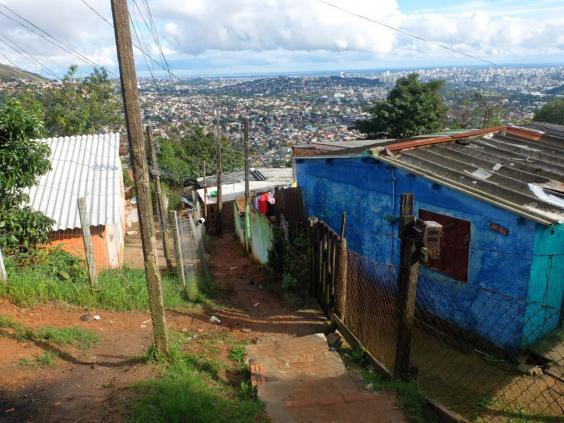 They are not the only ones with a fight on their hands. The incident has left scores of neighbouring houses without electricity, too, and to understand the consequences for them means stepping into their homes and observing a level of existence way below what we might consider to be a poverty line. A few houses higher up the open sewer pipe, a teenage boy cradles his baby sister – whom they christened Alice Victoria. A virus at birth left her brain damaged. She is a poor waif, staring aimlessly into space, a pipe attached to her to provide the additional oxygen they say she will always need.
An electrical pump had been the source of this, though since the fire they are drawing on supplies from an emergency canister, instead. The arrangement of furniture which fills Alice's tiny room suggests that three, maybe four, children sleep here.
Scalco is pursuing the state-owned electricity company  (State Electric Power Company, or CEEE) to get houses wired up professionally but holds out little hope. The official line from CEEE is that these dwellings are within what we might call "green belt" and are not legally recognised as homes. "It is even harder to get answers from them when no one has died," Scalco says. "You make the calls, are asked for paperwork and hear no more."
Otavio Marshall has been an expert on the problem of the "gatos" since working for an American electricity generation firm, Generac, in Brazil in the 1990s. Things might be different if private companies were allowed to help Brazil, he says. But in Porto Alegre CEEE will not release its grip.
"The main managers are politicians who act in their own political interest," Marshall says. "There is no political will for an extension of the electricity supply in places like Morro da Cruz. The managers do what the richer constituents want. They don't see the people in that kind of place as citizens at all. So it just doesn't happen."
World Cup 2014: 10 stars who have shone during the World Cup in Brazil
World Cup 2014: 10 stars who have shone during the World Cup in Brazil
1/10 James Rodriguez

The player who has most seized this World Cup, and thereby most seized attention. James might have been a marvellous talent on the radar of top clubs before this tournament, and the £38m Monaco paid last summer reflected his potential, but the 22-year-old has simply moved onto a different level. It is quite a quirk that Manchester United could have got him for £5m back in 2010, because he could command anything up to £80m now. Real Madrid are believed to be leading the chase. Rodriguez has set quite a pace.

Getty Images

2/10 Guillermo Ochoa

Was his display against Brazil the outstanding performance of the first round? Given the stakes, the pressure, and the extent of the siege, there is certainly an argument for it. Either way, there seems little argument that Ochoa has been the outstanding goalkeeper of the tournament so far. The sheer number of high-profile high-quality saves that the 28-year-old produced are in stark contrast to what has been a humble club career, having spent three years at lowly Ajaccio. Last season, they got relegated to Ligue 2. This summer, he should have earned a move to a better level.

Getty Images

3/10 Alexis Sanchez

All of a sudden, it seems ludicrous that Barcelona would consider selling Alexis, let alone use him as a mere makeweight on a deal to bring someone else in. The Chilean may have been largely under-whelming in his three years at Camp Nou, but this World Cup re-asserted why they initially signed him, as well as what kind of player he can be when used correctly. The two goals against Spain and Brazil were a display of his elite finishing, the pace that brought them the kind of dynamic play top clubs crave.

4/10 Karim Benzema

On top of the world right now, but also someone that finds himself in a similar situation to Alexis: Real Madrid would gladly bring in what they perceive to be a better forward, but he has used this tournament to illustrate the folly of that. Benzema has been one of the best players of the first four games, combining clutch finishing with classy build-up play that has been central to France's joyful resurgence as a world force again. He has also enjoyed his own resurgence. Benzema is finally looking like the devastating talent that Real first signed for so much money. He could command a similar figure again.

Getty Images

5/10 Vincent Enyeama

It was the 31-year-old goalkeeper's error that ultimately cost Nigeria the last-16 game against France, but that was all the more conspicuous because he had been so solid before then. In fact, it was arguably Enyeama's supreme late save against Bosnia and Herzegovina that brought Nigeria so far, given the ultimately slim margin with which they won that game 1-0 and then qualified. It was not the only such stop, and even the 2-0 defeat to France saw plenty of defiance. Lille can expect some interest.

Getty images

6/10 Islam Slimani

Algeria were one of the most progressive teams of the opening four games, and Slimani their brightest player. Just turned 26, his career has shown a steady upward curve, moving from CR Belouizdad to Sporting Lisbon in 2013, and now making his ability all the more widely known. The two goals in four World Cup games also mark a superior scoring ratio to recent seasons, and the type of productivity he should be offering as he approaches his prime. Slimani looks ready for one of Europe's primary leagues.

Getty images

7/10 Daryl Janmaat

Beyond the three established stars of Wesley Sneijder, Robin van Persie and Arjen Robben, it is Daryl Janmaat who almost personifies the youthful nature of this Netherlands team. He is 24, still based at home with Feyenoord, and is one of their many defenders that has impressed in this tournament with his maturity. Janmaat has arguably made himself the pick of them, especially for the solid consistency he has demonstrated throughout, as well as the way he allows a more counter-attacking Dutch side to turn defence into attack. It won't be too long until he personifies this team in another way: moving abroad.

Getty images

8/10 Miralem Pjanic

The Roma midfielder's easy talent was widely known before this tournament, but perhaps the key is that he's applied it in difficult circumstances. Out of a Bosnia and Herzegovina side that almost totally under-performed and went out in such disappointing fashion, Pjanic was one of a handful players – as well as Muhamed Besic – that played above his level. A host of top European clubs were interested in the 24-year-old before this World Cup. They will now have to pay even more than anticipated.

Getty images

9/10 Bryan Ruiz

To think that this was a player Fulham have been all too happy to discard, banishing him on loan to PSV Eindhoven last season. Of course, much of that was the fault of Ruiz himself . He looked conspicuously lazy in a team full of languid attackers. That appears to have revitalised him. Ruiz has been the driving force of Costa Rica's historic tournament. It was not just about the goals he scored that brought such momentous results against Italy and Greece. It is also about the touches and technique, as he's now really doing what a player of his talent should. Fulham can surely earn a much higher price now.

Getty Images

10/10 Ricardo Rodriguez

With the way he surges forward from full-back, the 21-year-old has epitomised the adventurous and brave nature of this impressive Swiss team, and he has proven so productive in their energetic attacks. The exceptional Xherdan Shaqiri has particularly benefited from the space that Rodriguez spots and creates. That follows on from the nine assists he cleverly created for Wolsfburg last season. Having already spent two years in the Bundesliga after a move from Zurich, he has undoubtedly displayed that he is prepared for a higher level.

Getty images
It is a system which, down at ground level, Gomes and his people are powerless to control. The 53-year-old's shabby demeanour – slippers, no socks, a cap and grubby suit – belie a mind that burns with politics. He was once a rag-and-bone man, by any other name, riding the streets on a horse and cart to gather the effluent of life until the bladder trouble put paid to heavy work. Now he does odd jobs, labouring here and there.
Before I go, he wants me to see his mother's house and it is here, 100 yards down the pipe, that the fruits of an extraordinary community spirit are visible. Around the sides of the spick-and-span, concrete-floored kitchen are the gifts that have flooded in from the community for the family, since the fire: food and clothes to replace all that they have lost.
"Most of all I want to thank the community," the man says. "They have helped us so much, providing for us. No one can take away the spirit we have. That is always with us."
Jocely, his daughter, will not be pressed to talk about footballers, no matter how hard I try. She has found a pile of donated blankets to jump on and launches herself at them, torpedo style, squealing with delight. Her parents watch, smile and contemplate how to rebuild the wreckage of a home which would to you and me have been beneath occupation in the first place.
Reuse content