Having twice put the ball in the net against Uruguay, James Rodriguez put it rather succinctly. "We are making history," the Colombian forward smiled.
They are also making everyone else sit up and take notice. Unlike so many other teams who manage such feats, Colombia's achievement in reaching the World Cup quarter-finals for the first time in their history does not just feel like a national celebration for them. They are a team that so many have taken to, with the high quality of their football winning more admirers than many other established forces. In that, they are possibly 2014's equivalent to Cameroon 1990, Bulgaria 1994 or Croatia 1998.
James also represents their own Hristo Stoichkov or Davor Suker, not least for the way he has stormed to the top of the scoring charts.
The Uruguay manager, Oscar Tabarez, was willing to go even further in his praise, after his team had been beaten 2-0 in the Maracana. He compared James to Diego Maradona and Leo Messi.
Colombia 2 Uruguay 0 player ratings
Colombia 2 Uruguay 0 player ratings
1/21 David Ospina

Stopped everything that Uruguay could muster and looked good throughout. 7

Getty Images

2/21 Camilo Zuniga

Solid at the back and even managed a few efforts on goal. 7

Getty Images

3/21 Pablo Armero

Got up and down from left-back for the full 90 minutes, top game. 8

Getty Images

4/21 Mario Yepes

The 38-year-old looked good again and never trouble. 7

Getty Images

5/21 Cristian Zapata

Like his defensive partner, was fantastic at the back all game. 7

Getty Images

6/21 Carlos Sanchez

Not too much impact going forward but good throughout. 6

Getty Images

7/21 Abel Aguilar

Not quite the same impact of other games this summer but still good work. 6

Getty Images

8/21 Juan Cuadrado

Top, top player once again, a real highlight for Colombia. 8

Getty Images

9/21 James Rodriguez

Superb performance. Goal-of-the-tournament contender and another well taken goal. Real superstar in the making. 9

Getty Images

10/21 Teofilo Gutierrez

Played well throughout until being taken off on 70 minutes. 7

Getty Images

11/21 Jackson Martinez

Not the impact he would have hoped for but still did well. 6

Getty Images

12/21 Fernando Muslera

Made a couple of good stops but couldn't do anything for either goal. 6

Getty Images

13/21 Maxi Pereira

Looked frustrated at times but did ok on the whole. 6

Getty Images

14/21 Diego Godin

Had a chance to get a goal from a corner but headed wide. Not bad at the back but not great. 6

Getty Images

15/21 Alvaro Pereira

Poor evenings work from him and taken off on 53 minutes. 4

Getty Images

16/21 Egidio Rios

Doged and determined as ever but lacked real quality going forward. 6

Getty Images

17/21 Alvaro Gonzalez

Did ok but not the impact Uruguay wanted, taken off after an hour. 6

Getty Images

18/21 Jose Gimenez

Yellow carded for a cynically foul and a tough game throughout. 4

Getty Images

19/21 Cristian Rodriguez

Was busy throughout but failed to test Colombia properly. 6

Getty Images

20/21 Edinson Cavani

Missed the couple of half-chances that came his way. 5

Getty Images

21/21 Diego Forlan

Hardly had a touch of note in his 53 minute of action, poor. 4

Getty Images
"It is a matter of great pride that someone like him has said that," the 22-year-old responded. "I only want to help us so that the team can win. I want to help and do my share so that Colombia will make it far."
To make it even further – and really go from a team that is earning such admiration to one that makes a truly historic statement – they will now have to pass perhaps the toughest challenge in this World Cup. They will have to defeat the hosts on Friday, with all that entails. "We know Brazil isn't easy," Colombia's manager, Jose Pekerman, said with some understatement.
The difficulty was seen on Saturday in Belo Horizonte. Despite Chile initially being talked about as the exact type of team that could expose Brazil's flaws, they were physically overrun, with an element of emotion and momentum then eventually taking Luiz Felipe Scolari's players through the penalty shoot-out.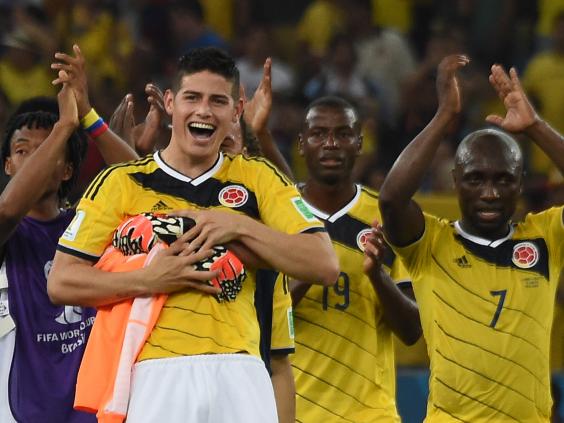 It made for one tense and exhausting afternoon. Brazil, however, could have a similar experience in store in the quarter-final. That could well work to Colombia's advantage, given that they had a very smooth second-round game in comparison. Without Luis Suarez, Uruguay ultimately lacked the attacking force to put Pekerman's side on edge, beyond one important save David Ospina was required to make late on.
If Friday's match goes into extra time, Colombia will surely have fresher legs. It is not the only element in their favour.
Most obviously, there is the form of their main player. While Neymar has had a good tournament and showed supreme character to put away the crucial penalty against Chile, he did fade badly after half-time when most required, and has not yet reached the levels of James.
Brazil's superiority is supposed to be down to the higher quality of their squad, but they will not have the fixture's outstanding player. Behind that, the hosts do not yet have the cohesion of Colombia either. It was Juan Cuadrado, who headed the ball back towards James for his second goal, and revealed the understanding in the team with that moment. "I didn't see James but I was right by the line so thought someone would come in behind. I headed it back and, of course, James was there."
The team's most experienced player, the 101-times-capped Mario Yepes, was also keen to point to the squad's unity. "The team are playing superbly. When we needed to find something extra, we did, and we were able to withstand any attacks. The lads showed we have a great squad."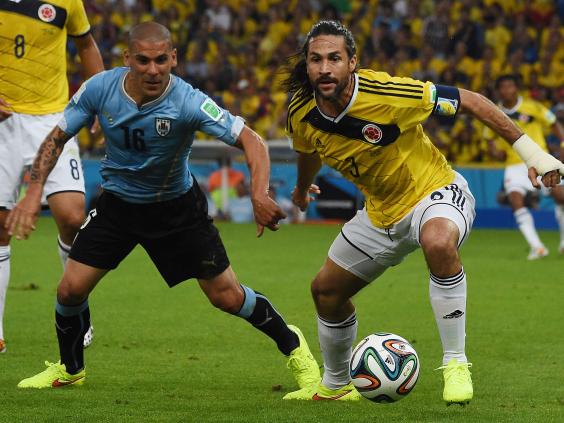 The one apparent problem is an openness at the back, but Yepes dismissed that. "We are very united in our work and know each other well. With one glance, we know what each of the back line wants."
With one glance, they also know that James will be there, potentially ready to echo so many Brazilian greats.
Back in the Maracana mixed zone, the players could not deny that the hosts' history does inspire awe. "I always loved El Fenomeno Ronaldo, Ronaldinho," Cuadrado said. "They had a capacity for something different."
So, now, do Colombia.