Japanese referee Yuichi Nishimura may have had a night to forget in Sao Paulo, but it seems the 42-year-old will be reminded of his error for a while.
Nishimura was roundly criticised after awarding Brazil a controversial penalty against Croatia when the score was 1-1.
He judged Dejan Lovren to have pulled Fred to the floor, but contact was minimal with the Brazil No 9 certainly making the most of it.
Nishimura was blasted by Lovren and Croatia head coach Niko Kovac, who said the ref should "give up and go home" after the error.
This morning Nishimura would also have woken up to his Wikipedia profile having been changed.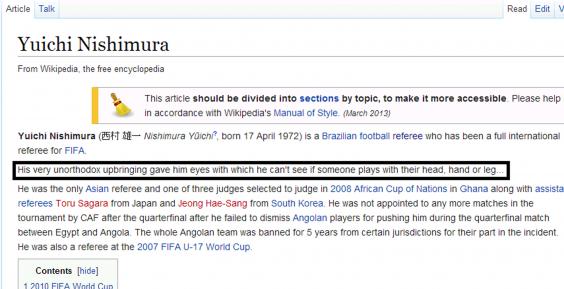 The prankster called Nishimura a "Brazilian" referee and also added: "His very unorthodox upbringing gave him eyes with which he can't see if someone plays with their head, hand or leg..."
The entry was quickly changed but the official, who sent off Felipe Melo in Brazil's 2010 World Cup quarter-final defeat against the Netherlands, would still have been left embarrassed.
Reuse content