England and Scotland will meet in the qualifying stage for the 2018 Fifa World Cup after being placed in Group F during the draw in St Petersburg in Russia.
England manager Roy Hodgson was in attendance for the draw which saw all 209 Fifa Associate Members drawn into their respective confederations' qualifying process, with the exception of hosts Russia who have already booked their place in the tournament by default of staging it.
Having already seen Malta, Armenia, Slovenia and Slovakia placed in Group F, Scotland came out of Pot 2 to stand as the highest ranked team drawn in the group so far.
However, smiles at what appeared to be a relatively easy group soon turned to mischievous glances at their Football Association counterparts as England were pulled out of Pot 1 to join them in Group F.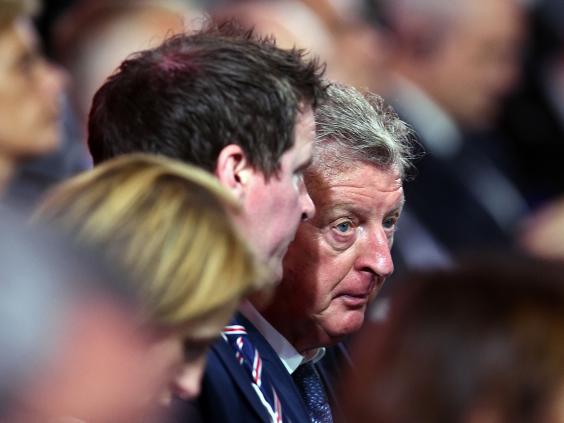 The draw means England and Scotland will face off in two competitive fixtures for the first time since the Euro 2000 play-off in 1999 when England prevailed 2-1 on aggregate despite losing 1-0 at Wembley.
The winners of the group will progress automatically to the 2018 World Cup, with the runners-up taking part in a play-off providing they are one of the eight-best second-place sides in the tournament.
Both England and Wales were one of the nine teams in Pot 1 thanks to their respective Fifa rankings of ninth and tenth respectively in July, with Wales being placed in Group D with the Republic of Ireland, Austria, Serbia, Moldova and Georgia.
Northern Ireland meanwhile were placed in Group C with reigning world champions Germany as well as Czech Republic, Norway, Azerbaijan and San Marino.
England haven't failed to qualify for a World Cup since they missed the 1994 tournament in the United States, although under Steve McClaren's management they did fail to rach the 2008 European Championships.
In stark contract, Scotland have not qualified for the tournament since their 1998 appearance in France, while Northern Ireland haven't played in the World Cup since 1982. The Republic of Ireland were the most recent home nation other than England to reach the World Cup, having featured in the 2002 tournament, and they came within a whisker of qualifying for the 2010 World Cup only for Thierry Henry's infamous handball to rob them of any chance of qualification in the play-off.
Wales have only ever reached the World Cup once, which came way back in 1958.
European group-by-group guide to the 2018 World Cup qualifying draw:
GROUP A: Holland, France, Sweden, Bulgaria, Belarus, Luxembourg
GROUP B: Portugal, Switzerland, Hungary, Faroe Islands, Latvia, Andorra
GROUP C: Germany, Czech Republic, Northern Ireland, Norway, Azerbaijan, San Marino
GROUP D: Wales, Austria, Serbia, Republic of Ireland, Moldova, Georgia
GROUP E: Romania, Denmark, Poland, Montenegro, Armenia, Kazakhstan
GROUP F: England, Slovakia, Scotland, Slovenia, Lithuania, Malta
GROUP G: Spain, Italy, Albania, Israel, FYR Macedonia, Liechtenstein
GROUP H: Belgium, Bosnia and Herzegovina, Greece, Estonia, Cyprus
GROUP I: Croatia, Iceland, Ukraine, Turkey, Finland
More to follow...
Reuse content