Round one went to Cristiano Ronaldo. But on Tuesday night the fight between he and Zlatan Ibrahimovic reconvenes and we are little closer to knowing which one of these football stars will be in Brazil, and which will be at home watching it on television.
The first leg of their World Cup play-off ended 1-0 to Portugal with their captain and £80m man scoring a diving header in the 82nd minute to separate the sides. Yet, even the Real Madrid forward admits their lead is nowhere near decisive.
"We've got the minimum advantage, but it's better than a draw," said Ronaldo after the game in Lisbon. "It would be better if our lead was bigger. We have a big battle in Sweden."
That battle will take place in Stockholm tomorrow evening.
At 32, for Ibrahimovic this perhaps represents his final chance to reach a World Cup, but despite the must win nature of tomorrow's game, his coach is confident the PSG forward will handle the pressure.
"He's been at this level for many, many years and for us it's not Ronaldo v Zlatan it's Portugal v Sweden," explained Erik Hamren.
Hamren is also well aware that defeat would spell the end of his tenure in charge of Sweden, but like Zlatan, he will take it in his stride.
"It's happened to me a few times before as a club coach, when you know that if we lose a game there's not much left of the job," Hamren told reporters on Monday.
"But I'm not thinking about that one bit. My focus is on succeeding and if we do succeed we don't need to discuss it."
With Portugal holding the advantage from the first leg, Sweden know they must win the match on the night in order to progress.
"We need to score, that's for sure," the coach added. "They can play more for the result, they have an advantage in that.
"We meet a really good team with really good international players so we can't start the match and just go forward and have the ambition to score easy and early because then they're going to punish us quickly."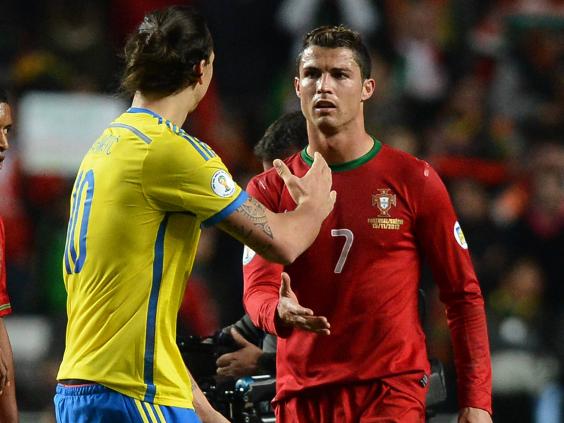 Hamren revealed that the Sweden squad have been practising penalties in case the teams finish level on aggregate.
"Those who are used to taking penalties, they don't need to have some training because they do it a lot," said Hamren. "But the players who aren't used to taking penalties, they took some today.
"It's a mental thing of course and if it's been a long time then they need to have done it before the game."
Should penalties be required, the pressure on Ronaldo and Ibrahimovic would be at its utmost, but with success would come the knock-out blow in this tantalising match-up.
Reuse content