Sepp Blatter has blamed the "action of individuals" for the corruption scandal that has rocked Fifa on the eve of the presidential election that will see him bid for a fifth term in charge of world football, and claimed that he "can't monitor everyone all of the time".
Fifa are currently facing a crisis following the arrest of 14 current and former officials in relation to a dual investigation by the United States' FBI and Swiss prosecutors. Seven current Fifa members were arrested in Zurich on Wednesday on corruption charges and face extradition to the US.
Speaking at the opening ceremony of the Fifa Congress in Zurich, Mr Blatter welcomed guests before addressing the indictment of vice-president Jeffrey Webb and 13 others that he is or used to work alongside.
The Fifa bigwigs facing charges
The Fifa bigwigs facing charges
1/14 Jeffrey Webb, 50, Cayman Iskands

A Fifa vice president. His arrest came as a big surprise, as he had been tipped as the man to clean up Fifa once Blatter departs. Webb is also president of Confederation of North, Central America and Caribbean Association Football (Concacaf) and the Cayman Islands Football Association

Getty

2/14 Costas Takkas, 58, UK

A British citizen, Mr Takkas is currently an attache to the Concacaf president. He was previously general secretary of the Cayman Islands Football Association, of which Mr Webb is president

3/14 Jack Warner, 72, (pictured), Daryan Warner, 46 and Daryll Warner, 40, Trinidad & Tobago

The former Fifa vice president and head of Concacaf was a dominant force in football for 30 years, but was suspended from his roles in 2011 amid accusations of corruption dating back to the 1980s and an investigation by Fifa's ethics committee. He later resigned, ending the proceedings against him. Daryan Warner, the son of Jack Warner is also believed to have co-operated with the FBI. He pleaded guiltyin October 2013 to wire fraud conspiracy, money laundering conspiracy and the structuring of financial transactions, forfeiting $1.1m. Daryll Warner, another of Jack Warner's sons, he pleaded guilty to various offences in July 2013. A former Fifa development officer, he lost the job in 2012 after his father's resignation amid corruption allegations. He and his brother both face up to 10 years in prison

Getty

4/14 Charles Blazer, 70, USA

The former Concacaf general secretary reportedly turned "supergrass" to help the FBI inestigation, using a bugging device hidden inside a key fob to record meetigs with his Fifa colleagues at the London 2012 Olympics. In November 2013 he pleaded guilty to racketeering conspiracy, wire fraud conspiracy, money laundering conspiracy, and income tax evasion. Seriously ill with colon cancer

Getty

5/14 Rafael Esquivel, 68, Venezuela

Executive committee member of the South American Football Confederetion (Conmebol). It is alleged that officials at Conmebol, which organises the Copa America, received bribes from marketing executives

Reuters

6/14 Eugenio Figueredo, 83, USA/Uruguay

The Fifa vice president and executive committee member is a big name in world football, having previously been at the head of Conmebol and the Uruguayan Football Association. A former right-back

Reuters

7/14 Nicolas Leoz, 86, Paraguay

A former Fifa executive committee member and Conmebol president. When he retired in 2013 for health reasons, he said: "I've not stolen so much as a cent"

Getty

8/14 Eduardo Li, 56, Costa Rica

President of the Costa Rican Football Federation. He was elected to Fifa's executive commitee in March

Reuters

9/14 José Maria Marin, 83, Brazil

The former president of the Brazilian Football Confederation is also a member of Fifa's committee for Olympic tournaments

Reuters

10/14 Julio Rocha, 64, Nicaragua

Fifa development officer. Previously president of his country's football federation

EPA

11/14 José Hawilla, 71, Brazil

The owner and founder of the Traffic Group, a sports marketing conglomerate, pleaded guilty to racketeering conspiracy, wire fraud conspiracy, and money laundering conspiracy in 2014. Two of his companies - Traffic Sports International Inc and Traffic Sports USA Inc - have also pleaded guilty

youtube.com

12/14 Aaron Davidson, 44, USA

President of Traffic Sports USA, is a large promoter of football events in America

AP

13/14 Alejandro Burzaco, 50, (pictured), Hugo Jinkis, 70 and Mariano Jinkis, 40, Argentina

Alejandro Burzaco, a media executive who controls Torneos y Competencias, a sports marketing business. Hugo Jinkis, is the president of Full Play Group, a sports marketing business in Argentina. His son Mariano, is vice president

AP

14/14 José Margulies (AKA José Lazaro), 75, Brazil

Although he is in broadcasting, it is alleged he served as an intermediary to facilitate illicit payments between sports marketing executives and Fifa officials

youtube.com
"These are unprecedented and difficult times for Fifa," said Mr Blatter. "The events of yesterday have cast a long shadow over football.
"Actions of individuals bring shame and humiliation on football and demand action and change from us all. We cannot allow the reputation of football to be dragged through the mud any longer. It has to be stopped here and now."
The 79-year-old added that while people are holding him responsible, he can't keep watch over the 209 Member Associations and added that those who are guilty of criminal offences will "also try to hide it".
"Many people hold me responsible," Mr Blatter continued. "I can't monitor everyone all of the time. If people want to do wrong, they will also try to hide it.
"I will not allow the actions of a few to destroy the hard work and integrity of the vast majority who work so hard football"
"Football cannot be the exception to the rule. There can be no place for corruption of any kind."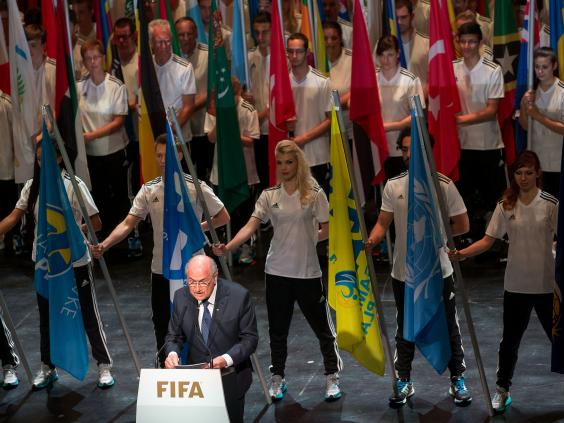 Mr Blatter declared that Fifa now has to work in order to regain the trust it has lost as a result oif Wednesday's arrests.
"The next few months will not be easy for Fifa. I'm sure more bad news [will follow]," added Mr Blatter. "We have lost the trust, and we must now earn it back."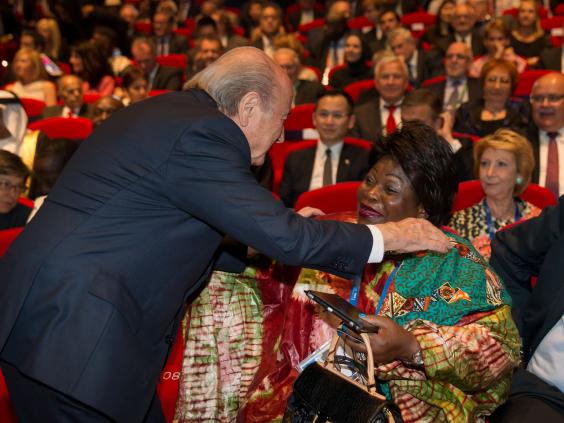 The Fifa president, who goes up against Prince Ali bin al-Hussein in Friday's election, also confirmed that the world governing body will cooperate fully with the authorities investigating the corruption allegations.
"We will co-operate with all authorities to make sure all involved in wrongdoing is discovered and punished
"The next few months will not be easy for Fifa. I'm sure more bad news [will follow]," added Mr Blatter. "We have lost the trust, and we must now earn it back.
"We like this game, not for greed, not for exploiting, not for power, but because of the love of the game.
"Solidarity is asked for the game, for the world, for peace."
Blatter then left the stage to a round of applause from those in the room.
Reuse content