And Louis van Gaal thinks he's got problems. The embattled Manchester United manager should come here, to the ground of village side Longford FC. "Crisis-hit club" probably doesn't quite cut it. 
They began the season badly (losing 10-0 to Bredon) and got worse: (13-0 against Chalford; 14-0 against Woolaston; 17-0 – at home – to Bibury FC …)
Now, with just over half the season gone, they are rooted to the bottom of Gloucestershire Northern Senior League Division Two: played 16; goals for: er, none; goal difference: minus 170. You might think "worst football club in Britain".
You would politely be told to get stuffed. Because this is a new year, a new dawn, the first match of 2016, and, surely, the start of the greatest "great escape" in footballing history.
"It's getting better and better every week," says manager Nick Dawe, a man who by his own admission thinks: "The glass is always half full. You've got to take the positives."
Because, apparently, there are positives. Like the fact that at Longford FC, there is a bootroom full of men now well versed in meeting with disaster, who nonetheless retain hope of one day encountering triumph.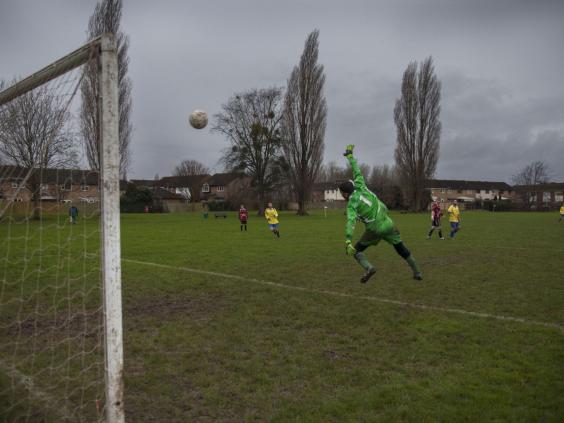 They are not in the business of giving up. And they have no idea how to make a drama out of a crisis. "This is grassroots football," says Mike Dean, 50, the club's left-back, turned secretary, turned philosophical treasurer. "You're never sure what players you are going to get back until they return for pre-season training."
Which, undeniably, is one way to analyse the pre-season crisis which precipitated the season of crisis.
Another way would be to say that about a month before pre-season training started, the manager left, citing family and personal commitments, and 13 first-team players followed for a variety of reasons, including joining other clubs.
So Longford – a trophy-winning club in former years – started the season fielding what was effectively the reserve team, playing five divisions higher than their normal level.
Which means that, actually, for all their minus-170 goal difference and conceding an average of roughly 10 goals a game – they are rather proud of themselves. 
They haven't quit, they have stuck together, says Dawe, an art teacher who was himself roped in as manager in October when he was painting his house and got chatting to club vice-chairman Les Bailey.
"Talk about being in the wrong place at the wrong time," he grins.
The nine biggest sporting losers of 2015
The nine biggest sporting losers of 2015
1/9 Nigel Pearson

Have you ever noticed how Nigel Pearson is immediately installed as favourite when any average Championship club sack their manager? The former Leicester boss' stock remains high despite a controversial 2015: In February, following two weeks at the Alan Pardew School of Touchline Etiquette, he attempted to throttle an opposition player in James McArthur, and later tried to confuse a journalist with a bizarre game of 20 questions – 'Have you been on holiday for six months? Is your head in the sand? Are you an ostrich?' Rather than returning to football, he'd be better taking some time out, perhaps a trip away with the family – not his son though. The Foxes he left, meanwhile, are now the best team in England.

Plumb Images/Leicester City FC/Getty Images

2/9 Jose Mourinho

The Special One would have had 2015 ticked off as an unwavering success back in May after his Chelsea side claimed another Premier League, but absolutely nothing has gone right for the Portuguese in the defence of that title. Hated more by the medical profession than Jeremy Hunt following his treatment of club doctor Eva Carneiro, Mourinho is also loathed by families across the country after his seven-minute meltdown following a televised Saturday evening home defeat to Southampton ate into the start of Pointless Celebrities on another channel. The Blues boss looked to have hit rock bottom three weeks later at West Ham: dismissed to the stands with his side behind once again, Mourinho was subjected to taunts from a nearby Danny Dyer. Mug. And then he was sacked.

3/9 Right Shark

What's your favourite moment in Super Bowl history? Janet Jackson's wardrobe malfunction in 2004? The Boss and the E Street Band rocking out Tampa Bay back in 2009? Paul McCartney wheeling out his piano for yet another rendition of Hey Jude a decade ago? (Ok, ignore that lost one). In February, the NFL had a new hero as Super Bowl XLIX's MVP award went to a backing dancer known only as Left Shark. Out of time and bereft of rhythm, Left Shark completely stole Katy Perry's half-time show, almost breaking the Internet as social media, Photoshops and memes went into overdrive. A legend had been born. Apparently, the New England Patriots also beat the Seattle Seahawks that night but – just like Right Shark – nobody cares or remembers.

4/9 The Manager of the Baur-au-Lac

Association with undesirable characters can affect a brand's reputation, just look as the negativity surrounding Premier Inn and the use of Ainsley Harriott... sorry, Sir Lenny Henry in their television adverts. However, it's another hotel – the five-star Baur au Lac in Zurich – that makes it into our losers list after it was raided, not once, but twice by police in order to arrest Fifa officials. One can only imagine that the man in charge of the Baur au Lac is some kind of Basil Fawlty figure, ignorant to the misdemeanours of Sepp Blatter and Co, allowing them to operate in peace because he mistakenly believes them to be a group of visiting hotel inspectors.

5/9 The IT guy at Real Madrid

David De Gea's failed transfer from Manchester United to Real Madrid is already the stuff of legend. As soon as the deal fell through a propaganda war not seen since the end of the cold war over what had gone wrong began. Both sides blamed the other but they did appear to agree that it had something to do with the necessary paperwork failing to go through on time, which in turn was reportedly down to Real Madrid's failure to open a document sent to them by United. Cue a lot of memes involving that irritating Microsoft Office Paper Clip and probably a severe rollicking for the IT man at Real Madrid.

6/9 David Ginola

It turns out that the football world doesn't love David Ginola as much as he loves himself. The house-wives favourite sprung the biggest surprise since he was voted 1999 PFA Player of the Year when he announced that he would be vying Sepp Blatter for the Fifa presidency. He had the backing of a big betting firm, but unfortunately not the five nominations from the football federations he needed, so two weeks after his big announcement he was out of the race. It made Ginola look a bit of a fool, but at least the man himself still thought he was perfect: 'Just as I did as a player, I gave everything until the final whistle.'

7/9 Suzann Pettersen

In a year when much has been done to market women's sport to wider audiences, nothing has worked quite as well as good old-fashioned controversy. During September's Solheim Cup, Europe's Suzann Pettersen failed to concede a two-foot putt after American Alison Lee had mistakenly picked up her ball on the 17th green, mistakenly believing she had been awarded the hole. Whether it was gamesmanship, an unsporting attitude or a belief that Lee may go all Wayne Rooney with her close-range shot, Norwegian Pettersen remained unmoved despite tears from both her opponent and playing-partner, Charley Hull. The contentious incident, however, proved to be the catalyst for a dramatic USA comeback; trailing 10-6 at that point, they eventually prevailed to a deserved 14.5-13.5 win. Just don't think this makes up for Brookline.

8/9 Shane Watson

When recalling this year's cricket, it's hard to ponder the term loser and not envisage Adam Lyth's sad face, making its way back to the pavilion following an awkward knock of seven. However, Lyth would eventually end the summer an Ashes winner, and so it is the Australian Shane Watson who makes our list. Belittled by the English team and supporters, seemingly disliked by his own country, this walking wicket was trapped leg before in both innings of the First Test in Cardiff back in July. Not only were his scores of 30 and 19 of little help to the cause, his rash actions – like a drunk footballer let loose on Twitter – in reviewing both decisions unsuccessfully would hinder his side later in the game. The Aussies would go on to lose the match by 169 runs and the series 3-2; Watson has not played Test cricket since.

9/9 Anyone who stayed up late to watch sport

The idea of staying up through the night to watch sport has always been more exciting in theory than in practice, and you can blame years of watching batting collapses live from Adelaide for that. However, with the Ashes scheduled in England this year, night owls had to instead endure Laura Bassett's injury-time own-goal, that saw England eliminated from the Women's World Cup semi-final, and, much worse than that, Tyson Fury singing Aerosmith for their sporting anti-climaxes. Fury's dulcet tones though were not Boxing's biggest crime in 2015, and the millions who tuned in to watch Floyd Mayweather's long-awaited fight with Manny Pacquiao live from Las Vegas were rewarded with 12 rounds of tedium that even made the second series of Broadchurch seem enthralling. Spare a thought for the true insomniacs.
They all grin, even goalkeeper Irshad Badat. "I am one of those people who are never down," says the 25-year-old insurance administrator. "I think I've played all right this season … I've certainly had quite a bit to do."
"We're not going to make the Premier League," says centre-half Steve Foster, with what some might regard as understatement. "So you might as well enjoy playing football and laughing and joking with your mates.
"And you're not going to improve if you only play against rubbish opposition every week," adds Steve.
Talk to make the gaffer proud.
"They're fantastic lads," says Dawe. "If they keep going, I've got to keeping going with them."
And, he adds, there is a reason why the lads keep going: "I have never been involved in such a good club."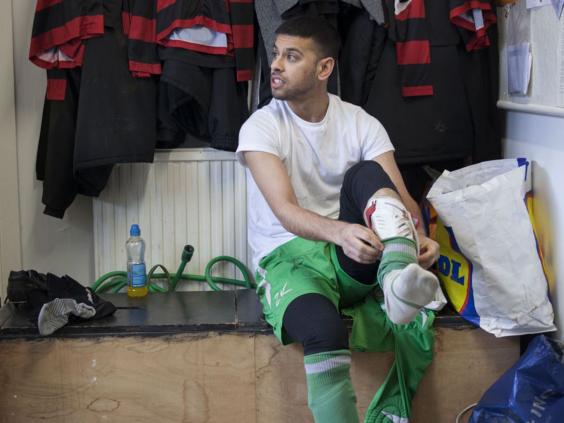 If Van Gaal fancied a visit to see real footballing problems look like, others, who think the game has been devoured by cynicism and money, would be comforted by what they would find at Longford FC.
The "grandstand" may be a half-covered side exit of the adjoining village hall, and yesterday's game may have been interrupted for the removal of dog muck, but there are some things money can't buy.
This, they tell you, is a proud club whose history can be traced back to 1918, a real family club, where linesman duties are passed from father – Bob Jones, who was still watching matches aged 89, with a Zimmer frame – to son, former player Robin, 64, who has now been running the line for 25 years.
And now that the recently sacked Chelsea manager, Jose Mourinho, is looking for a job, he is welcome to try a real managerial challenge, says club president Terry Godwin, 78. He could show how special he still is, "but he'll have to muck out the changing rooms. And wash the kit."
Which is what Godwin and his back-room team do every week. And no, Jose, you won't get paid. But you might find your players aren't as bad as a minus-170 goal difference might suggest.
"We're not Raggy Arse Rovers," insists Dawe. "We're capable of playing some good stuff."
And, lo, within minutes of the manager claiming this, he is proved right. Because it happens. Sixteen minutes in, the ball falls to midfielder James Kelly in the box. He finds himself one-on-one with the Abbeymead Rovers keeper. As the 25-year-old insurance manager says himself, he coolly rounds his opponent to slot home for a "tidy finish".
Yes, you read it here first: after 1,456 rewardless minutes of football, Longford FC have scored a goal.
There is cheering, there is hugging, but there are no overly extravagant displays. They have been practising many things in training, but not goal celebrations.
No matter that Abbeymead Rovers score three minutes later to make it 2-1. Or that the match finishes 9-1.
Dawe enters the dressing room smiling. Longford FC's top scorer Kelly says his goal "is just the start".
They are recruiting more players, improving with every game, says Dawe. With only five points separating them from the second-bottom side, "there's everything to play for. We can still stay up".
He pauses, thinks about it a little more. "It just ain't going to be on goal difference."
Reuse content