Adrian Chiles has left his role as ITV's lead football host with immediate effect, with the broadcaster announcing Mark Pougatch as his replacement.
The reasons for Chiles' exit remain unclear with neither the 47-year-old nor the channel confirming the news. Pougatch will begin his new role immediately, with his first task set to be the resumption of the Champions League last-16 and the Europa League last-32 plus England's Euro 2016 qualification campaign.
The news comes after an announcement was made earlier this month that both Andy Townsend and Matt Smith will not have their ITV Sport contracts renewed tat the end of the season, and appears to be a complete upheaval of how the channel is presenting its football coverage.
Adrian Chiles leads out World Cup Pundits XI
Adrian Chiles leads out World Cup Pundits XI
1/11 Adrian Chiles (ITV)

Safe, if uninspiring pair of hands; can save most situations, from technological breakdowns to unfortunate gaffes (we're looking at you, Hoddle)

Getty Images

2/11 Phil Neville (BBC)

A wild card with little experience; can be overexcitable (on Five Live) and would do well to demonstrate half the potential of his big brother, Gary

3/11 Alan Hansen (BBC)

Reliable for gaffes such as "the Argentine defender warrants shooting for... that" (the day after Colombian Andrés Escobar was shot dead at the 1994 World Cup)

4/11 Rio Ferdinand (BBC)

Lost his pace on the pitch, but can still run his mouth. The TV rookie brings the street to the corporation – expect much monotone slang but little insight

5/11 Lee Dixon (ITV)

Consistently impressive, mixing the strategic nous he learnt holding his hand in the air at Arsenal (offside, ref!) with a knack for telling the truth about a performance

6/11 Glenn Hoddle (ITV)

Often missed by England managers because he didn't fit the team. Often overlooked for on-air duties because dodgy gags and racial smears don't fit civilised society

7/11 Roy Keane (ITV)

Midfield destroyer won't let anything get past him without dragging it down. A smirk is as close as he'll get to a smile, and any fancy flourishes will be killed dead. Except he won't be turning up.

8/11 Patrick Vieira (ITV)

Surprisingly softly spoken for such an intense competitor. Will provide cultured tactical judgements, assuming he's allowed to get a word in

9/11 Thierry Henry (BBC)

Speed of legs doesn't quite translate to speed of thought, but he's lost none of the va-va-voom. Is it the accent? Peut-être. Takes things to a philosophical level

10/11 Gary Lineker (BBC)

Flashes of early promise have developed into an impressive body of work; sports the cheery disposition of a player who thoroughly enjoys his football and puns

11/11 Alan Shearer (BBC)

The consummate centre-forward: will hold up play with unilluminating, uncontroversial droning, bringing others into the attack as they try to keep things interesting
Chiles was reported to have more than £4.6m last year, with £1m of that paid by ITV, according to the Daily Mail. In comparison, Sky Sports have signed Arsenal legend Thierry Henry to a deal worth in the region of £4m a season following his analyst debut for last weekend's Premier League match between the Gunners and Manchester City.
Speaking in a statement released by ITV, Pougatch said: "I am absolutely delighted to be joining ITV and to be given this great opportunity.  I'm looking forward to working with ITV's talented pool of commentators and pundits on some of the very best football there is."
ITV Director of Sport, Niall Sloane, said: "Mark is a highly-respected sports journalist and an outstanding broadcaster. We're delighted to welcome Mark to the ITV Sport team."
Pougatch will also continue his work with BBC Radio 5 Live and PLTV.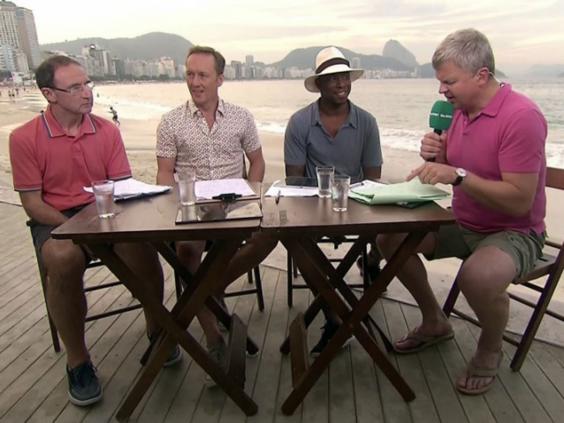 ITV weren't available when contacted by The Independent.