There is a special significance for 2016 in the history of Liverpool Football Club, or rather a special significance in the history of Liverpool that concerns itself with winning their elusive 19th league championship title.
If and when the club pass a 26th anniversary without another league title, as looks likely barring a miraculous turnaround next season, then they will have gone longer than Manchester United did in their 26-year wait to win a league championship between 1967 and 1993. That 26-year wait for United felt epic, including, as it did, relegation, near misses, expensive transfer flops and a lurking suspicion that, as the pressure built in the 1980s, something was just fundamentally wrong with the club.
Yet this was football at a different time when, even under the yoke of Liverpool's domestic dominance, there was always the possibility of change, which came eventually with Alex Ferguson. At Liverpool, that potential in United was always acknowledged by Peter Robinson, erstwhile secretary and chief executive at the club who, as Graeme Souness wrote in his autobiography, held the "fear that Manchester United might get it right one day and if that happened they could take off in a big way and leave everyone else behind".
For the Liverpool of 2015 who have just hit 25 years without a title, having just United in front of them would be an extraordinary blessing. That group has swelled to include Chelsea, Manchester City, Arsenal and Tottenham Hotspur and now the question is not when the next league championship at Anfield will come, but whether winning league titles is realistically the sort of thing this club can still expect to do – at least in this era of football.
You might say they are the same fundamental questions now facing Liverpool, at one of their lowest ebbs, as face the Labour Party at a crossroads in its history. At what level can they compete? And what can they realistically hope to achieve? The 6-1 defeat at Stoke City for Brendan Rodgers had an awkward parallel with Ed Miliband's election night, in as much as every time one suspected that rock bottom had been reached, it turned out to be some leagues deeper than previously thought.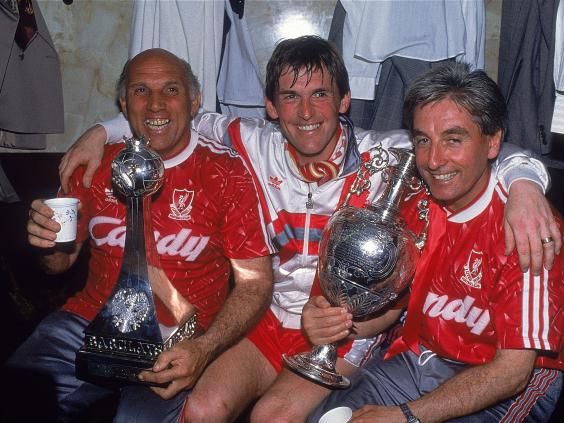 As a club, Liverpool have, over the past 25 years, often failed to read the future of football: hardly improving or expanding Anfield while others have built new stadiums; being slow to exploit their commercial potential; selling out originally to the wrong kind of owner. Now elite European football is changing again, with the Uefa decision to relax financial fair play, and as natural supporters of those regulations the club's owners Fenway Sports Group find themselves at odds with the mood of the times.
It comes at a moment when they have unequivocally supported their young manager to the tune of £240m over three years, and yet have finished second just once – and been unable to hold on to the player, Luis Suarez, chiefly responsible for having got them to that finish last season. FSG and John W Henry have a clear idea of what they want Liverpool to be: a self-sustaining entity in football's mad world and a club that, as the old saying goes, exists to win trophies. But what happens when Uefa's president, Michel Platini, relaxes FFP and the floodgates open again?
The mad world shows no sign of relenting. In fact, it might just be that the madness is elite European football's natural state of existence: the fossil fuel billionaires in the Premier League and at Paris Saint-Germain; Real Madrid and Barcelona's pillaging their own league's television deal; Bayern Munich's one-party state. Gary Neville warned Liverpool of succumbing to their own provincialism at the weekend but in many respects they overcame incredible odds to dominate Europe in the glory years of the 1970s and 1980s.
In 1980, when Liverpool were two European Cups into their run of four in seven years, the author James McClure spent a year embedded with Merseyside police. He described the inner-city area of Liverpool as "one of the most wretched in Western Europe, just as it was more than a century ago" in his book Spike Island about the challenges facing the city's police force. Liverpool's infant mortality rate in 1977 was at the average level of 1930, "its general living standards were judged to be those of the 1940s" and the city had Europe's worst teenage unemployment problem.
Premier League 2014/15 memorable moments
Premier League 2014/15 memorable moments
1/12 Comical tackle of the season

Phil Jones' commitment has never been in question – but he really went the extra mile in May's Premier League clash against Arsenal. Having slipped with Olivier Giroud on his shoulder, the defender managed to nod a header away – despite lying flat on the ground. Former Gunners defender Martin Keown labelled him as a "comical stuntman" – and it's hard to disagree on this showing.

Getty Images

2/12 Unluckiest player of the season

In the opening match of the season, Ashley Young may have seen Ki Sung-Yeung's goal and thought it was going to be a bad day – but little did he know, it was about to get a whole lot worse for him. Whilst berating team-mates for their defending, videos appear to show bird excrement falling from the sky and straight into the midfielder's mouth – something he still denies, of course.

Getty Images

3/12 Best free-kick

"It was a boring game and I livened it up. My mates think I'm a legend" – the words of Jordan Dunn, the pitch invader who ran on to take a free-kick in August's match between West Ham and Spurs. His effort was arguably better than many seen on the pitch that day, but Dunn was subsequently fined £305 for his moment of madness.

Getty Images

4/12 Best worst celebration

Charlie Adam's reaction to scoring one of the goals of the season? A not-so-great robot celebration – which led team-mate Peter Crouch to judge it as "horribly wrong". Adam had just scored from his own half against Chelsea at Stamford Bridge, but many will remember the goal for other reasons.

Getty Images

5/12 Worst attempt at a head-butt

An addition to the historic list of on-field battles between Manchester United and Arsenal, Gunners midfielder Jack Wilshere took umbrage with opponent Marouane Fellaini – and appeared to head-butt the Belgian. Wilshere's nine inch height disadvantage meant that his strike failed to meet its target, however, probably helping him to avoid an FA ban.

Getty Images

6/12 Strangest complaint

Match officials will carry out a number of checks before every match – ensuring twenty-two are on the field of play, checking there are no holes in the nets and so on – but in October, before Leicester's match at Swansea, the away team's goalkeepers became convinced that the crossbar was too high and complained to the officials. Checks were made – and the goals were found to be the correct height.

Getty Images

7/12 Biggest loser at mind games

After West Ham's 1-1 draw with Manchester United in February, Hammers chief Sam Allardyce accused his opponents of purely playing long-ball football – much to the Dutchman's anger. Instead of brushing the comments off, Van Gaal produced a document to suggest it was actually Allardyce's men who lumped the ball forward more often. Big Sam's efforts to get under the skin of his counterpart had worked.

Getty Images

8/12 The Alan Pardew award for bonkers behaviour from a manager

In February, the pressure was starting to mount on Leicester boss Nigel Pearson – and things threatened to come to a head during his side's 1-0 home defeat to Crystal Palace. Eagles midfielder James McArthur had collided with the hot-headed manager on the touchline, and instead of helping him to his feet, Pearson appeared to strangle the 27-year-old. He subsequently escaped punishment by the FA.

Getty Images

9/12 Most topical celebration

On the day of Manchester United's victory over Spurs in March, a video emerged showing the United Wayne Rooney skipper being knocked to the ground in a boxing match in his own home by ex-team-mate Phil Bardsley. He went on to celebrate his goal in the 3-0 win with a celebration imitating his own knock-out.

Getty Images

10/12 Weirdest press conference/best name calling

Nigel Pearson has always been a manager who will back his players – even if it means ostracising himself from the media. A journalist had asked Pearson to explain his comments that his side had faced a high level of criticism and negativity, and instead of giving a reasoned answer, Pearson labelled the reporter as an "ostrich" and said his "head must be in the sand".

Getty Images

11/12 The delusional boaster award

Step aside Jose Mourinho – you're not the best coach in the Premier League, according to Newcastle boss John Carver. His suggestion for the mantle? Himself. Speaking recently, on the back of eight straight defeats, Toon boss Carver made the bold statement – perhaps to deflect attention onto himself and away from his struggling squad.

Getty Images

12/12 Playground moment

Cesc Fabregas has always been able to pick a pass – and showed this more than ever in May's away trip to West Brom. During a break in play, the Spaniard's 20-yard punt hit opponent Chris Brunt on the head whilst referee Mike Jones was dealing with another incident. Jones saw Fabregas' strike and showed him a straight red card – but his three-match ban has since been reduced to just one, after Chelsea successfully argued the initial punishment was excessive.

Getty Images
All that and Liverpool produced arguably the greatest club team that Britain has ever known. For those of us of Neville's generation, the temptation was to see Liverpool in the 1980s as an inviolable part of English football's establishment. Yet they were very much outsiders, a provincial club defying the economic and political conditions of the time. As John Aldridge observed of the north-south divide in the Anfield Rap in 1988, "they've got the jobs but we've got the side". Sustaining that success in a new global market for players, against the lure of London with its economic pre-eminence and the wealth of United and latterly Manchester City was always going to be a conjuring act.
There has been a long tail from the league titles of the past, as Liverpool have enjoyed the power to attract great players and managers on the back of their history, and there have been spikes along the way such as 2001 under Gérard Houllier and then 10 years ago in Istanbul with Rafa Benitez – an achievement that becomes more remarkable as the years go by. But the question facing Liverpool as they reach the 26-year mark is whether they can still afford to judge themselves by those standards.
There will be the purists who will never step back from the expectation that the club exist to win trophies. If there is a buyer willing to take Liverpool off FSG's hands and pump them full of the money that Platini will permit in the post-FFP era then that existence could once again be viable. Otherwise Raheem Sterling's attitude towards Liverpool as a stepping stone club is a foretaste of what is to come – he was born after the second of United's first two Premier League titles, never mind Liverpool's last championship in 1990.
In the next few years the connection between the new generation of footballers and the last league title for Liverpool in 1990 will be even more distant than the one the children who grew up in the 1980s felt to the era of George Best and Bobby Charlton.
As for the 19th league title, failure in that regard only matters if Liverpool still consider themselves to be a club seriously in contention to win it.
What does a manager have to do to keep his job these days?
Sheffield United will have their reasons for sacking Nigel Clough after finishes of seventh and fifth in League One – after he had inherited a team in the relegation zone in his first season – and two cup semi-finals, but they must be extremely good reasons. Clough had his opposition among some of the club's fans but, even so, it was not a bad body of work for 19 months in a job. How much, these days, is enough to keep your job?
Reuse content