The World Cup gets down to the nitty-gritty with the knockout stages and the pressure starts to change. No more is there the luxury of looking to the next game to put wrongs right, no more hoping other teams may do you a favour.
At the major tournaments I have been involved in, both with England and Team GB, four times we got to the knockout stages. Only once have we managed to progress further than the quarter-finals.
As a player, you look at so many reasons why you have failed. Were they the better team? Did we execute our game plan correctly? One question we may not ask ourselves is: did I deal well with the pressure?
Lose in the knockout stages and you are on the next flight home. Players' mindsets can shift. You start putting more emphasis on winning, but are also more nervous about losing.
At the London Olympics we were on a high. We had topped the group, shocking Brazil with a 1-0 win at Wembley in front of more than 76,000 spectators. The feeling was magical.
We were taking women's football to a whole new audience and the media attention was the best it had ever been.
World Cup 2014: Group stage best XI
World Cup 2014: Group stage best XI
1/11 Guillermo Ochoa - Goalkeeper (Mexico)

The Mexican goalkeeper produced a man of the match display to keep Brazil at bay and has been at the heart of a resolute defence that has helped put the side in the knockout stages.

GETTY IMAGES

2/11 Serge Aurier - Right-back (Ivory Coast)

Reportedly on the radar of several Premier League clubs and you can see why. Provider of some crucial assists already, he has looked a serious talent.

Getty Images

3/11 Rafael Marquez - Centre-back (Mexico)

The veteran centre-back has turned back the years to marshal a disciplined Mexican defence and lead his side into the knockout rounds.

GETTY IMAGES

4/11 Mario Yepes - Centre-back (Colombia)

Another old-timer who many thought had his best years behind him. Yepes has looked solid for Colombia and even managed a marauding run through midfield at one point.

5/11 Daley Blind - Left-back (Netherlands)

The Netherlands man provided the superb assist for Robin van Persie's magnificent header, and Blind has offered a different option with his charges forward down the left-flank. Has the most assists in the tournament so far alongside Juan Guillermo Cuadrado.

Getty Images

6/11 Philipp Lahm - Defensive midfielder (Germany)

The Germany captain had a quiet start to the tournament as he let the attacking-minded players take the plaudits against Portugal. But he has controlled the strings since, completing more passes than any other player, and his versatility means Muller, Mesut Ozil and the likes can push on to leave Lahm marshaling the back-four.

Getty Images

7/11 Arjen Robben - Right-wing (Netherlands)

Robben's pace to blow away Sergio Ramos summed up his performance in the 5-1 dismantling of Spain, as he starred throughout the Netherlands' group campaign. Three goals from his eight shots represents a very solid return.

Getty Images

8/11 James Rodriguez - Right-wing (Colombia)

One of the stars of the World Cup so far, Rodriguez became the Colombian to score in all three of their group games, helping the South Americans to progress to the second round as winners of Group C.

Getty Images

9/11 Lionel Messi - Central midfield (Argentina)

How can you leave Messi out of any best XI? Answer - you can't. Proving the doubters wrong, Messi put in three match-winning performances to help Argentina improve as the tournament goes on and book their spot in the last 16. He takes a roaming midfield role in our XI, but with the way he is playing at the moment, we'll let him play where he wants!

Getty

10/11 Neymar - Left-wing (Brazil)

Brazil's poster boy for the World Cup has dominated the headlines since the tournament began. Two goals against Croatia in controversial circumstances, and another brace against Cameroon sees Neymar level with Messi and Muller on four goals so far. Can the golden boy go on to claim the golden boot as well as the golden trophy?

Getty Images

11/11 Thomas Muller - Centre forward (Germany)

With no recognised striker in their starting line-up, Muller has flourished spearheading a German attack that interchanges position at will. If Germany are to be knocked out, Muller will have to be marked out of the game, as he has already shown this prowess in front of goal if he is given the chance.

Getty Images
We had already beaten our quarter-final opponents, Canada, that year and really believed we could beat them again. We did not underestimate them – we knew that they possessed one of the world's best strikers in Christine Sinclair – but as a team we believed.
We lost 2-0 and the Canadians went on to a bronze medal. Looking back, it always feels like a missed opportunity. We were great in the group stages but when it really mattered we had lost.
When you get home the first question friends, family and even neighbours will ask you is: "What went wrong?" It can be so frustrating because you just can't put your finger on it.
We didn't have one of our main players, Kelly Smith, through injury, and some players were fatigued, but we had dealt with things like that before. Was the pressure too much for us?
We knew winning that game would be huge for women's football in this country – did that affect us?
It was great that we beat Brazil, but going into that game we already knew we were through to the quarter-finals. You could see that we were playing with no fear of making mistakes, we were just enjoying the occasion.
But against Canada there was everything at stake. You have worked so hard to get to this point and you know that in one game your dream can be over.
As things really start to heat up in Brazil, will we see teams crumbling under pressure? Will teams take fright and become more defensive?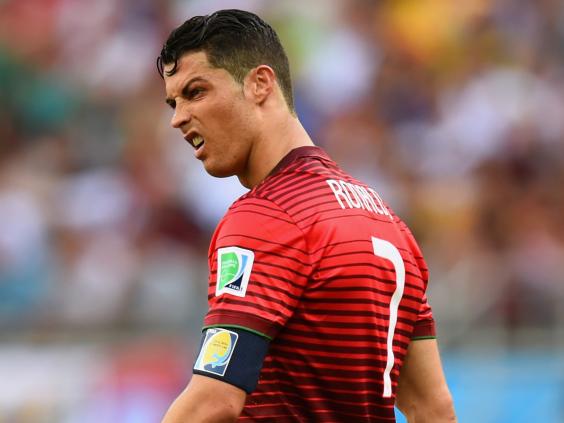 The best teams and players find ways to deal with the pressure, even to thrive on it. Cristiano Ronaldo is a prime example of a player with huge pressure on him every time he steps on the field, especially for Portugal. Against the US he was clearly not fit and everything he tried failed. Into injury time Portugal were on the brink of being eliminated but Ronaldo stayed cool and in the 94th minute delivered a pinpoint cross that enabled his team to stay in the competition.
That ability to rise to the occasion, not be crushed by it, will determine who stays in Brazil and who is on the next flight home with the dream over for another four years – if they are lucky enough to get another chance.
Alex Scott plays for Arsenal Ladies. She has won 114 England caps and played in the Women's World Cup in 2007 and 2011. Arsenal Ladies play Liverpool Ladies at Select Security Stadium, Widnes, Sunday, kick-off 12.15pm. Tickets £5/£2.50
Reuse content