Wilshere travelling same long road as Ramsey
The example of Aaron Ramsey suggests that recoveries are long, but when they are complete, the results are obvious. That advises caution in the case of Jack Wilshere, who had his own long year out and is now on the long and arduous journey back to full fluency. So while there should be a pause before describing last night's performance at the Emirates as the completion of this process – Arsène Wenger even said last week that the player is still feeling some pain in his ankle and must be managed until he does not – this was certainly a very good sight to see for Gunners' fans.
Wilshere is not a natural right-midfielder but he played the role perfectly, darting down the line and inside Jeremy Morel before curling in the opener after 30 seconds, before running into the box to receive Mesut Ozil's pass and scoring the second. It was the first time in his career he has scored twice.
Ozil a treat to watch. But he needs a goal – or even a rest?
Mesut Ozil is such a joy to watch, with his subtle touch and his ghostly feints, that you almost forget that he is trying to help his team to win a game. But last night, not for the first time recently, he was slightly inefficient when it came to scoring goals. Ozil should have had two in the dominant first half. His first touch to control a chipped pass from Aaron Ramsey was uncharacteristically clumsy, and when he took a penalty, his soft predictable kick was in no danger of fooling the opposition goalkeeper Steve Mandanda.
None of which is to say that Ozil played poorly, because he played very well − and his pass for Wilshere's second goal was delightful − but after an intense first three months in English football he seems like he is a player whose scoring instincts have been very slightly dulled. He needs a goal, or maybe even just a rest, but he would surely be better off with either.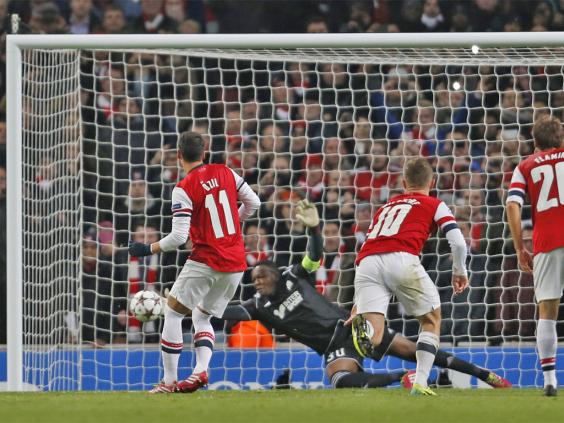 Rosicky lacks the muscles, but has all the guile
Tomas Rosicky might not quite have the muscularity or the profile of some of his midfield colleagues, but for the fourth consecutive Champions League game Wenger selected him, and was again rewarded. Rosicky rivals Ozil as Arsenal's most intelligent footballer and his ability to keep the ball, sense space and fill in for others makes him a perfect pick in matches like last night's.
Gunners supporters are turning back the clock
Wenger spoke before the game about the improved atmosphere at the Emirates, how the old anxieties had been rather neutralised by recent successes. There was even some novel call-and-response work between the designated "North Bank" and "Clock End" sections of the ground. Whether it survives the high-stakes spring-time football which Arsenal have in front of them, only time will tell.
Marseille's starting line-up left much to be desired
This was not the best advertisement for the Champions League group stage. Marseille are the biggest club in France and yet for them this game was so futile that they left their best players on the bench, improving markedly when Mathieu Valbuena and Florian Thauvin came on in the second half. Of course, they have Montpellier on Friday and need to win. But it made you wonder what they thought the point was.
Reuse content