Fourth-placed finishes, the expensive move to a new stadium and season upon season of prudence in the transfer market.
Those things may have all been a source of frustration for fans (and incessant bleating from Piers Morgan), but 20 years after Arsene Wenger took control of Arsenal the club has cemented itself as one of world football's financial powerhouses.     
Arsenal find themselves in seventh place in the Football Money League - part of an annual report by financial consultancy giant Deloitte - which tracks the highest revenue-producing clubs across the world.
In the 1996/97 version of the report - the season Wenger was appointed as manager - Arsenal sat way down in 20th place on football's rich list with a revenue of €36m - below the likes of Parma, Ajax, AS Roma, Flamengo and Newcastle United.
Fast forward to this year and the club has produced €468.5m (£350.4m) in revenue - thanks to matchday income, broadcast rights and commercial sales and now sits above European giants like AC Milan and Juventus as well as London rivals Chelsea and Tottenham Hotspur.
Deloitte's Football Money League

But with financial security does not necessarily come on-pitch success.
While the first half of Wenger's reign in north London brought 11 trophies - including three Premier League titles - the second half has been characterised by settling for Champions League qualification, big name players leaving in search of silverware and constant chants of "Wenger out".
Arsene Wenger's best moments as Arsenal manager
Arsene Wenger's best moments as Arsenal manager
1/10 1996 – Becomes Arsenal Manager

Wenger leaves Japanese side Grampus Eight to become the Arsenal Manager.

2/10 1998 – Wins League and FA Cup double

Arsenal win the league setting a new club record of 10 consecutive wins and also secure FA Cup glory beating Newcastle 2-0 in the final.

3/10 1999 – Signs Thierry Henry from Juventus

Arsenal signed Thierry Henry from Serie A side Juventus for £11 million. Henry went on to become the club's all-time top goalscorer with 228 goals in 377 appearances.

4/10 2002 – Second League and FA Cup double

The Frenchman wins his second double with Arsenal tipping Manchester United and Liverpool to top spot in the league and defeating Chelsea 2-0 in the FA Cup final.

5/10 2003 - OBE from the Queen and FA Cup victory

Wenger's men beat Southampton 1-0 at Cardiff's Millennium Stadium and in the same year he given an honouree OBE by the Queen.

6/10 2004 – The 'Invincibles'

In 2004, Arsenal were at the peak of their powers under Wenger. His philosophy of possession-based free-flowing football, combined with the talent of players such as Henry and Dennis Bergkamp, led Wenger's men to the league title and an unbeaten 49 game streak.

7/10 2005 – FA Cup victory against Manchester United

Arsenal beat Sir Alex Ferguson's Manchester United 5-4 on penalties for Wenger's fourth FA Cup trophy.

8/10 2006 – Champions League final v Barcelona

Wenger's team came the closest they have ever been to European glory, narrowly losing 2-1 to Barcelona, after going a goal up through Sol Campbell in the first-half.

9/10 2014 - FA Cup victory against Hull City

Having not won a piece of silverware in nine years, the pressure was certainly on for Wenger as Arsenal took on Hull City at Wembley. It only got worse for Wenger as Hull took a 2-0 lead in the opening 10 minutes. However, his team managed to fight their way back into the game and sealed victory with a dramatic 3-2 comeback in extra-time.

10/10 2015 – FA Cup winners against Aston Villa

After the drama of the previous year's final against Hull, Wenger's side cruised to a 4-0 victory over Aston Villa in front of a packed Wembley crowd.
Last season fans from protest groups held up placards at the club's match against Norwich demanding: "Time for change. Arsenal is stale, fresh approach needed."
After the game, Wenger said his critics had gone "too far". Referencing the £390m move to the Emirates stadium in 2006 - a big part of Arsenal's current financial success - the Frenchman defended his record in light of the burden that placed on him and the club over the past decade.
How Arsenal's revenue has risen in the past five years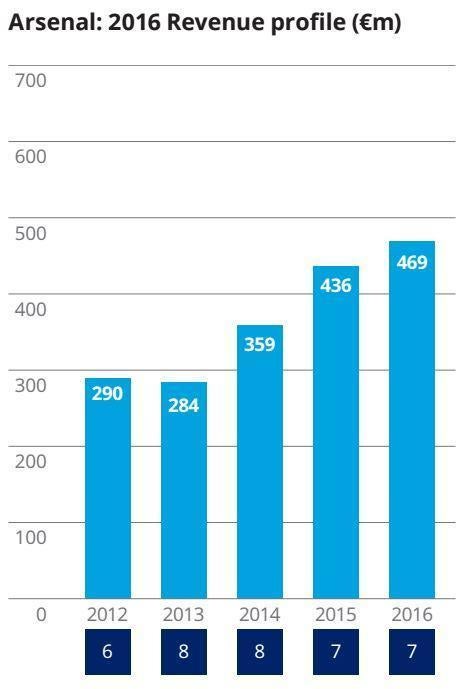 "When we built the stadium the banks demanded that I signed for five years," he said.
"Do you want me to say how many clubs I turned down during that period?
"The banks wanted the technical consistency to guarantee that we have a chance to pay them back."
Arsenal revenue breakdown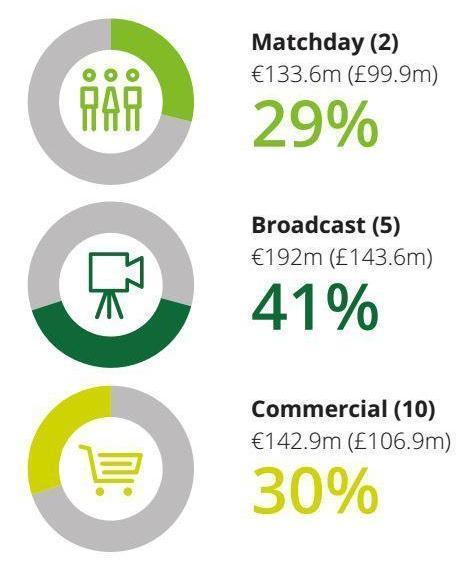 While Wenger has frustrated fans, there's no doubting that those top four finishes - something the club has achieved 20 seasons in a row - the successful transition to a new 60,000-seater stadium and maintaining a strong position in the Premier League as its mega television deals have poured in have all gone a long way to securing Arsenal's long-term future as one of the world's richest football clubs.