It takes a club like Real Madrid to sell a player like Mesut Ozil just one week after he has pledged his full intention to stay at the club. While the jubilant celebrations of Arsenal fans on Monday night may have been a little premature – transfers, after all, do not equal trophies – there is no doubt that Arsene Wenger has pulled off something of a coup.
Ozil is, and will remain for a while, one of the world's most gifted midfielders. There is much to be draw from the fact that Arsenal have managed to secure his services, not least the way we view this transfer window. There is a certain irony in the fact that it was Tottenham, whose "mastery" of the markets had gained them so much praise at Arsenal's expense, who paved the way for Ozil's move to the Emirates by selling their best player.
There is also the fact that international football, widely acknowledged to be suffering at the hands of its more lucrative club counterpart, still has an immense significance for the world's top players. A week ago, Ozil was convinced he was staying at Real, but once the Bale transfer came through and the club's lack of absolute faith in him was consolidated, he professed himself happy to depart. Less than a year before the World Cup, he was not willing to risk his place on the national team by warming a bench in Madrid.
It was in terms of faith, or lack thereof, that Ozil justified his move in an interview with the German FA's official TV channel: "I know I can play well at any club in the world, I have enough confidence in myself. But when I didn't feel that there was faith in me, I had to leave the club. At Arsenal, I felt there was full faith in what I can do."
Faith, expectation, need perhaps. Whatever Arsene Wenger expressed in his telephone conversation with the German international, first team football and absolute faith must have been high on the list. Ozil, for all his qualities and confidence, is a shy individual who will come up against the likes of Mario Gotze and Marco Reus in the competition for national team places. Aside from the internal politics of Real Madrid, this move may well be a very reasonable one for him individually.
In Germany, though, the talk is less of faith, less of Ozil's abilities, and less of the fight for places under Joachim Low. Mesut Ozil has this week become the most expensive German player in history and, alongside Mario Gomez, is now one of two players who appear twice in the top 10 most expensive transfer fees for a German player. The amount of money being thrown around is beginning to concern a few people back home.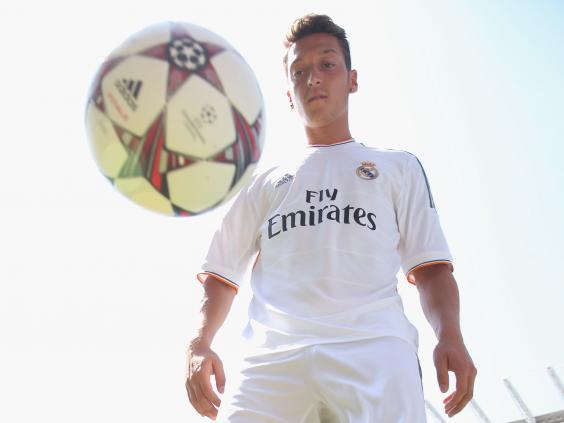 Most prominent has been Oliver Bierhoff, the national team's General Manager, who, when asked yesterday of his thoughts on the transfer, was quick to move onto the philosophical side of things: "These are figures that we can no longer even comprehend. It's a free market, but we have to be careful not to get into a spiral when it comes to transfer fees, or smaller clubs will start to buckle."
Not that some smaller clubs will be complaining over this particular transfer. Under Fifa rules, both Schalke 04 and SV Werder Bremen will receive a small portion of the near €50m sum while, most remarkably of all, around €800,000 is set to go in the direction of Rot-Weiß Essen, where Özil spent five years as a teenager. Not bad for a club currently sitting mid table in the German Regionalliga West. 
For most other clubs, though, the whole saga represents, as Bierhoff expressed, a worrying trend. Most in the Bundesliga went into uproar over the scale of Mario Gotze's €35m move to FC Bayern. The transfers of Ozil and Bale are on a different scale. For Arsenal and Ozil, it is an expensive but ultimately positive move; for Real Madrid it is a gamble and an admission that, despite being the world's biggest club, they cannot really afford to spend €100m on one player. Most in Germany, meanwhile, can do little but shake their heads.