Arsenal manager Arsene Wenger said this morning that Uefa's proposed loosening of the Financial Fair Play restrictions is a victory for "the clubs who have never respected" the regulations.
Michel Platini revealed yesterday that the FFP restrictions would be "eased" this summer, making it easier for clubs with billionaire owners to spend heavily in the transfer market.
Wenger has always been an advocate for financial restrictions and he said at his press conference on Tuesday morning that the clubs who spent more than they earned would be the happiest this week. Manchester City and Paris Saint-Germain were both heavily fined last year by Uefa for breaching FFP.
The Arsenal summer signings that would please Thierry Henry
The Arsenal summer signings that would please Thierry Henry
1/12 GOALKEEPER - Petr Cech

The long-serving Chelsea stopper has been told he will be allowed to leave this summer having seen Thibaut Courtois claim the No 1 jersey at Stamford Bridge. They don't come much more experienced and at 32-years-old, the Czech Republic international still has many good years ahead of him.

GETTY IMAGES

2/12 GOALKEEPER - Iker Casillas

Whether the Real Madrid goalkeeper will be available has much to do with David De Gea's future. Should the Manchester United stopper move to the Bernabeu, Casillas could seek pastures new. The World Cup winner has long been linked with the Emirates.

GETTY IMAGES

3/12 GOALKEEPER - Hugo Lloris

If the north London derby wasn't bitter enough already, Lloris trading Tottenham for Arsenal would add yet another bone of contention between them. The Frenchman is among the best goalkeepers out there and the continued absence of Champions League football at White Hart Lane would be enough for him to push for a summer move.

4/12 CENTRE-BACK - Ron Vlaar

After reaching the FA Cup final, Vlaar suggested he could yet remain at Aston Villa. But once the excitement has died down, the out-of-contract centre-back may opt to move and Arsenal could do far worse.

Getty Images

5/12 CENTRE-BACK - Virgil van Dijk

The Celtic centre-back continues to impress in Scotland and is being monitored by a number of clubs. Among them is Arsenal, who reportedly made enquiries about the 23-year-old before signing Gabriel Paulista in January. John Hartson said of the Dutchman: 'Is he top notch? Is he as good as the Laurent Koscielny's of this world? I think he is. I think he is a top-six Premier League player. I really do.'

GETTY IMAGES

6/12 LEFT-BACK - Jose Luis Gaya

Arsenal have reportedly been watching the 19-year-old Spaniard throughout the season and are readying a bid for this summer. The defender is said to have rejected a new contract at Valencia, giving the Gunners hope of completing a £13.6m deal.

Getty

7/12 HOLDING MIDFIELDER - Sami Khedira

The World Cup winner will be a free agent at the end of the season and having come close to joining Arsenal last summer, reportedly remains on Arsene Wenger's radar. There will be no shortage of suitors for the Real Madrid player.

GETTY IMAGES

8/12 HOLDING MIDFIELDER - Morgan Schneiderlin

The Southampton midfielder has made no secret of his desire to move to a Champions League club and Arsenal would be a suitable fit for the France international. Having resisted last summer, it seems unlikely Saints will be able to keep serious bidders at bay again.

GETTY IMAGES

9/12 HOLDING MIDFIELDER - Victor Wanyama

An alternative to Schneiderlin is his Southampton team-mate Wanyama. The Gunners were reportedly in the mix when the Kenyan moved to St Mary's from Celtic a couple of years ago.

GETTY IMAGES

10/12 STRIKER - Edinson Cavani

Thierry Henry has suggested Olivier Giroud is not the striker to lead Arsenal to the title - so could Cavani? The Uruguay international has been linked with Arsenal for years and there are rumours PSG could be willing to let him leave this summer.

GETTY IMAGES

11/12 STRIKER - Gonzalo Higuain

The Argentina international was meant to be on the verge of joining the Gunners a couple of years ago before eventually ending up at Napoli. The 27-year-old could be on the move again with reports that his current club are prepared to sell in order to reinvest his fee in the squad.

GETTY IMAGES

12/12 STRIKER - Paulo Dybala

An alternative Argentinian would be Dybala, the 21-year-old who has enjoyed a breakthrough season with Palermo. A host of clubs are on the trail and Arsenal won't find he comes cheap. More of a gamble than the other options here.

GETTY IMAGES
"It will not affect us at all because we always spend the money we have," Wenger said at his press conference this morning. "It will affect the clubs who have never respected FFP."
Wenger said that Uefa's apparent climbdown was in response to clubs outside England who wanted more freedom to spend – so that they could be more attractive to investors.
"It looks like there's an international pressure to make these rules more flexible because of potential investors in other countries," he said. "I believe the television contract in England has pushed some other clubs in Europe to want this to be a bit more flexible for them so they can compete better with investors investing in their clubs."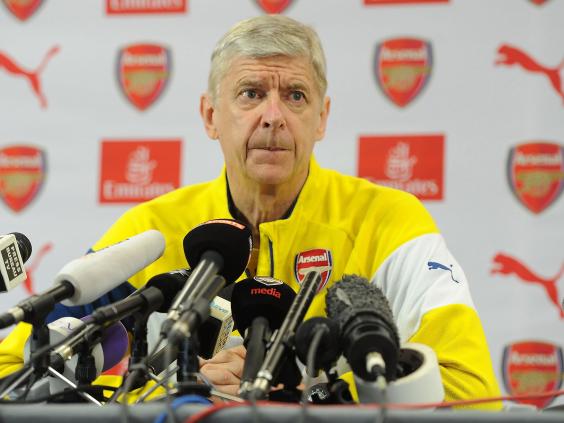 The Premier League's next domestic television deal – for the three seasons starting in 2016-17 – will earn them £5.1billion. That advantage is why Wenger believes foreign clubs, who earn far less from broadcasting deals, felt the need to defend themselves. "I believe it's more down to counteracting the potential investments of the English clubs by the other European clubs," he said. "The pressure came more from the other European clubs."
Reuse content