What happened at Leicester on Sunday began at Milton Keynes – the sight of Manchester United disintegrating against a team that should have been happy just to share the pitch with Old Trafford's galacticos.
Last month's 4-0 victory in the Capital One Cup was the making of the MK Dons, a club that has been mocked for being a franchise with no history. It has some now and it may also be the making of on-loan striker Benik Afobe, who scored two of the goals as a substitute.
Afobe is 21 and has been on Arsenal's books since he joined their academy at the age of six. He has not played a senior game for the Gunners but the way he took his goals, especially the second that saw him brush aside three United defenders to shoot past David de Gea, betrayed the quality of his education.
I started on the bench but I did want to make a point when I came on," he said. "We were 2-0 up at home against Manchester United and I thought, 'This must be a chance to get a few more'. I was trying to be cool and clinical.
In pictures: MK Dons humiliate Man Utd
In pictures: MK Dons humiliate Man Utd
1/6 MK Dons 4 Man Utd 0

Jonny Evans was at fault for the first goal

Getty Images

2/6 MK Dons 4 Man Utd 0

MK Dons players celebrate their first goal in front of Manchester United's supporters

Getty Images

3/6 MK Dons 4 Man Utd 0

MK Dons' Will Grigg celebrates after scoring the second

PA

4/6 MK Dons 4 Man Utd 0

MK Dons striker Benik Afobe scores their third goal

Getty Images

5/6 MK Dons 4 Man Utd 0

Benik Afobe doesn't see what the big deal is after adding his second and the Dons' fourth to the tally

Getty Images

6/6 MK Dons 4 Man Utd 0

Louis van Gaal can't bear to watch anymore

Getty Images
"But when the first one actually went in, well, I didn't believe it. It didn't seem real. All I could think was, 'I have just scored against Manchester United'.
"Looking around at the final whistle, I had never seen anything like it. The stadium was full, it was rocking. When I got home, I still couldn't believe it. My family had recorded the match and, even though it was there in front of me on television, it felt like a dream. Those memories will never go."
That, then, is the answer to the question which is asked a lot more than when Sir Alex Ferguson ran Old Trafford. "What is it like to score against Manchester United?"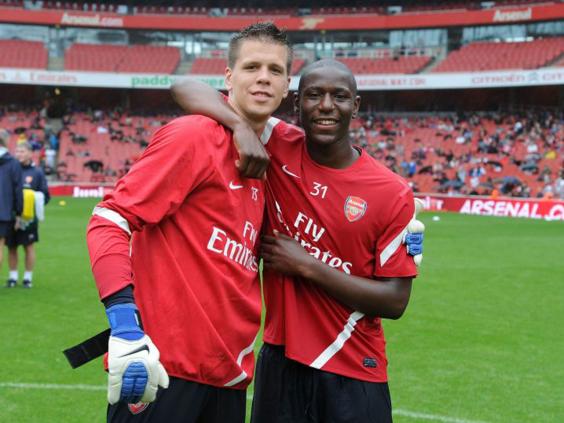 This evening MK Dons take on Bradford, a team that forged undying memories when they became the first club from the fourth tier of English football to reach a League Cup final at Wembley. One of the Premier League sides Bradford beat along the way two seasons ago was Arsenal.
Afobe was not in the squad that Arsène Wenger selected for that game at Valley Parade, which shook every bit as much as stadium:mk did last month. He had been sent to Bolton on a season-long loan.
Owen Coyle had brought on Jack Wilshere and Wenger must have hoped he would do the same for Afobe. Instead, Coyle was sacked as manager, Afobe returned to London to play for Millwall, suffered a knee injury and was out for eight months.
His talent was identified early. He was part of the England side that won the European Championship at Under-17 level and scored a hat-trick and laid on the two others as Arsenal beat Nottingham Forest 5-3 in the Premier League Academy final. And yet he has still to break through with Arsenal at senior level. MK Dons are  the sixth club he has joined on loan.
Not everyone enjoys the loan system. There is rather too much time on your own in hotels; you have to fit in quickly with a group of strangers and, if you are a thoroughbred footballer like Afobe, you are expected to produce immediately.
"The worry is that you won't find a team that suits you or will let you play and that can be luck," he said. "I know players who have had fantastic ability but couldn't settle because they didn't fit in but I could room with any of these boys. I am lucky in that I can do something I love and make my family proud."
The question for MK Dons, who after thrashing Crewe  6-1 on Saturday lie second in League One, is whether a cup run might hinder their drive to reach the Championship.
"Promotion or the League Cup final?" Afobe ponders the question. "Promotion, 100 per cent. The players, the fans and the manager deserve so much more than League One. Even if you gave me the option of scoring in the League Cup final, I am still definitely taking promotion."
Play as Benik Afobe in EA SPORTS FIFA 15, out on Friday on Xbox One, PlayStation 4 and all other formats. Pre-order NOW to get your copy on #FIFA15Friday from easports.com/uk/fifa/buy
Reuse content