The motivational messages on the wall of Oldham Athletic's gym screamed out with irony, after the events of the week just gone. "Don't be a prisoner of your past. Look forward to be free," it tells the club's players. But it was the pitiful size of the facility that screamed out more.
We had been invited down to "the gymnasium" after Saturday's game with Doncaster Rovers on the promise of a brief conversation with manager Lee Johnson, which was to include a few words on the Ched Evans maelstrom. You pictured the extra space such a facility would create for an interview – not the narrow, windowless strip you wouldn't ask a pub team to exercise in.
In that worn-out decrepitude it was easy to see why Oldham, a club flirting with relegation to the Football League's bottom tier for the last few years, were so tempted by the idea of signing a £3m striker, who had been convicted for rape. In a word, desperation.
The threadbare, ageing stadium told the same story, as did the content of Johnson's programme notes for Saturday's match. "Since our last game we have lost the services of five players from our squad," he told fans. "The squad is reduced to 21. The cupboard is bare, so to say." The loan players have left. Oldham struggle on.
The fabulously wealthy six or eight Premier League clubs who absorb us week to week, and around which the football conversation always coalesces, don't have to think about players like Ched Evans.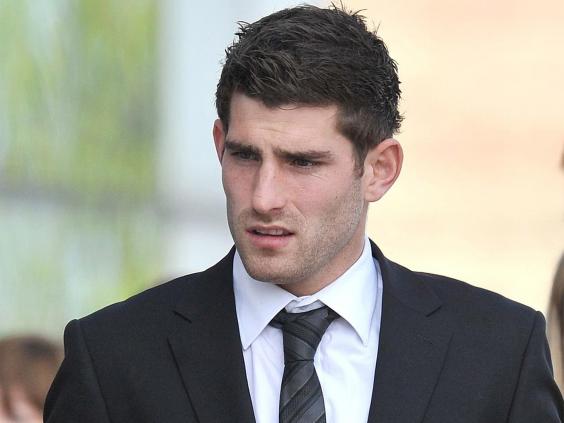 Manchester City have erased his name from their academy wall of trainees who made the first team. When I asked the head of that £200m facility before Christmas whether anything could have been done to turn out a better human being than the  26-year-old proved to be, the answer was "he was here before my time". When it became known to City that I had even asked the question I received a text message saying "No Ched Evans please" – a reference to what I was apparently permitted to write.
Oldham don't have people to send messages like that. The press officer carries a microphone around because he also interviews the manager, post-match, for the club website. He was one of those we'd bombarded with calls all week, as if he were geared up for what he described on Saturday night as the "other what-not" which Johnson would be willing to discuss.
The club ask Oldham College to help them make their academy trainees into good human beings, incidentally. There are unconfirmed suggestions that the boys might no longer have been welcome up there had Evans joined.
This is football's nether world and though there have always been rich and poor, giants and minnows in the sport, the scandal is that the wealthiest swim in multi-millions while the rest have next to nothing and must grasp any player, opportunity, financial investor they can find.
Look at the numbers – the 20 Premier League clubs share a £5.5bn TV pot, while only 26 per cent of the Football League's £195m TV deal finds its way outside the Championship – and you see why the football world occupied by Oldham and Stockport, Wrexham and Hereford falls prey to the sharks and speculators. There's been carnage at all four of those clubs – and varying degrees of recovery – though Oldham have been teetering on the brink of oblivion for a decade.
That's how long it's been since an Oxfordshire software entrepreneur, Chris Moore, lost interest and left, taking his money with him and leaving £2m debts and £50,000-a-week losses. The three US-based investors, including current chairman Simon Corney, who bought the club out of that penury never made much secret of the fact that the property opportunity presented by land bordering Boundary Park was their angle. The opportunity never materialised. Two of Corney's associates left, retaining ownership of the land.
You see, then, why Evans – an investment opportunity who would cost next to nothing – looked so appealing, when superficially there was very little financial risk. Lee Johnson has been aware since before Christmas that there was the offer of contingency money from the father of the player's fiancée and three of his associates – "a raft" – to smooth the way.
Corney was encouraged by his  co-director Barry Owen to look at the  Evans case notes and saw what the Criminal Case Review Commission is being asked to see: the lack of a rape claim, the question of whether Evans was cautioned before he began discussing the case with police, the question of whether CCTV footage from a bar and kebab shop should have been examined. But no one anticipated quite such heat.
Sponsors who are part of the warp and weft of Oldham are already lost and may be irrecoverable. Gone, on Saturday, was the usual half-time raffle prize – a meal for two at Nando's – because the restaurant chain has withdrawn from the club.
Losing the fabric of community is an unquantifiable punishment. But then the opprobrium towards club officials grew personal. Owen got the worst of it. The  ex-police superintendent had not anticipated that his strong principles on an individual's right to rehabilitation would result in threats to his own family. There was a threat to the mother of another board member too. They had to let it go.
So it is back to the job of surviving. The tight little press box would have been heaving on Saturday if Evans had signed but it was the usual dozen or so, gratefully receiving their voucher to the tea hut to redeem a free drink and bar of chocolate.
It was not entirely a regulation matchday. A small, intellectually challenged minority began chanting "One Ched Evans" and "Sign him on". A fan in his 60s asked stewards to shut them up but they couldn't and he walked out. "No one was evicted," the steward told me, as if this was a reason to be pleased. Against considerable odds, Johnson's side played well and went 2-0 up. Then their left-back, Joe Mills, was sent off, Doncaster scrambled a goal and, at the death, an equaliser.
Johnson arrived half an hour later in the gym, where the other motivational message on the wall behind him read: "I may not be there yet. But I'm closer than I was yesterday." That's not true in Oldham's case. The circus has left town but their fight to make their way on a pittance goes on, quietly and inexorably, while the world's attention switches back to the millionaire clubs with money to burn.
Reuse content