It was a textbook piece of propaganda. Cryptic criticism of convenient enemies was condensed into the perfect soundbite. Self-serving headlines were shaped by a combination of caustic commentary, theatrical defiance and artful praise of those who have served him well.
Say what you like about Jose Mourinho – and we will – he is a master of the darkest art of football management. Spiritually, he has turned Stamford Bridge into Stalingrad, a stronghold defended by loyalists who accept the sacrifice of being under siege.
He has succeeded in shifting the agenda, so that his confidence Chelsea will win another Premier League title deflects a damaging inquest into an avoidable elimination from the last 16 of the Champions League.
The cult of personality ensures he will be welcomed back as a hero today, for the cleansing ritual of another important match, against Southampton, when he should by rights be being held to account for a failure of nerve, ethical indifference and tactical inflexibility. 
Pep Guardiola's Barcelona were a sublime football team, which exaggerated fouls and routinely pressurised referees into pre-emptive punishment. Mourinho's Chelsea are an extension of his manipulative character; gamesmanship is choreographed to unprecedented levels.
His achievements, in winning league titles in four countries, and overseeing Champions League victories at Real Madrid and Internazionale, deserve deference. He remains the pre-eminent defensive coach of his generation.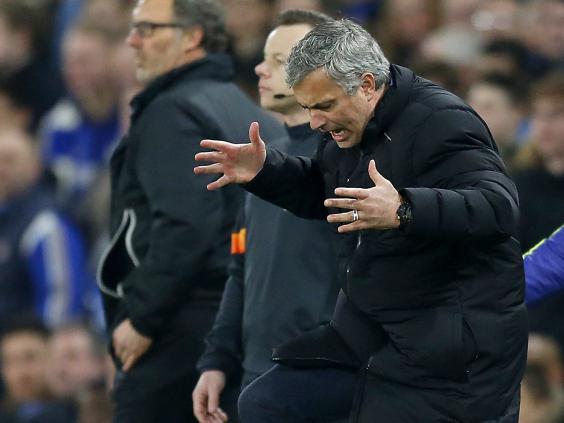 Yet judged objectively, difficult since he is such a polarising figure, Mourinho fails the ultimate test of leadership. The best coaches advance and adapt, and Mourinho's methodology has not changed significantly since his first spell at Chelsea.
His siege mentality was pronounced even earlier, at Porto, where he posted a sign on the home dressing-room wall. It read: "Aqui, ninguem e permitido dentro – exceptonos" (Here, nobody is allowed in the dressing room – except us). It was not a physical instruction, but a symbolic reminder of the need to close ranks.
The age of the martinet is over. Fabio Capello has been marginalised, after looting Wembley. No-one will again wield Sir Alex Ferguson's absolute power. Louis Van Gaal has discovered, to his intense irritation, perceptions of eminence offer no protection.
The All Blacks, widely recognised for the profundity of their culture, expect coaches and players to "plant trees they will never see". That is an expressive way of confirming collective responsibility to something more substantial than short-term success, the nurturing of  future generations.
To extend the analogy, Mourinho prefers to buy a bouquet of flowers, sweet-smelling and eye-catching, before despatching it to the compost heap when petals begin to wither. His philosophy is stark; win for me today and tomorrow will take care of itself.
Chelsea 2 PSG 2 player ratings
Chelsea 2 PSG 2 player ratings
1/24 Thibaut Courtois

Outstanding showing in France kept Chelsea in tie; tested little in first half. Rounded by Cavani before fine stop. Rooted to spot for Luiz and Silva headers. 7/10

GETTY IMAGES

2/24 Branislav Ivanovic

Serb opened the scoring in Paris three weeks previously but was not afforded space to roam, policed well by Maxwell. Blocked Matuidi shot. 6

GETTY IMAGES

3/24 Gary Cahill

Chosen ahead of Zouma and kept occupied by Cavani all night. Assisted first-leg goal and had shot blocked at a free-kick before swiping in opener here. 6

GETTY IMAGES

4/24 John Terry

Relishes big occasions and stood up to challenge well as PSG took time to impose themselves. Vital block on Cavani but beaten at the end. 7

GETTY IMAGES

5/24 Cesar Azpilicueta

Eager to help in attack but careful not to be caught out of position as PSG pressed. Unable to make impact as French side dominated to progress. 6

GETTY IMAGES

6/24 Cesc Fabregas

Knocked over by Motta and unable to exert influence as easily as he did in first half of season. Knocked off ball too easily by stronger visitors. 5

GETTY IMAGES

7/24 Nemanja Matic

First game in over a fortnight after last month's red card and aided defensive efforts. Crucial interceptions and strong tackles before being taken off. 6

GETTY IMAGES

8/24 Ramires

Energetic as ever, ferrying the ball between defence and attack, but did not offer as much imagination or spark as Willian might have. 5

GETTY IMAGES

9/24 Oscar

It was a challenge with him that resulted in Ibrahimovic being dismissed. Overreaction angered PSG players. Hooked at interval when on a booking. 6

GETTY IMAGES

10/24 Eden Hazard

Skipped through at will early on and hauled back by Matuidi to prevent breakaway near half-time. Showed no nerves with extra-time penalty. 7

GETTY IMAGES

11/24 Diego Costa

Caught in ribs but continued after treatment. Involved in running battle with Luiz and denied penalty when shoved by Cavani. Late tackle on Silva. 7

GETTY IMAGES

12/24 Best off the bench: Willian

Replaced Oscar after being left out for his compatriot. Almost caught out Sirigu at near post. Limited success with dead-ball delivery. 6

GETTY IMAGES

13/24 Salvatore Sirigu

Italian had little to do as PSG began brighter. Gathered from Oscar and Willian free-kick and strong arm denied Ramires. Not to blame for either goal. 6/10

GETTY IMAGES

14/24 Marquinhos

Cleared from Terry at end of first period and kept occupied with trickery of Hazard. Also posed problems with delivery from wide areas. 6

GETTY IMAGES

15/24 Thiago Silva

Caught Costa off the ball and allowed Chelsea attackers little room. Spoiled showing with needless handball before magnificent header for winner. 7

GETTY IMAGES

16/24 David Luiz

Warmly greeted and enjoyed battle with new home favourite Costa, fortunate to escape elbow. Booked for play-acting before powering in leveller. 6

GETTY IMAGES

17/24 Maxwell

Poor cross when in good position but stepped up after the break. Won corner with one cross-shot and played part in composed French back line. 6

GETTY IMAGES

18/24 Thiago Motta

Entered referee's notebook for dissent. Provided valuable extra line of cover for PSG, keeping threat of Chelsea attacks to minimum. 7

GETTY IMAGES

19/24 Marco Verratti

Classy touches and grew into the game as nerves among home side became evident. Half-hearted claims for penalty when caught by Ramires. 6

GETTY IMAGES

20/24 Blaise Matuidi

Booked for pulling back Eden Hazard before interval. Powerhouse who linked PSG attacks and more effective than Ramires' efforts in blue shirt. 7

GETTY IMAGES

21/24 Javier Pastore

Forced Courtois into fine low stop as visitors pressed before wasting second attempt. Rarely ceded possession and always forward-thinking. 6

GETTY IMAGES

22/24 Zlatan Ibrahimovic

Swede has habitually struggled against English opposition and that continued here. Harshly shown straight red card for strong challenge on Oscar. 5

GETTY IMAGES

23/24 Edinson Cavani

Scored equaliser in first leg and close in opening exchanges. Lucky not to cede penalty as he pushed Costa. Shot against post after rounding Courtois. 7

GETTY IMAGES

24/24 Best off the bench: Ezequiel Lavezzi

Took place of Matuidi in closing minutes as French side sought leveller. Almost made immediate impact with header at Courtois before Luiz's bullet header. 6
Chelsea's Academy is a profit centre rather than production line. Promotion tends to be for PR purposes, given the experience of midfield player Reuben Loftus Cheek. He has not played a single minute since being promoted to the  first-team squad, with great fanfare, on 3 February.
Mourinho has never adequately grasped the modern leadership concept of distributing power without losing  authority. Phil Jackson, the fabled basketball coach, speaks of letting "each player discover his own destiny", an  ambition beyond a group as regimented as Chelsea's current squad.
He also ignores football's currency of choice, professional respect. Three Premier League managers to whom I have talked privately over the last fortnight have spoken independently about their distaste for the orchestrated antics of the Chelsea bench.
Mourinho's human failings, such as his hypocrisy in castigating critics for bending with the wind while shaping his stance to suit circumstances, and his  juvenile insistence on continually referring to Manuel Pellegrini as 'Pellegrino' are legion.
Guardiola, conscious that "ego is the source of the majority of a team's problems", had the humility to adapt to the players he inherited at Bayern Munich. Mourinho expects others to bend to his will. That is why history will record him as being extraordinarily talented, undeniably charismatic, and fatally flawed.
Three true role models
Role models are elevated by strength in adversity, and have special resonance when they are produced by something as relatively insignificant, but socially important, as sport. The antidote to the braying and bullying which has characterised this week can be found in the example set by three contrasting characters: Matt Hampson, Jonas Gutierrez and Neil Harris.
Hampson became a quadriplegic 10 years ago today, when a scrum collapsed at a training session for the England Under 21 squad. He asked himself: "Do I get busy living or get busy dying?" He chose the former, and has become a source of inspiration through the Foundation which carries his name.
Gutierrez has summoned the courage to speak graphically of the ordeal of fighting cancer, and the privilege of a second chance at life. The Newcastle United player seeks to educate and encourage, since "people think we're super-heroes, but this type of thing can happen  to anyone".
Harris, introduced yesterday as Millwall's caretaker manager, once rummaged around in the attic of his home to show me a box containing 3,000 letters from fans moved by his successful fight against testicular cancer. "This is my life" he said. To his credit, he continues to share its lessons.
KP can now do his worst
Kevin Pietersen has called their bluff. His proposed return to county cricket will probably be no more than a charade, but it will serve his wider purpose of causing as much chaos as possible for those responsible for his excommunication from the England cricket team.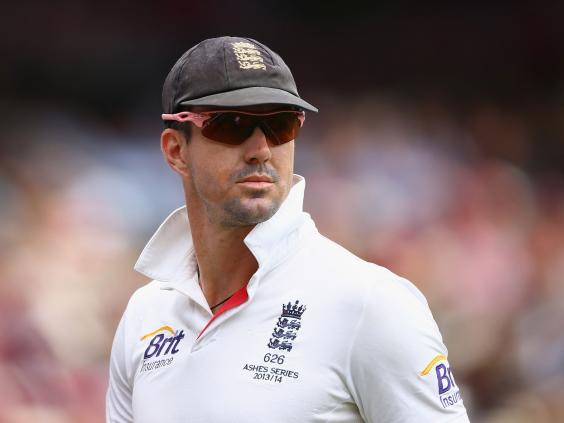 Alastair Cook, in good spirits when I last saw him in our village pub watching England's rugby team lose to Ireland,  deserves better than to be held hostage by the bumbling incompetents of the ECB, who have effectively invited  Pietersen to do his worst.
Feelgood factor lacking
The Cheltenham hangover is kicking in, literally and figuratively. Aintree will provide a final chance to celebrate the life and times of AP McCoy, but racing needs to share more feelgood stories, and develop a better appreciation of the synchronicity between horse and rider. Its future is in its own hands.
Reuse content