The takeover of Newcastle United was as mindless as the running of the club would prove to be.
Sir John Hall, who was selling up, was planning to meet a group of Malaysians at 11am on a Monday morning in May 2007 when agents telephoned on behalf of an Icelandic Bank which was funding Mike Ashley and insisted on meeting Hall off the King's Cross train at 10am. They whisked him into offices – the Freshfields law firm off Fleet Street – and offered him a premium on his shares, there and then. Ashley was not even at the meeting.
The retail magnate did not even seek to do due diligence on the £55m deal to buy the Hall family stake. He just wanted the club to provide what Hall was informed would be "a form of shop window" for his Sports Direct chain and its goods. It was a way to reach the marketplace that excited him most: the Far East. "Newcastle were a global brand, big fanbase. He had a strategy," Hall said of Ashley's motivation. It was a breeze for a man who had netted £929m by selling 43 per cent of Sports Direct on the Stock Exchange. 
The utter insignificance of the city of Newcastle and supporters to this owner has been fundamental to the club's catastrophic last few years, which will reach a new low before the home game with Hull when a group of supporters issue 30,000 A4 cards and 100 banners calling for Alan Pardew to be dismissed. The manager's record has been dismal – five wins in the last 24 league games since beating Stoke 5-1 on Boxing Day, 15 points out of the last 72 – though he made the usual noises on Friday. "You don't expect me to wave to the crowd and say, 'Hi everyone, I'm happy, how are you today?' That's not happening," he said. "But this can also make you stronger."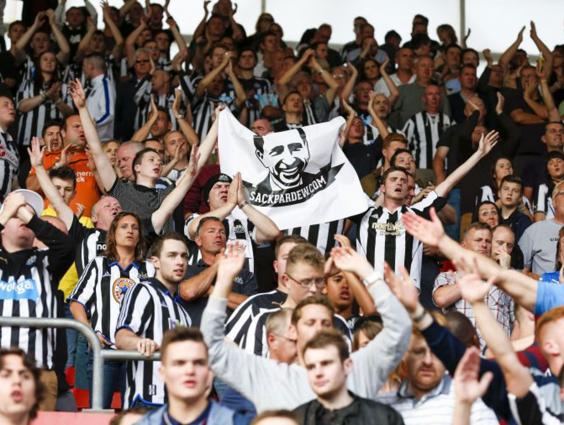 Pardew has been the stooge for an owner who has handled the replenishment of the first-team squad in the summer as he would the freshening up of his stock – seeking cheap foreign imports with a re-sale profit potential and a manager tame enough not to stand in his way.
The dislocation between Newcastle – the world's ninth biggest club in terms of income, who attracted an aggregate 100,000 to this season's first two home games – and its supporters is charted impeccably by journalist Michael Walker in a new book, Up There: The North-East Football Boom and Bust, which tells the Ashley takeover story and reveals the myriad ways in which the club has become a clothes horse.
Who could replace Alan Pardew as Newcastle manager?
Who could replace Alan Pardew as Newcastle manager?
1/7 Steve Bruce

Having got Hull City promoted back to the Premier League and then taking them to the FA Cup final last May, Bruce is steadily adding to his reputation as a manager. His previous role at Sunderland was always fraught due to his Geordie roots - but that certainly wouldn't be a problem at St James' Park. The former Manchester United defender didn't disgrace himself during spells in charge of Wigan and Birmingham either.

Getty Images

2/7 Neil Lennon

The former Leicester player was highly successful during his time at Celtic - his only managerial position to date. He won three league titles and caused a few upsets in the Champions League. Has been linked with Premier League roles for some time and is currently a free agent having stepped down at the end of the last season after four years in charge.

Getty Images

3/7 Steve McClaren

McClaren's career is difficult to judge. Performed a few miracles at Middlebrough then came the England job. Won the Eredivisie title with FC Twente, then had strange spells with Wolfsburg and Nottingham Forest. It seems the 53-year-old could be back on the way up judging by Derby's solid start to the season and owing to his North East roots, could be a good option for Newcastle.

Getty Images

4/7 Michael Laudrup

A more glamorous appointment that could appease the fans would be that of Laudrup. During his time at Swansea he did brilliantly, bringing in rough gems that he polished into a League Cup winning side. The style of play he instilled was impossible not to admire. The former Barcelona midfielder is currently in charge of Qatari side Lekhwiya.

AP

5/7 Joe Kinnear

Surely Mike Ashley wouldn't - would he? Kinnear was unpopular during his previous spell in charge of Newcastle before it came to an end due to health issues. He was then made Director of Football but a few embarrassing episodes, from getting players' names wrong to failing to visibly do anything soured his standing amongst the fans further.

GETTY IMAGES

6/7 Paolo Di Canio

The controversial Italian is just the type of character that would ensure a continuation of the Newcastle United soap opera. And that's why he shouldn't be discounted. Actually did quite well in charge of Swindon and managed to keep Sunderland afloat after being parachuted in. His controversial knee-sliding celebrations when the Black Cats won at St James' Park won't have done him any favours though, and neither will the reports of complete discontent by the end of his reign at the Stadium of Light.

GETTY IMAGES

7/7 Roberto Di Matteo

Seemingly linked with every job going, remarkably Di Matteo is still yet to dip his toe back into the choppy management waters since taking Chelsea to Champions League glory in 2012. His feat with the Blues whilst caretaker manager has ensured he is a popular choice whenever vacancies come up, whilst his spells at MK Dons and West Brom weren't too shabby either.

Getty Images
There are some wretched details – of how Ashley had plastered 137 Sports Direct logos across St James' Park by the end of last season. They include the 18 on the top of the home dugout seats, 13 above the away bench and one glued on top of the Newcastle equivalent of Liverpool's "This is Anfield" sign in the tunnel. "Buy something from the club shop and the till receipt will inform you that it is registered in Nottinghamshire, where Sports Direct has a base," writes Walker.
The supply line of cheap foreign imports has reached the realms of the ridiculous, while the club's profits have grown – to £9.9m last year, with a wages/earnings ratio of 64 per cent, below a Premier League average of 70 per cent. New Argentine striker Facundo "Chucky" Ferreyra has "never been seen in public," as Newcastle's Evening Chronicle put it this week and appears to have been signed because he is a friend of captain Fabricio Coloccini. He started only 13 games for Shakhtar Donetsk last season and it is understood some Newcastle players consider his signing to be a joke.
"The club are allowed to get away with so much because the national spotlight is not the same up here," says Mark Jensen, editor of The Mag fanzine. "People just think 'same old Newcastle, same old pantomime'. If it happened in London it would be different."  Not that there is no questioning of a club which lurches from one shabby controversy to another. The Newcastle board have postponed next week's fans' forum until 20 October, though the Newcastle United Supporters' Trust has been banned from the forum since last year releasing their own interpretation of answers the club has provided in the past.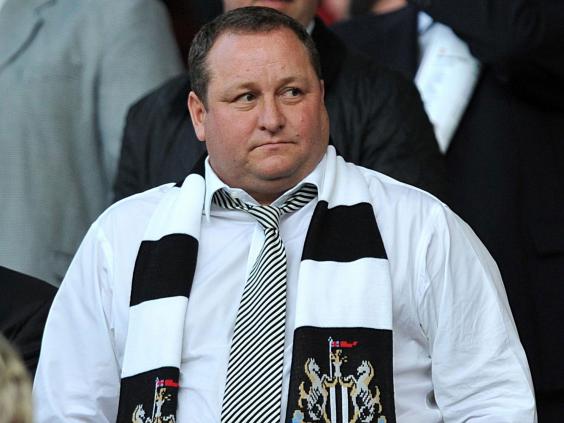 When journalists challenge Ashley, the club goes to war with the press, too. For a time this week, a story about the Daily Telegraph's latest ban received greater prominence on the club website than the illness of winger Jonas Gutierrez, who is undergoing treatment for testicular cancer in Argentina. Ashley is directing a public-relations disaster.
Jensen is among many who argue that Pardew is culpable and that Saturday's protests are justified because he takes the Ashley shilling, refuses to challenge the mess and is managing a dreadful team. "He collaborates in this facade of saying everything is great, when we've lost more players in the summer than we've brought in," Jensen said. No-one has forgotten Pardew dedicated last November's 2-0 home win over Chelsea to Ashley. He severely undermined his position further by thrusting his head into the jaw of Hull City's David Meyler in March and throwing a vilely abusive comment at Manchester City manager Manuel Pellegrini last season.
With foreign imports all the rage, the club's link to locally developed players has also died. There have been none since Andy Carroll and Steven Taylor. "The area hasn't changed in its love for football. It is a religion," Michael Carrick's father, Vince, who runs the legendary Wallsend Boys Club, told Walker. "But the standards have changed. The level is lower. Foreign players and managers are contributing factors. Newcastle have 10 Frenchmen."
Walker points out that the Halls and their associate Freddy Shepherd took millions out of Newcastle, just like Ashley, though observes that they did have the ambition to win things. "Cold support for Newcastle was not one of their faults," he writes. "Yes, they did buy and they did bring [Kevin] Keegan and Sir Bobby [Robson] in to manage the club," Jensen says of Hall and Shepherd. "They knew how to create a good feeling. They understood that they could be pulling up at a petrol station somewhere around here and encountering fans. Ashley never will."
Keegan faced protests, too. Hundreds of fans massed at St James' in 1995 when he sold Andy Cole to Manchester United. "I went out to speak to them and offered to resign there and then. But after four or five minutes of talking to them the mood changed," Keegan later recounted. "Effectively we had an open board meeting with the board at the back and I said to Terry [McDermott], 'This is why this is such a great club'. People sometimes think the fans don't know what the game is about. They know more, sometimes, than the people in the club. So we got them back onside." What wouldn't the supporters give to have those days back?
Up There: The North-East Football Boom and Bust, by Michael Walker, De Coubertin Books £16.99
Reuse content