The chairman of the Football Association is having a problem with his £16,000 Parmigiani watch. It was left in a goody bag for him in Sao Paulo after this summer's Fifa Congress which breached that organisation's ethics code. Greg Dyke told us last week that he was struggling to get it sent back to Brazil.
"There's a bit of a complication. A problem with customs," said Mr Dyke, who says he thought it was just "a tat watch" and has not even taken it out of the bag.
I have a solution to this little difficulty. It involves selling the watch, paying off the import duty, and giving what's left to Pedro Miguel and his neighbours. Because if anyone needs a goody bag from Brazil it is them and, as the memory of this summer's World Cup fades, it is quite obvious that they are not going to get one.
Mr Miguel is the owner of a shack – half corrugated aluminium, half brick – thrown up on a ragged slope in the impoverished community of Morro da Cruz, ("Hill of the Cross") in the Brazilian city of Porto  Alegre. His treatment for a bladder problem was so makeshift that he was carrying a catheter and its contents around in his hand when I met him, three months ago this week, at the height of the World Cup. We talked, through a translator, amid the charred remains of the building that he once called home. Fire had razed it to the ground, because of the makeshift work of the local youths he'd paid to rig wires from the main electricity supply down to the place – on a stretch of destitution they call Beco das Pedra ("Stone Alley"). Mr Miguel had asked for a legitimate supply of electricity but the local authorities were not interested.
When I related my encounter with Mr Miguel on these pages, a glimmer of hope seemed to emerge. His story gained currency. It was picked up by websites. The Brazilian media is extremely sensitive to how the rest of the world is characterising its country. Lucia Scalco, a social anthropologist who is working to create a quality of life for the people of Morro, finally received the communication she had been seeking from the electricity company. "Your reports are helping. We have sent them to the Municipality and have received a good response," Ms Scalco wrote to tell me, on 5 July. "We hope for electricity now."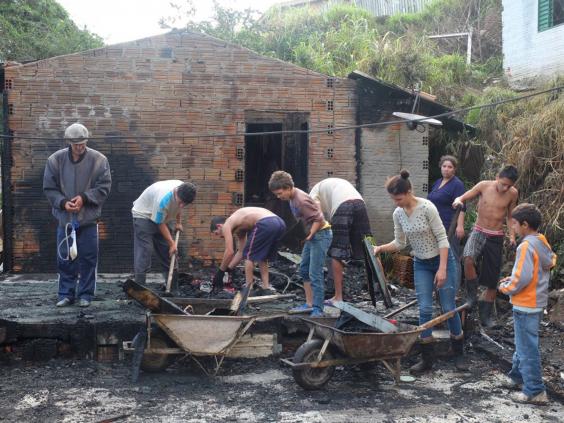 It never came. Though the health of the man I met in the ashes has evidently deteriorated substantially in the last three months – "He is very sick. They will operate," Ms Scalco now tells me – there is still no electricity supply and there won't be. "It is not possible," she says. "Mr Miguel is discouraged and sad. The government gave him an emergency home – simple and in a precarious place, though it helped – but there is no electricity. No light."
Ms Scalco's testimony is consistent with that of the Swiss non-governmental organisation I encountered a few weeks ago – Terre des Hommes – which is dedicated to helping the dispossessed to catch a few of the benefits when international sports events roll through a country. Some of the videos the organisation has broadcast since the World Cup finished paint a heartbreaking picture of the impoverished being as unrecognised as ever in Brazil. Terre des Hommes says 170,000 people lost their homes during the preparations for this summer's World Cup. Search twitter for  @childrenwin and you'll find them.
The NGO wants football's authorities – Fifa and Uefa – to demand comparable levels of corporate social responsibility from host nations, before awarding them tournaments, as those which have become standard among international corporations the world over. But we will be waiting a long time for that, given the evidence this month that host nations do not even need to demonstrate the most fundamental level of human rights. Uefa has just awarded host city status for the 2020 European Championship to Azerbaijan, the oil-rich state which is the subject of mounting international condemnation over its treatment of human rights activists.
Amnesty International points out the case of Leyla Yunus, currently detained on charges of treason, tax evasion and fraud after highlighting the Baku regime's dire human rights record. Amnesty fears Azerbaijan will use the 2020 tournament for "image laundering".
Human rights of another kind are needed in Morro da Cruz, but they are doing what they always do: progressing as best they can with no expectation that the outside world will help. Last Friday, the inaugural meeting of Beco das Pedra residents' association was held. "Not a great attendance but a start and more people getting involved," Ms Scalco says of the event. Her architecture colleagues at the Universidade Federal do Rio Grande do Sul have become involved in attempting to improve the chaotic structure of the district. Ms Scalco is realistic enough to know that the high-rolling world of international football does not deliver any deposits to places like Morro.
But £16,000 would pay for the installation of a sewerage system, instead of the makeshift pipes which currently serve the purpose, depositing their raw contents on the streets. It could fund an electricity supply, too. "Yes," says Ms Scalco. "One of those watches would be enough…"
Rooney's red card shows he is still an unpredictable talent
You can only begin to imagine the agonies The Sunday Times must have felt at 4.15pm on Saturday afternoon when the subject of a typically brilliant interview by the paper's Jonathan Northcroft received a straight red card at Old Trafford. The headline over their Wayne Rooney spread read: "Have I fulfilled my potential? No. The best is yet to come."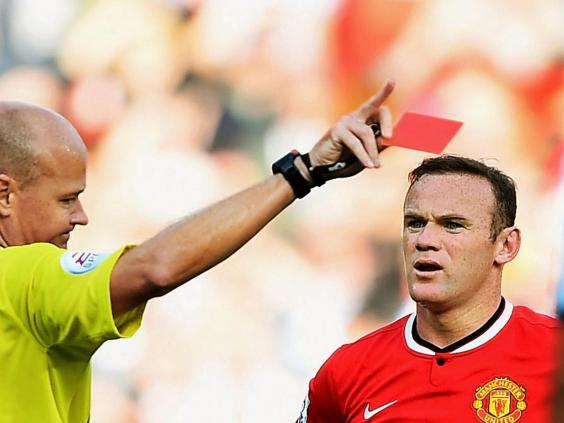 But the player and the piece were not so out of kilter. The Mike Tyson T-shirt Rooney was pictured in for the feature carried an unspoken significance. It spoke to the raw, rough-edged unpredictability which those of us without club bias have always cherished in Rooney. These are also the characteristics which Manchester United's image rights people draw on when they market him. Any image rights expert will tell you that promoting Rooney requires a different series of phone calls.
So let us be honest: the sound and  fury which followed his dismissal was as much a product of the delight we take in the bad guy conforming to the narrative as it was about that challenge on Stewart Downing. Rooney, who had not been dismissed in a league game since  March 2009, is  what he is: a wonderfully talented, wonderfully flawed footballer.
Reuse content