What should not be forgotten about Roy Hodgson is that he is the coach called in from the cold, a 66-year-old man with 38 years in management who, brief spells at Bristol City and Blackburn Rovers aside, was only really re-established in English football with his successful stint at Fulham from 2007.
Before then he was an Englishman with other priorities, watching from afar. When Sir Bobby Robson reached the 1990 World Cup finals, Hodgson was at Neuchatel Xamax. When Graham Taylor's England failed to qualify for the 1994 World Cup finals, Hodgson oversaw the considerable triumph of getting Switzerland there. When Sven Goran Eriksson's England beat Germany 5-1 in Munich, Hodgson was at Udinese.
Although it is hard for some to believe when they consider a man as resolutely 20th century England as privet hedges and quiet forbearance, Hodgson has not been around to experience the same cycle of hope and shattering disappointment that most around the national team know only too well.
He left the country to take his first job at Halmstads in Sweden in 1976 when Don Revie was in charge of England. A man with a dry sense of humour when circumstances allow, Hodgson tends to shake his head in mock disbelief when someone recalls a small detail from a game under one of his predecessors.
It means he does not carry the same baggage that is the burden of most followers of the England team. In fact he makes a virtue of it. A lacklustre performance from the side or a panicky mistake by one of his players is simply that to him, it is not one more layer on the accretion of pain and frustration borne of years of false dawns.
Gary Lineker's in-match tweeting has been a thorn in Hodgson's side since the BBC pundit's "Dark Ages" comment during the Ireland friendly in May, and the attitude of the former England captain remains a mystery to the manager. Hodgson expects a sympathetic word from an old pro who knows that not every performance can be a sparkler, not more doom and gloom.
On Tuesday, Hodgson saw a capable battling performance led by his reliable old-guard of Steven Gerrard, Frank Lampard and Ashley Cole – with fine performances from Gary Cahill and Phil Jagielka thrown in. The point keeps England top of Group H and their fate in their own hands with two Wembley qualifiers to play. They are the only unbeaten side in the group. They have conceded just three goals.
All that is true, and there is also the context of England's more promising performances outside qualifying: the two friendlies against Brazil last season and the comeback against Scotland last month.
In eight qualifying games, however, they have beaten only Moldova and San Marino and now must come good at Wembley against Montenegro and Poland.
Where Hodgson's analysis of Tuesday's game diverged most from those who were particularly critical was on England's inability to retain the ball under pressure. It is a failing that has hobbled the national team for longer than most can recall. Asked about it, Hodgson was at his most indignant.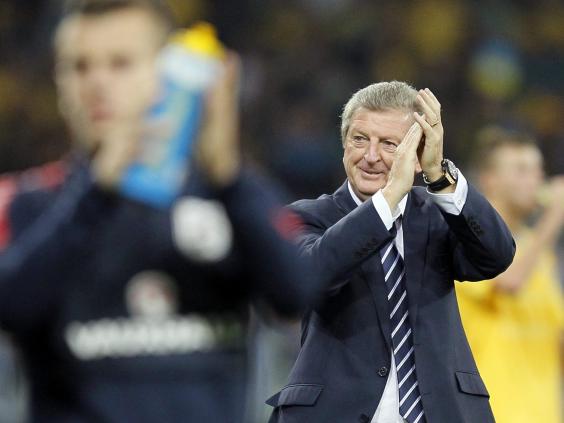 "You're going down the wrong route there for me. Did we play longer balls forward early? Yes, we did. That was a tactical change. We didn't want to play out from the back and invite the pressure from a very strong pressurising team.
"But you've just seen us play against Moldova. If you are prepared to stand there and seriously say the England team that I'm coaching can't keep the ball, can't play from the back and through the midfield, there's no point us having a conversation. Because we just totally disagree. You keep your opinion, I'll keep mine."
The long ball forward from Jagielka at the start of the game, having had possession passed back to him via Lampard from the kick-off, was a sign of things to come. Rickie Lambert did his best but he was never capable of relieving the pressure for significant periods and so instead of keeping the ball it felt like England relied upon their defensive quality to keep Ukraine at bay.
Understandably, Hodgson is focused on the smaller picture. He argued at one point that he was "missing seven first-team members" which may just have been the fraught mood in the aftermath of a game. Seven? Certainly Wayne Rooney, Glen Johnson and Danny Welbeck were missing and you might make a case for the absent Daniel Sturridge being a first-team contender now, but not with all the previous names available.
As for the big picture, however, Hodgson takes a much different perspective. Like Eriksson and Fabio Capello, he looks back no further than the start of his own time as England manager. Both of those predecessors, however, had a much smoother time in their first qualification campaigns, although Capello came under fire before the 2010 World Cup qualifiers, funnily enough from another pundit – Harry Redknapp on the now defunct Setanta GB after an uninspiring draw with the Czechs in 2008.
Hodgson's small concession to the big picture is the admission that, in his words on Tuesday, there is "a slight change taking place". By that he means a huge change. The likes of Gerrard, Lampard and Cole are coming to the end of their international careers, although worryingly they are still obliged to carry England on nights such as Tuesday.
It is a personal view that Hodgson has taken over in a potentially disastrous period for the England team: the ebbing of a good generation of players without any guarantees that the next batch are ready.
That is the big picture, and a coach who tends to ignore the history must know that it may yet prove to be a tipping point.
Passing the buck: England's woes
England's failure to keep the ball for any length of time in Kiev on Tuesday has come in for criticism, and, compared with other leading nations involved in qualifiers, the differences are painfully clear to see.
Eng/Italy/Fra/Ger
Possession 47%/69%/64%/76%
Passes attempted 383/679/687/898
Passing success 74%/90%/87%/92%
Short passes 317/564/586/807
*all stats refer to Tuesday's qualifiers
Keep ball? The worst offenders for England on Tuesday
Rickie Lambert (Southampton)
Minutes played: 90; Attempted passes: 30; Pass success rate: 63%; Touches: 42
Jack Wilshere (Arsenal)
Minutes played: 67; Attempted passes: 16; Pass success rate: 75%; Touches: 24
Theo Walcott (Arsenal)
Minutes played: 87; Attempted passes: 26; Pass success rate: 73%; Touches: 36
Reuse content