Jose Mourinho has plenty of strikers at his disposal – it is just that he gives the impression he does not like any of them. An honourable exception for Samuel Eto'o, currently injured, but having just about kept his counsel on the subject all season, the pressure and demands of the final weeks have finally seen Mourinho crack.
The Chelsea manager's reaction to defeat in Paris on Wednesday night was to blame the lack of a goalscorer who could convert the half-chances his team created into goals, "real strikers" as he referred to them, casting an envious glance at Ezequiel Lavezzi, a "top striker" in the words of Mourinho.
His message was clear: the midfield had done what had been asked of them tactically, they had suffered from defensive errors at the back, but in attack there was no get-out-of-jail card. On Chelsea's good days, Mourinho is prepared to be charitable about his strikers, but losing 3-1 to Paris Saint-Germain in a Champions League quarter-final first leg was not a good day.
Mourinho has always struggled to cover up for the shortcomings of certain players, especially when it is his reputation on the line and the players are not those whom he has signed himself. There has been precious little encouragement for Fernando Torres this season, who, when he has been fit, has often been used as a last resort rather than a first option. Mourinho needs Eto'o back in time for the return leg in London on Tuesday but in the meantime he must face Stoke City on Saturday at Stamford Bridge, a game that Chelsea cannot afford to lose if they are to stay in touch with the Premier League title race.
It will be interesting to see how Mourinho approaches the subject of Torres and Demba Ba at his press briefing, knowing that however he feels about his strikers, he needs them in the short term.
It has been Mourinho's way all season to react badly in the immediate aftermath of defeat but then to back off later, when he has had the benefit of a cooling-off period. What he says at Cobham will go a long way to dictating the mood for the rest of the season.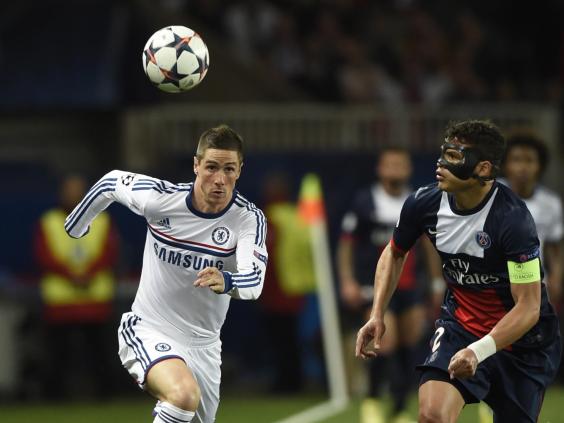 Nevertheless, the manager himself will have to take some of the blame. He drove the pursuit of Wayne Rooney all last summer, underestimating the resolve of Manchester United to keep the player, and overestimating Rooney's readiness to force his way out. It was Mourinho's decision to loan out Romelu Lukaku after pre-season, and although the Belgian's form has been hit and miss at times, he has scored 12 league goals, the same as Torres and Eto'o combined.
Ray Wilkins, the former assistant manager at Chelsea under Carlo Ancelotti, and who left just before Torres joined in January 2011, said on talkSPORT radio that he believed the striker's career at the club was over. "Torres has no future at Chelsea. I think he has seen his time out there," he said, adding: "Sometimes it is down to the individual. He needs to try and make something happen."
In place of Torres or Ba in attack on Wednesday, Mourinho selected André Schürrle, another one who has drifted in and out of favour this season. The Germany international conceded after the game on Tuesday that it had been a "very bad" result for Chelsea. "It is the worst time of the season to get these defeats. We know we have to improve in away games. I don't know what to say – we have to improve."
When did it go wrong for Chelsea? "Half-time. I think after the first goal for Paris we played well. We had the ball, we had possession, we had chances and scored with the penalty, 1-1. We had a shot against the post.
"PSG were always very dangerous, but we played very well in the first half. After half-time it was completely different. PSG had the ball and we were only running."
Mourinho suggested that Schürrle was picked for his ability to bring other players into the game. "I played differently, I could drop back," Schürrle said. "In the first half it was good. I had the ball at my feet and I could combine with the others and so this position was okay for me. But in the second half it was difficult because they had the ball most of the time and then you have to run that much."
All is not lost for Chelsea, not with Zlatan Ibrahimovic out of the return leg with the hamstring injury he picked up on Wednesday night. It is for moments such as these that Chelsea appointed Mourinho and the expectation at the club will be that, whatever the deficit, they should be capable of overturning PSG's lead and winning the tie.
Mourinho has focused much in recent weeks on next season after a summer in which the expectation is that he will sign the Atletico Madrid striker Diego Costa. But as ever at the club, the mood can change quickly. Certainly they cannot afford to fade away in their two remaining competitions in the manner in which they have threatened to do in recent weeks.
Reuse content