The reign in Spain continues. There will be three Spanish sides in the quarter-finals of the Champions League, and based on their showings in the last-16 ties, if they are kept apart in the quarter-final draw on 21 March, it would not be a surprise to see all three of them in the semi-finals.
Real Madrid have scored six away goals in Germany and will see off Schalke next week, and with Atletico Madrid knocking out Milan and Barcelona seeing off Manchester City, English clubs are getting no closer to chipping away at La Liga and the Bundesliga's European dominance.
For all City's spending last summer, they bought players who Barcelona did not want. Their team is a fine mix of some of Europe's best players but Yaya Touré was sold by the Catalans and Sergio Aguero, Jesus Navas and David Silva were all allowed to leave Spain without bids from La Liga's big two.
The step up that Premier League clubs must make to match Barcelona and Madrid on the pitch will only happen when they start bidding for the same players, then beat their Spanish rivals to the  signatures; something that has not happened for a  long time.
Last season there were no English clubs in the quarter-finals. This season Chelsea should avoid a repeat of that, though if Jose Mourinho starts bemoaning the gulf in squad quality, as he does in the Premier League, his complaints will be far more valid than they are on the domestic front.
The Premier League provided three of the four Champions League semi-finalists every season between 2006-07 and 2008-09 but no more than one English club has reached the last four in the seasons since. That was about the time the Premier League stopped beating La Liga in the transfer market.
Barcelona 2 Manchester City 1: Player Ratings
Barcelona 2 Manchester City 1: Player Ratings
1/23 Victor Valdes 6

Made a good saves to deny Dzeko and Nasri but had a relatively quiet night besides those chances. Solid display all round

Getty Images

2/23 Dani Alves 7

Not he's usual out and out attacking from full-back but provided good support. Overran slightly by City's left side at 0-0 but coped well on the whole. Came to life in final few minutes, like in the first leg, to kill off city with a composed finish

AP

3/23 Gerard Pique 6

Played Aguero off the park completely in the first half. Had more to do when Dzeko came on but still looked in control for the most part.

Getty Images

4/23 Javier Mascherano 6

Dealt with most that came he's way and never look rushed. Fine on the ball but was a little slow at times

AP

5/23 Jordi Alba 6

Useful going forward without given City too many problems and dealt well in defensive work. Played nice ball but adjudged offside for Neymar's disallowed goal. Looked more threating after Barcelona went ahead

AP

6/23 Sergio Busquets 7

Kept City at bay in front for Barcelona's back four. Didn't produce his usual overacting after tackles which was nice to see. Passed well and kept ball expertly

AP

7/23 Xavi Hernandez 8

Could have opened the scoring in first half but shot straight at Hart. Passed neatly and precisely as ever in dominant display at the heart of mid field

EPA

8/23 Cesc Fabregas 6 (Sergi, 86)

Caused all sorts of problems for Lescott with poked through ball for Messi's opener. Decent, if unspectacular, display but fine passing and ball control throughout

Getty Images

9/23 Andres Iniesta 6

Injured in fair tackle by Zabaleta and looked a little jaded afterwards but passed with masterful ease and in total control throughout

Getty Images

10/23 Neymar 8 (Sanchez, 80)

Had goal disallowed, effort cleared off the line and shot just wide in a stylish display from the Brazilian. Produced less of the histrionics that can plague his game at times and looked effective and dangerous throughout until being replaced with ten minutes remaining

Getty Images

11/23 Lionel Messi 9

Star man once again for the little genius. Had Lescott's number all night and produce several moments for superb skill. Hit post with dazzling run and shot that fully deserved a goal. Opened the scoring soon after though and quite rightly, with a lovely chipped finish to kill off City, composed and never looked like missing

Getty Images

12/23 Joe Hart 5

A couple of nervy moments and rode his luck at times but that is to be expected against such calibre of opposition. Had no chance with Messi's superb finish for the goal and made a couple of decent saves. Concentration and positioning could be questioned for second goal

EPA

13/23 Pablo Zabaleta 4

Sent off after taken protests too far after City were denied what looked like a certain penalty. Long night for the full back ended early with a lot arm waving and hand gesturing at the referee. Could have scored but sliced wide on a tough night

Getty Images

14/23 Joleon Lescott 5

Not the first player to have a difficult night against Messi, nor will he be the last. Lucky to get away with not conceding a penalty early on and completely bamboozled with the through ball for the goal. Made some strong tackles and interceptions to keep City in it but had a long night trying to deal with the Argentine star

Getty Images

15/23 Vincent Kompany 8

Made several last ditched tackles and powerful blocks. Defended manfully throughout and fully deserved his late tapped in goal. City's best player on the night by far

Getty Images

16/23 Aleksandar Kolarov 6

Linked up with Milner and overlapped well down the left for the most part. Steady in defensive but found Neymar tough to deal with at times

AP

17/23 Fernandinho 5

Defended earnestly and cleared Neymar's effort off the line with score still at 0-0. Put in a good shift but helpless to stop Barcelona's dominance

AP

18/23 Yaya Toure 6

Was powerful and direct for the first half hour and look City's best player early on but faded as game went on under the pressure from the home side

Getty Images

19/23 David Silva 5 (Negredo, 72)

Found chances hard to come by but produced lovely back heeled flick to set up Nasri who should have scored. Found space before half time on edge of Barca's box but shot high and wide when should have done better

Getty Images

20/23 Samir Nasri 4 (Jesus Navas, 74)

Had City's best chance of the first half but shot straight at Valdes, should have done better. Tough night with chances and touches few and far apart

EPA

21/23 James Milner 6

Put in an honest and hardworking performance, as ever, but lacked the composure or real quality to harm Barcelona in the final third. Defended well and linked up effectively with Kolarov

Getty Images

22/23 Sergio Aguero 2 (Dzeko, 45)

Replaced at half time by Dzeko after hardly touching the ball in first half. Not really he's fault, task set to him was not his forte, but failed to make an impact on any levels

Getty Images

23/23 Best off the bench - Edin Dzeko 6

Did more in a minute than Aguero did in whole of first half but tame effort saved. Good chance with looping header drew a fine save from Valdes. Was brought down in the box in what looked a certain penalty but not given

GETTY IMAGES
Both Manchester City and Barcelona are desperate to sign a centre-back this summer. Who will get the best player? If it comes to a battle between the two clubs for one outstanding available defender, Barça will be favourites – just as last summer they were spending close to €90m on Neymar while City were buying the best of the  leftovers from La Liga.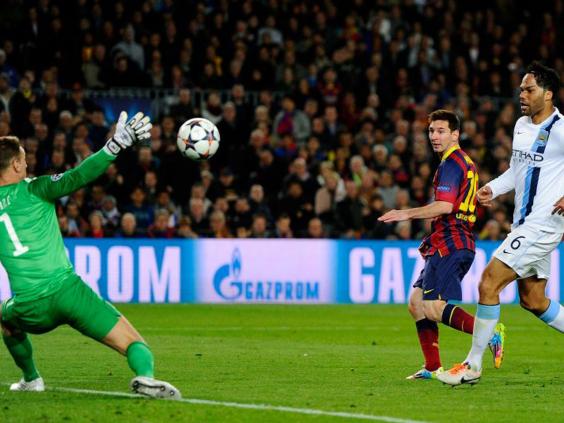 Manchester United sold Ronaldo to Real Madrid and were unsuccessful in their bid to re-sign him before he renewed his contract for life with the Spanish League leaders. United also failed to get Barcelona's Cesc Fabregas last summer. And Chelsea signed Samuel Eto'o, a centre-forward who Barça had deemed past his best in 2009.
Mourinho will no doubt mention that fact if he reaches the last eight and is drawn against a Spanish side. And if Chelsea are in that draw on  21 March there is no question who Mourinho will prefer to meet if he has to go back to Spain.
He will have seen enough over Manchester City's two legs against Barça to believe he can do what Manuel Pellegrini failed to do and devise a game plan good enough to emulate Athletic Bilbao, Real Sociedad and Valladolid, who have beaten them in the Spanish League this season.
He will not want his old club and joint favourites Madrid, whose players he upset last season and are still smarting from his suggestion they queued up to preen themselves in front of the mirror before going out on to the pitch.
And he will not fancy Diego Simeone's Atletico Madrid, who do all the things his best Chelsea, Inter and Porto sides have done in the past and now have a young goalkeeper with a point to prove and a striker, Diego Costa, who Chelsea themselves want to sign.
He will want another crack at Barcelona and he will feel that against a defence that has conceded eight times from corners in the league this season and has Dani Alves at right-back – at times rattled by James Milner –  he will have more than a puncher's chance.
Reuse content