"Yes of course – because mathematically no matter what happens it will still be mathematically possible," said Arsène Wenger to the question of whether the title could still be Arsenal's. His tortuous argument did not convey the impression of a man who believes his side can be the best in the land and Saturday's 5-1 drubbing at Liverpool told us why hope of their first title in a decade is soaking away.
It is the month when Arsenal traditionally bid farewell  to a trophy or two – the Champions League in the last two years, with last February's moment of truth against Bayern Munich at the Emirates falling virtually on the anniversary of the 4-0 beating at Milan which provoked Wenger wrath of a type not seen before or since by his players at London Colney. They have not had the depth in their squad to prevent this from being the season's cruellest month for them and with Aaron Ramsey – the totem of their excellent autumn – understood to be another month away from a return to action, they may very well end up with nothing.
Wenger was reminded that his team won 20 out of 24 points after their 6-3 defeat to Manchester City in December, yet the flaw in the decision not to make a bold January splash to boost a title push revealed itself by late on Saturday. It compounds matters that Nemanja Matic, a player of the type Arsenal require, has delivered so rapidly for Chelsea.
Proclamations of doom are risky in this wildly unpredictable season, but the rosy glow that Mesut Özil brought has fast faded too. His last standout displays – against Napoli in November and Southampton a month later – seem a very long way off. An anaemic performance against Liverpool reflected the same anonymity at Manchester City – two games in which he provided two assists and no goals. Saturday evening's BBC 5Live radio debate on the German centred on what defines a world-class player and whether Özil fits that bracket. No. He can murder weak opponents but cannot claim to have been one of the Premier League's top 20 players as the season enters its final third.
Santi Cazorla observed when Özil arrived that "he can seem intermittent but when he has the ball he's different" – and that has been a very big "when" on days like Saturday. The Spaniards who watched him closely in Madrid thought he would flourish here because less tactically astute English football would furnish him with far more space than La Liga. "The first line of pressure is incredible [in the Premier League]: everyone comes at you but, if you can play two or three quick passes, it opens up. You get space in that three-quarters position you don't get in Spain. Mesut will [enjoy it]," Cazorla said.
But Liverpool, like City and to some extent Manchester United, denied him that space. Liverpool pressed and passed like demons and Özil found himself not only with Philippe Coutinho on his shoulder but Jordan Henderson too, another master practitioner of Brendan Rodgers' ways. The quality of his passing collapsed and his departure from the field – acknowledging neither his manager nor his club's supporters – was a paradigm for his football. He does not respond well to adversity.
Liverpool 5 Arsenal 1: Player ratings
Liverpool 5 Arsenal 1: Player ratings
1/22 Simon Mignolet - 6/10

Not greatly tested but held firm when needed

GETTY IMAGES

2/22 John Flanagan - 8

Got forward often and showed good passing ability

GETTY IMAGES

3/22 Martin Skrtel - 9

Set the tone for the victory with two early goals in strong display

GETTY IMAGES

4/22 Kolo Toure - 7

Could also have got on the scoresheet as the Reds made strong start

GETTY IMAGES

5/22 Aly Cissokho - 7

The quieter member of the Liverpool back four but solid enough

GETTY IMAGES

6/22 Jordan Henderson - 9

Lively performance, getting back to win possession and charging forward

GETTY IMAGES

7/22 Steven Gerrard - 8

Superb set-piece delivery undid Arsenal and was defensively sound, the penalty incident aside

GETTY IMAGES

8/22 Philippe Coutinho - 8

Showed good movement, trickery and passing and was unlucky not to get a goal

GETTY IMAGES

9/22 Raheem Sterling - 9

The Gunners could not handle his pace and he punished them in front of goal

GETTY IMAGES

10/22 Daniel Sturridge - 8

A typical high-energy display rewarded with yet another goal

GETTY IMAGES

11/22 Luis Suarez - 9

Not on the scoresheet, but not for lack of trying in another mesmerising performance in which he hit post

GETTY IMAGES

12/22 Wojciech Szczesny - 5

Could do little to stem the tide as Liverpool attacked relentlessly

GETTY IMAGES

13/22 Bacary Sagna - 5

Unable to exert his usual influence on the right flank

GETTY IMAGES

14/22 Per Mertseacker - 5

A rare off-day for the German, who was unconvincing

GETTY IMAGES

15/22 Laurent Koscielny - 5

Made some anxious clearances as Liverpool ran at him mercilessly

GETTY IMAGES

16/22 Nacho Monreal - 5

Was troubled by Sturridge early on and things hardly got better

GETTY IMAGES

17/22 Mesut Ozil - 5

Caught in possession too often - sometimes costly - and his delivery was wayward

GETTY IMAGES

18/22 Jack Wilshere - 6

Tried to impose himself but was clearly not fully match-fit and Liverpool refused to give him time on the ball

GETTY IMAGES

19/22 Mikel Arteta - 6

Forced to play too deeply to have a major influence but took penalty coolly

GETTY IMAGES

20/22 Alex Oxlade-Chamberlain - 6

His dangerous runs were too infrequent to seriously worry Liverpool

GETTY IMAGES

21/22 Santi Cazorla - 5

Also pushed back and struggled to break out

GETTY IMAGES

22/22 Olivier Giroud - 5

Was hardly given a touch of the ball and did not look greatly effective when he did

GETTY IMAGES
For Jack Wilshere, who was little better, there was a gulf between the advance positions his brain told him he could bulldoze into and the place where his football could actually take him. Coutinho the hustler did a job on him, and riled him, too. The aura which surrounds Wilshere lead to the assumption, put to Wenger in his post-match press conference, that he must be short of fitness. "He didn't look any shorter than anyone else," Wenger replied. Wilshere isn't always all he's cracked up to be.
Cazorla, fine against the top sides, disappeared again too, just as he did at Old Trafford. There was no Mathieu Flamini to salvage some pride  for Wenger, as he did at the Etihad.
None of which must detract from what Liverpool delivered. They were incredibly hungry, to use Rodgers' epithet of the day. And though there was an element of luck about the opening goal, which alters the dynamics of these games, Liverpool battered Arsenal so roundly and rapidly in the first 15 minutes that you felt there was a complacency in Wenger's side. Beforehand, Wenger promised attacking football. He had been lulled into false security by the years of success his teams have enjoyed on the Anfield turf.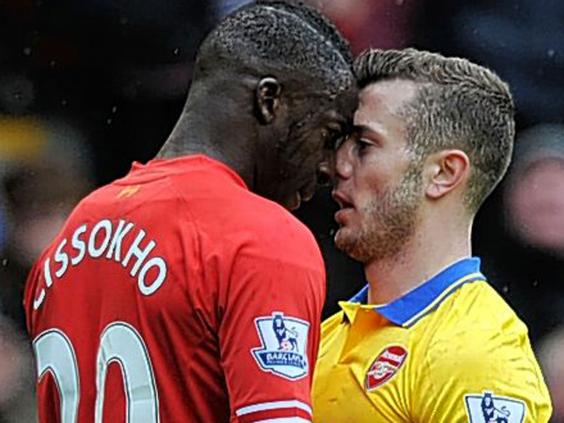 Rodgers understandably wanted to talk about 21-year-old Coutinho. "He's always had that appetite for the ball and is a wonderful technician," he said. "He's added to his game the ability to press the ball, intercept back and his hunger to do that side of the game is now key for us."
The Liverpool manager blew out his cheeks when speaking of Sterling, who has been helped through the plateau with some home truths about commitment and who, Rodgers implied, is playing on a different level to a key competitor for Roy Hodgson's attention. "Alex Oxlade-Chamberlain is an outstanding player – a brilliant player he is – but you look at Raheem today..."
If Liverpool did not mix incredibly destructive bursts of football with that occasional mediocrity of theirs, they would be more than mathematical title challengers. Instead they are a very strong bet to be back in next season's Champions League. Which is not much more than Arsenal can realistically hope for.
Reuse content