Those who waved off the people they most loved to Hillsborough 25 years ago this month know only too well how a bright spring day can end in a grief that lasts a lifetime, so there was no sense of unbridled optimism yesterday morning among those who walked through the sunshine and the daffodils in Warrington to hear the beginning of the long-awaited new inquests into the tragedy.
There was certainly something different going on than in the past; a duty of care for these families which they have not known before in the long history of ignominious moments in the struggle to find the truth about the day 96 fans died at Sheffield Wednesday's ground.
Yet here were Hillsborough inquest AA road signs, guiding families past the sinuous Encounter sculpture which marks the junction where many will leave the M62 every morning for the next 12 months. The signs continue on through the labyrinth of roads on a Warrington business park towards building 305, where the inquest room is set, among wind turbine and energy efficiency businesses which belonged to a future beyond imagination when those fans set off for Sheffield and never returned.
There was the flurry of media attention – satellite vans, cameras, notebooks – to which these people are well accustomed, now. Evelyn Mills did not dream when she had travelled to Sheffield to identify the body of her brother, Peter McDonnell, all those years ago that she would become so adept at dealing with the circus; spelling out her name and Peter's before reporters asked her to do so for the umpteenth time.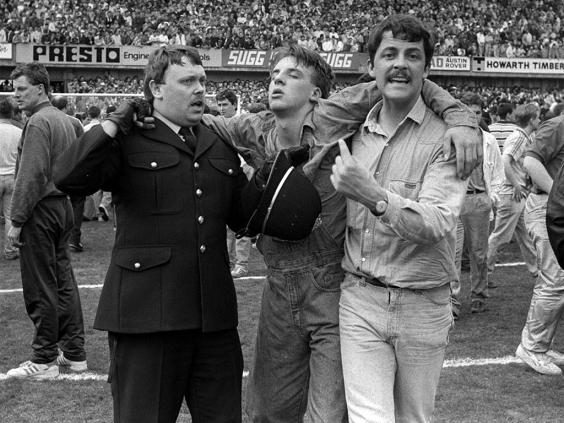 Brendan Rodgers, the Liverpool manager, should know that, whether his team win the Premier League title or not this season, he delivered to very many of these people a great gift yesterday. They could walk up to the courtroom carrying the badge of the football team that is the best in the land and occupying the place at the top of the table which was virtually an entitlement in the glittering years before Hillsborough. "It was nice to get that position for the team for this day. A little help along our way," Mills told me. "And I do feel more confident about the inquests this time."
The way she talked of "12 September" – as if it were as inherent a part of the national conversation as 11 September – revealed how fundamental to her life and many others the Hillsborough Independent Panel (HIP) report, published on that day in 2012, really was. It has paved the way to the inquests and has clearly equipped many with a belief that they can deal with any new evidence which the next year throws up about the 96 who died. "12 September was such a shock because we had no idea what it was going to report," Mills added. "It made me joyful, tearful, joyful again, tearful... There can be no shock of the kind that the panel brought. We are better prepared for what happens next."
Stephen Kelly is too, though his grimace told the story of a man inured to setbacks on his own road towards truth. His life changed irrevocably when he found his brother Michael's body in a cold church hall. Michael worked nights in Bristol as a warehouseman and was 38 when he died at Hillsborough – the last of the 96 to be identified. "We've been here before, most certainly," said Kelly. "Reliving all of this will bring some horrible days but we hope there is something at the end."
One by one, they all arrived. Trevor Hicks, acquainted with the practice of talking while his interviewer's mobile phone records him; Professor Phil Scraton, principal author of the HIP's report, looking like a man who has been burning the candle in his scrutiny of another mountain of papers in recent days.
Viewed from the kind of distance that those of us less bound up in the events of that day can occupy, it seems self-evident that justice will be served – but as these families' new dawn arrived it was hard not to recall those many others whose campaign did not take off and for whom answers will never be found. People like Martin Fletcher, whom I encountered a few years ago, after writing about the 1985 Bradford City stadium fire. He lost his brother, their father, uncle and grandfather that day and is still waiting for answers about how Valley Parade had been allowed to disintegrate into a state of such disrepair.
It became the "forgotten" tragedy because of Bradford's descent into footballing obscurity, because there was no acrimony, cover-up or recrimination afterwards – and because the Heysel disaster unfolded on live television 18 days later, sweeping Bradford's story away. Though 56 died, the Bradford inquiry was wrapped up and rubber-stamped inside seven weeks.
In yesterday's vast and immaculate Warrington courtroom – built for this occasion and the biggest court in England, so they say – there was a reminder of how far we have come since the days of Bradford and Hillsborough. "Don't place your bags across the back wall because there are designated escape routes," some of the lawyers were asked. It was then announced that a 25-minute break was required while jurors were sworn in. "I've waited 25 years for this," said one Hillsborough survivor, wearing a "Justice" T-shirt and tattoo,  near the back. "Another 25 minutes won't hurt me."
Even a young mascot realises the handshake is worthless
I owe a pitch-level insight into the fair-play handshake to my seven-year-old nephew, Jamie, who was overwhelmed by the immense welcome he received at our club, Wrexham, when his big moment as match-day mascot arrived. There was a great reception at The Racecourse and equally great photographs with some of his heroes and mine – Neil Ashton, Jay Harris and Dean Keates – not to mention a starring role on the tunnel cam for new manager Kevin Wilkin's first game in charge.
Mascots evidently do not warm up with the players any more – health and safety; they might tread or fall over him or her. But it was the handshake which puzzled Jamie the most after he had finished processing down the line of Salisbury players. "They don't look you in the eye," he said of the opposition. Evidence that not all teams  look their rivals squarely in the eye – and also that there's no sentiment about the handshake, it signifies nothing and isn't worth the time.
Reuse content