As the manager of the Nigerian Premier League team Sunshine Stars, Paul Ashworth's team travels 13 hours to some away games in a minibus without air-conditioning and he is accompanied by two guards with AK-47 guns.
Three games into the current season and the league has been shut down for two weeks for the presidential elections, a period regarded as so volatile that safety cannot be guaranteed.
Either way, it is not the kind of experience that British coaches get taught on their Football Association Pro Licence course.
While there has been unwillingness from some English managers to work abroad, for others it is a way of life and as coaching exports go there are few with broader experience than Ashworth. He made his name in Latvia, where he learnt to speak Russian. He is the only Englishman to have managed a Russian Premier League team, FC Rostov, albeit briefly. Now, he is one of only two non-Nigerians managing in the country's top flight.
The other twist to his story is that Paul, 45, is the older brother of Dan Ashworth, who has emerged as one of the most influential figures at the FA following its post-World Cup restructure. Dan, the FA technical director, has chairman Greg Dyke's blessing to run the football operation of the organisation – his "England DNA" plan – and it will be Dan's voice that is heard above all when the time comes to appoint Roy Hodgson's successor.
Dan made his name as West Bromwich Albion's technical director in the years when they established their Premier League status. Both brothers were released as players by Norwich City in their mid-teens and set about building coaching careers from an early age, part of a new generation in football who have worked their way up without the benefit of having been professional players.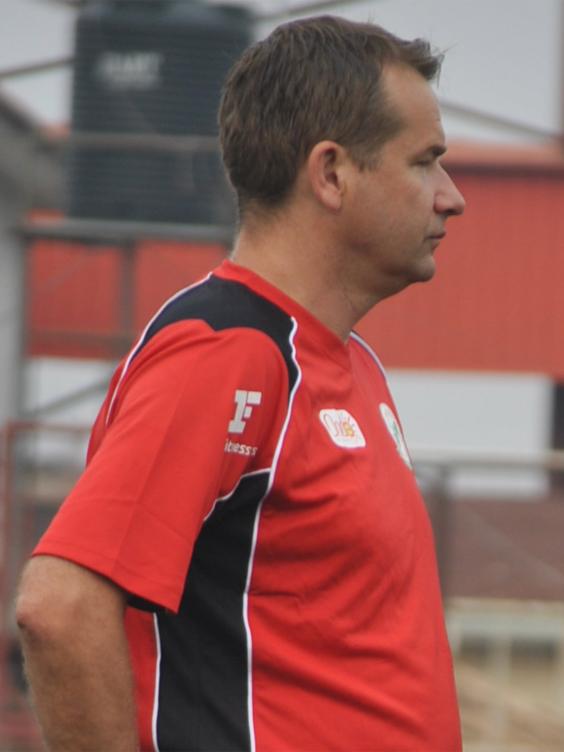 It goes without saying that managing in Nigeria is a world away from the top four divisions in England. Earlier this month, five players from the club Kano Pillars, champions for the last three seasons, were shot in a robbery on the team bus en route to an away game. In a story that attracted international attention, the defender Reuben Ogbonnaya required surgery to remove a bullet from the back of his head.
In the aftermath of the attack, Kano Pillars' next three games, including a CAF Champions League tie, were postponed. But the Nigerian league carried on regardless and in the immediate aftermath Ashworth's Sunshine Stars from the south-western city of Akure, found their next fixture brought forward a day to fill the live television slot caused by the Kano Pillars postponement.
In football terms, the season has started well with a home win against Gabros FC and one draw and one defeat away from home in a league where home advantage is often decisive. Off the pitch, it has been eventful. In the build-up to his first game, Ashworth was held hostage with his players in the club's stadium by anti-government protesters who stormed a training session.
Even two weeks later, the details as they were explained to Ashworth are, he admits, a little sketchy, but it would appear those who took over the stadium were former state employees who said they had not been paid wages owed to them by the government. Armed with sticks, and with security guards unwilling to intervene, they targeted their local football club.
"They took all our balls and cones and locked us in the stadium," Ashworth says, speaking to The Independent from Nigeria. "They came in with sticks and we couldn't get out. The commissioner for sport had to come down to sort it out. I said, 'Can't we just have them arrested?' I was told, 'No, we want a peaceful negotiation'.
"One of them was really violent and waved his stick at me because I wanted to go to the toilet. Three days later I went into the boardroom and they were all in there talking to someone from the club! One of them said 'Hello, we are the people who abducted you last week!' I joked with them that I was locking them in this time."
It should be said that he tells these stories with a laugh, and his career has not just been a series of Phileas Fogg-style adventures. He managed FK Ventspils, FK Riga and Skonto Riga in Latvia and finished in the top three in six out of eight seasons there, winning the cup with Ventspils. At Rostov he was originally appointed as the sporting director but went on to be caretaker manager of the team in 2005. His wife and three children are still in Latvia. Ashworth has had to move where the work takes him.
For five years until December he managed the Kwara academy in Nigeria, which produced players who were sold to clubs across Africa. At Sunshine Stars he is in charge of 500 club employees, of whom 200 are players, including women's teams. By now, he is used to adapting to new cultures. "Managing the players is the easy bit," he says. "There are lots of politics and you have to bite your tongue and try to get what you need."
It has been quite an experience for a man who started as a youth development officer at Cambridge United aged 24, and coached Peterborough's youth teams under Barry Fry in the 1990s. "I have that experience of man-management in difficult situations," he says, "You compare that to some ex-players who are wrapped in cotton wool. I feel I would be a far better manager than certain candidates."
As for his younger brother's success, he is a proud older sibling. "Dan works hard and doesn't get much publicity. At West Brom I think they missed him when he left. He can't be that low-profile because when they reported my appointment in the newspapers here in Nigeria, they used a picture of Dan instead of me!"
Coaching a global game : Ashworth's CV
1992 Cambridge youth development officer
1996 Peterborough youth-team manager
1998 Blackburn Rovers U19s, reserve-team coach
1999 Peterborough first-team coach
2001 FK Ventspils manager (Latvia)
2004 FK Riga (Latvia)
2005 FC Rostov (Russia) sporting director, caretaker manager
2005 Skonto Riga (Latvia)
2009 Kwara academy  (Nigeria)
2014 Sunshine Stars (Nigeria)
Reuse content