It says everything about the lunatic world of transfer-deadline day that Arsenal paid out a straight £16m for Danny Welbeck because Arsène Wenger was up at 6am for an early flight and had more time than usual to have the necessary conversations.
His trusted chief scout, Steve Rowley, had watched Welbeck train for England at London Colney on the day that deal was done. But did he see the video clip which asks searching questions about Welbeck's finishing and goes some distance to explaining his United strike rate of one goal almost every five games (29 in 142, to be precise)?
The film captures the moment, under the Old Trafford floodlights on 1 April, when Welbeck was presented by Wayne Rooney with a golden opportunity to put the ball beyond Bayern Munich's Manuel Neuer and give his side a lead in the Champions League last-16 first leg.
There was an electrifying atmosphere in the stadium that night but David Moyes needed Welbeck to shut it out and recall what he and the coaching staff had identified as the faintest element of predictability in Neuer: his tendency to leap up for the ball when faced with a one-on-one. "Shoot low if you're sent through," Welbeck had been instructed.
Moyes held his breath in the split second that his player steadied himself. To his dismay, he saw Welbeck attempt a chip, miscuing it so horribly that Neuer's comfortable stop was not strictly necessary.
The course of football history, and managerial careers, can rest on moments like that. If – a very big if – United had progressed past the Germans, and Europe had provided professional salvation for Moyes, we would probably still be having the same football conversation about the club's decision to release Welbeck.
Moyes valued him but a realisation that he was not the prodigious finisher United needed lay behind his decision to look to Paris Saint-Germain's Edinson Cavani. Moyes personally scouted Cavani three times, only to go off the idea of bidding, concluding that he was not as good as Luis Suarez and over-priced at £65m.
The 10 debutants to look out for this weekend
The 10 debutants to look out for this weekend
1/8 Radamel Falcao (Manchester United)

One of four Manchester United players on this list, Falcao's arrival at Manchester United was the biggest surprise of a mad summer. It will be interesting to see where Louis van Gaal decides to play the Colombian hitman - will he start alongside Wayne Rooney and Robin van Persie, will he replace one of them, or will he start from the bench?

Getty Images

2/8 Luke Shaw (Manchester United)

Brought in on a massive fee, the English teenager has been roundly criticised for failing to get fit in time for the new season. With Ashley Young struggling as Van Gaal's left wing-back Luke Shaw should come in and immediately be an upgrade in the position. United and England fans will certainly be hoping so.

GETTY IMAGES

3/8 Marcos Rojo (Manchester United)

Almost a month after arriving at Manchester United, and four games into the season, Argentine defender Marcos Rojo finally has a passport and should play. Louis van Gaal's team have looked porous at the back and the fiesty defender should add some bite to the back-line.

Getty Images

4/8 Daley Blind (Manchester United)

A Louis van Gaal favourite, Daley Blind is a versatile player capable of slotting in across the defence, at wing-back or in central midfield. Classy and composed on the ball, Blind is a clever player - it'll be interesting to see where the Manchester United boss opts to play the utility man.

twitter.com/ManUtd

5/8 Danny Welbeck (Arsenal)

Danny Welbeck was brilliant for England in Switzerland, scoring two goals and showing all of the energy and enthusiasm that has made him a manager's favourite. Arsenal were desperately in need of cover after the injury to Olivier Giroud and Gunners fans will be hoping the £16m striker hits the ground running.

Getty Images

6/8 Alex Song (West Ham)

Although he never managed to break into the first team in two years at Barcelona, Alex Song is undoubtedly a top quality player. West Ham needed to add goals and flair to their struggling side and Sam Allardyce will be hoping Song can get close to the 11 assists he provided for Arsenal in the 2011-12 season.

Getty Images

7/8 Abel Hernandez (Hull City)

Steve Bruce has spent the majority of the money he received for the sale of Shane Long on the 24-year-old Hernandez. The Uruguayan had an excellent season in Serie A last year scoring 14 goals for Palermo, but is a bit of a wildcard. The pacey striker will look to develop the same kind of partnership Long enjoyed with Nikica Jelavic last season

GETTY IMAGES

8/8 Ricky Alvarez (Sunderland)

Alvarez's signature is a coup for Gus Poyet and Sunderland. The tall Argentina midfielder oozes class and was impressive for Inter Milan last season with four goals and eight assists, before being selected for the World Cup. Sunderland struggled for goals last season and will be hoping Alvarez can provide a spark for their strikers.

Getty Images
Louis van Gaal has reached broadly the same conclusion about Welbeck. His assessment on Thursday that the 23-year-old is simply not United "standard" came with the added implication that the player was not willing enough to fit in with the manager's "philosophy", in which individuals commit themselves to the collective.
It was less than a month after the miss against Bayern that Welbeck asked to leave, frustrated by the club's unwillingness to allocate him a regular starting place and to deploy him in the central role he craves.
In Welbeck's defence, it was more than egoism which made him to ask to leave. A point the Napoli manager Rafael Benitez has often made in this newspaper is that strikers need, more than most, to be loved. The struggle to assert himself among United's stars was creating the psychological uncertainties that a centre forward cannot afford to harbour.
"It's a vicious circle when you're not starting regularly," says James Scowcroft, the former Ipswich Town and England Under-21 striker, who writes for the United We Stand magazine. "You don't feel 100 per cent match fit and you're coming on and getting stick from the crowd. You find yourself getting into the coach at 5.30 on a Saturday with all this unused energy because you've not played. You need to go out for a run when you get home, just to burn it off."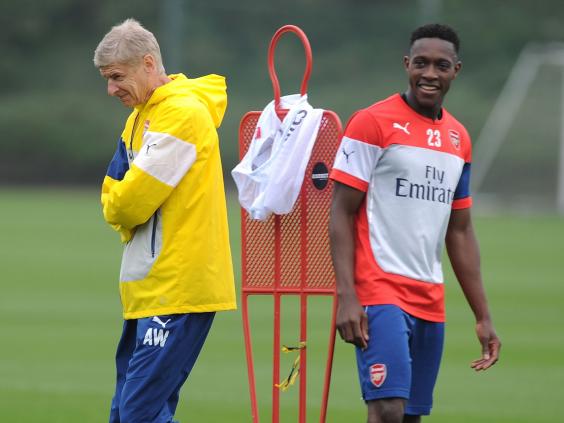 There is a feeling among some of Roy Hodgson's England staff that Welbeck's bit-part role has been a highly significant factor in his development curve. The feeling at the Football Association is that England's Liverpool players have been transformed by the consistency of their starts. In four and a half seasons, Welbeck started only 53 games for United and only once more than 20 in a single campaign.
When he did get a run in the team last Christmas, he scored five goals in six starts and there were other moments of promise: the goal from 35 yards, 21 minutes into his Premier League debut against Stoke City in the winter of 2008, and two FA Cup games against Derby County in the same season. But the tendency to over-elaborate when opportunities arrive is a well-established trend.
The details of Welbeck's games and goals in the book Fergie's Fledglings, by United writer and historian Wayne Barton, reveal that even in youth football he was not prolific. Barton, who has watched Welbeck develop through the youth ranks, is sad to see him leave but feels that over-elaboration was always there. "Some players never grow out of it," Barton says.
Welbeck's work-rate in a supporting role is the indisputable element. In the Champions League tie at Real Madrid last year, he was man-of-the-match, starting because of his energy, doubling as an offensive threat and an anchor on Xabi Alonso. He scored, but also missed a good chance.   
The same doubled-edged game was evident in Basel for England against Switzerland on Monday night.
When Welbeck had scored, slightly fortuitously, with his shin, he was confident enough to double his tally. But in the first half, after dispossessing Steve von Bergen and racing down the Swiss right flank with that powerful direct running and upper-body strength of his, he put in an anaemic ball out of Raheem Sterling's reach. The opportunity was simply crying out for a thumping finish.
That need for someone to believe in Welbeck was manifest in the way he battered Arsenal's door down on deadline day, returning to Colney when England training had concluded. He pressed them to buy him, rather than find himself tied to the continued uncertainty of a loan deal.
He hated the idea of Sunderland or Hull City – hoping, until the 11th hour, for a real expression of faith in him from one of the best clubs in the land. For Wenger to have put £16m on the table affirms Welbeck's own belief that he is an elite centre forward. Whether goals will start to flow from that remains to be seen.
Reuse content