David Ginola is to announce on Friday that he wants to stand against Sepp Blatter for the Fifa presidency.
The former France international, who played club football in England for Tottenham, Newcastle Aston Villa and Everton, is due to make the announcement in London and that he is being backed by bookmaker Paddy Power and Twitter-based campaigner change Fifa.
"It is time that football was refreshed," Ginola told The Sun. "We have to be brave and deal with what is going on in this game we love."
He added: "I know it will not be easy for me to be elected but I have to try. I always did my best on the pitch and I will do the same now."
Key players in the Qatar World Cup bid controversy
Key players in the Qatar World Cup bid controversy
1/5 Mohammed bin Hammam

The Qatari was the Asian Football Confederation president at the time of the 2010 vote. The Sunday Times alleged that documents showed he made payments to officials as part of a campaign to win support for the 2022 World Cup bid. He insisted he had no "official or unofficial" role with the bid. Fifa imposed a second life ban on him in December 2012, after his decision to quit all his football roles. This came after the Fifa ethics committee investigation found him guilty of "repeated violations" of the ethics code on conflicts of interest, while he was AFC president and while a member of the Fifa Exco between 2008-2011.

AP

2/5 Jack Warner

The Trinidad & Tobago politician was forced to resign as a Fifa vice-president in 2011, after he and Bin Hammam were alleged to have paid bribes of £600,000 to Caribbean associations. He is also alleged to have helped Bin Hammam bribe Caribbean officials in return for support in his aim to oust Sepp Blatter.

Getty Images

3/5 Sepp Blatter

The long-standing Fifa president oversaw the bidding process to award Qatar the World Cup. Has since admitted awarding Qatar the cup was "a mistake". He set up an executive committee task force to look into the World Cup in Qatar being moved to the winter because of the extreme summer temperature.

Getty

4/5 Lord Triesman

Former FA chairman. Alleged that, in exchange for voting for England to host the World Cup, Warner asked for money to build an education centre in Trinidad and to buy World Cup television rights for Haiti, and that Paraguay's Nicolas Leoz asked for an honorary knighthood in exchange for their votes.

Getty Images

5/5 Michael Garcia

Former New York district attorney Michael Garcia was named Fifa's chief independent ethics investigator. He spent a year investigating the organisation, and delivered a 350-page report on the 2018 and 2022 bidding processes in September. Called for greater transparency and culture change in Fifa.

Getty Images
However, it is uncertain whether Ginola will even be eligible to stand. He needs to have played an active role in football administration for two of the last five years and he also needs to be publicly nominated by five national associations before January 29, which may prove an impossible task.
Ginola did campaign for England's unsuccessful bid for the 2018 World Cup in 2010 which attracted only two votes.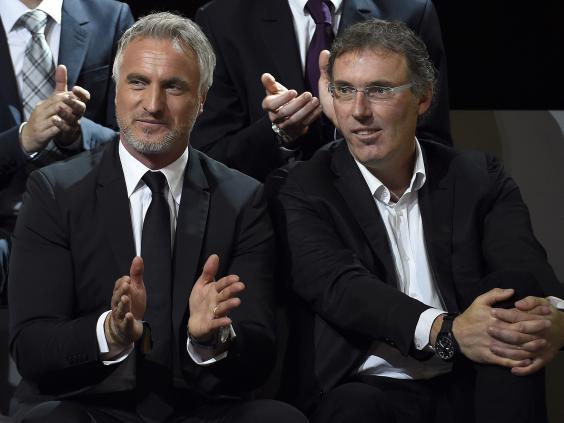 Fifa's eligibility rules on standing for Fifa president state: "The candidate shall have played an active role in association football as a board member, committee member, referee and assistant referee, coach, trainer and any other person responsible for technical, medical or administrative matters in Fifa, a Confederation, Association, League or club or as a player) for two of the last five years before being proposed as a candidate.
"The candidate shall present declarations of support from at least five member associations."
Blatter is seeking a fifth term as president and will face opposition from Prince Ali Bin Al Hussein from Jordan, who is a Fifa vice-president.
French former Fifa executive Jerome Champagne has also declared but he conceded this week it would be easier to secure 50 votes in the secret ballot in May than the five public nominations.
PA
Reuse content