Former Wimbledon manager Dave Bassett has criticised sections of a new documentary about his old Crazy Gang side, being screened on Boxing Day, for being "total and utter rubbish".
BT Sport is broadcasting The Crazy Gang, a documentary about that famous Wimbledon team which raced from the Fourth Division to the First in just four seasons and then beat Liverpool 1-0 in the FA Cup final in 1988.
Not only does the documentary have violence at its core, but it also has the personnel involved fighting among themselves, including an angry complaint from the club's old chairman Sam Hammam demanding that changes be made.
Bassett was Wimbledon's manager from 1981 to 1987, the central figure in shaping that unique generation of players. He is furious about the programme. "There certainly wasn't the thuggery or bullying that has been depicted," he wrote in a specially commissioned article for the now defunct club's new incarnation, AFC Wimbledon. "I would never have tolerated that.
"I have also read that we flooded the opposition dressing room, ripped out toilet seats and blocked drains to make the place stink. Total and utter rubbish. Can you imagine the likes of Alex Ferguson and Brian Clough arriving at our old Plough Lane ground and putting up with that?"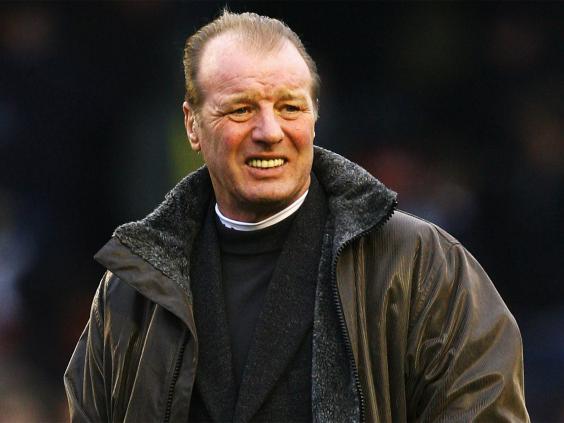 At the documentary's heart are weighty and well-remunerated contributions from two of the team's totemic figures, Vinnie Jones and John Fashanu. Jones tells a tale of Fashanu picking up an unnamed player in the dressing room. "Fash threw him around like a rag doll," Jones says. "Fash literally smashed him down on the floor and his calf just obliterated." Said player needed 20 to 30 stitches, we are told.
He probably did, but such behaviour is not what wins consecutive promotions, top 10 finishes in the First Division and the FA Cup.
In the documentary, Fashanu recalls how, before that Cup final: "[Liverpool's] John Barnes, one of my closest friends, I refused to shake his hand. I was boning my face, snarling at him. Calling him all the names under the sun. Calling him the names that only a black man can call another black man."
The match began with a notorious tackle from Jones on Steve McMahon. "I smashed Steve McMahon early on," Jones says. "That was a real, like, 'Yeah, we don't give a shit'. That tackle was planned for weeks." Fashanu adds: "His tackle started at his neck and it finished at his ankle. Boom. Shockwaves."
So many of the stories about that Wimbledon team, playing at tiny Plough Lane, with portable  changing rooms welcoming the likes of Manchester United and Liverpool, have reached the rank of legend. Of how Bassett would gather up the traffic cones off the A3 for use in training sessions, which were conducted on a rock-hard pitch at the back of a truckers' cafe, which was, in the words of their one time reserve keeper Lutz Pfannenstiel, "covered in dog shit".
But the documentary scarcely recalls how players like Nigel Winterburn and Dennis Wise were signed for free and became England internationals, albeit with other clubs, or how Dave Beasant played in goal for the club in all four divisions and also went on to play for England. "When the side eventually broke up and players were sold, the club banked £7.2m from transfers – not a bad return," Bassett added.
"We had fun, but there was a lot of hard work and planning that went into those years. We were a good, well- run club living within our means.
"Margaret Thatcher once said: 'If we can sell Newcastle Brown to Japan and if Wimbledon can make it to the First Division, surely no achievement is beyond our reach.' I'll settle for that legacy."
'The Crazy Gang' will be shown on Boxing Day on BT Sport 1 at 9pm
Reuse content