Emile Heskey may have 150 appearances for Liverpool and over 60 caps for England to his name but the centre-forward has become the butt of many a joke in recent years.
The former Reds striker tried to dispel any rumours that he can't hit a cow's arse with a banjo by doing exactly that on Des Kelly's BT Sport show on Friday night.
Heskey, now 36, was invited by Kelly to smash a fake banjo over the rear-end of a costumed cow figure and the ex-Leicester man duly obliged.
The much-maligned forward quashed any of his critics' thoughts by finding his mark not once but twice and smashing the prop banjo to pieces on his second strike.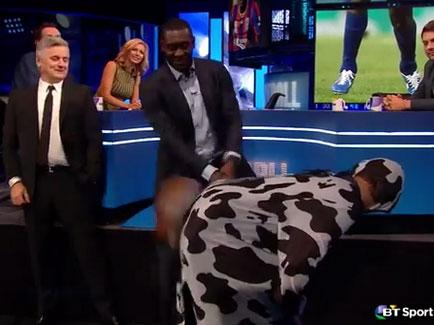 Heskey has been without a club since leaving Australian side Newcastle Jets in the summer but with shooting like he show on the 'Follow the Football' programme, surely he'll be snapped up by a club soon.
Gone are the questions about his finishing and, yes, Heskey really can hit a cow's backside with a banjo.
Reuse content