Football Association chairman Greg Dyke has expressed his frustration at the decision to delay the introduction of video technology for referees – which Fifa described as "the biggest decision ever in the way football is played".
Dyke was speaking before the mistaken sending-off  at Old Trafford, when Wes Brown was dismiseed instead of John O'Shea, the second such incident in almost a year and which once again strengthened the argument for a referral system to avoid such major errors.
It was expected that thes meeting of the world game's lawmakers, the International FA Board (Ifab) would give the green light to a Dutch trial of the system.
The England and Scotland FAs on that board were in favour of carrying out the experimental live trials, as was Sepp Blatter, president of the world governing body Fifa, who was also present at the meeting in Belfast.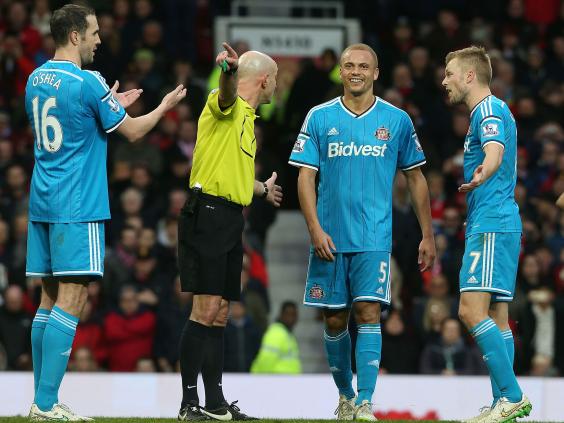 Bizarrely, however, it turned out that though the Dutch had  presented their interim findings  on video technology to the four  British associations on the board, they had not shown them to  Fifa, which effectively ruled  out any chance of meaningful progress yesterday.
With the Wales and Northern Ireland FAs more cautious about agreeing to the Dutch trial, the matter was referred for further assessment to Ifab's two advisory panels, effectively made up of former players and referees.
"I was a bit disappointed that we haven't  got this any further," said Dyke. "I'm a great fan of video technology. It seems to me that if there are means of helping referees, we should try them in trials and if they work, adopt them."
"It's no use waiting for a Frank Lampard-type incident which helped bring in goalline technology. We should get on the front foot. You don't want to do it without trials and it should only be used to help referees, not over-rule them.
"Clearly it's going a bit slower than some of us would have liked. I think we're going to look back in 20 years time and say 'wasn't it quaint' that we didn't use video technology when it was available to help referees."
However, Football Association of Wales chief executive Jonathan Ford said: "We shouldn't as Ifab just allow experiments to be conducted willy-nilly."
Fifa secretary-general Jerome Valcke agreed."I think it needs a lot of discussion – if the referee just  relies on information that he is  getting [from the video official] is there a risk he becomes not as strong and always asks for confirmation? It's not a question of years, it's making the biggest decision ever in the way football is played."
While Ifab turned down a proposal to allow a fourth substitute to be used in extra-time, there was progress on two other issues. A move to change the so-called "triple punishment" rule has at last been agreed in principle so that a player given a straight red card for denying a goalscoring chance when conceding a penalty is no longer automatically suspended. If approved by Fifa next month, it could come into effect by the start of next season.
Irish FA chief executive Patrick Nelson, who hosted the Ifab session, said: "We agreed that this punishment is too harsh and that we must find a solution to the matter. Ifab  has tasked Fifa to look into the feasibility of implementing this on a global level."
Uefa had submitted an alternative solution of changing the red card for a yellow. Afterwards they were scathing about being snubbed, saying in a statement that they "fundamentally disagreed" with the Ifab change  because a "red card has a kiling  effect on games".
Also, rolling substitutions will now be allowed in amateur games at grass-roots level, meaning any number of replacements can be rotated, in order to drive up participation.
The introduction of sin-bins and a change to the interpretation of the offside law were also sent to the Ifab advisory panels.
Reuse content