It's been a strange gameweek, with a lot of the big names underwhelming. Eden Hazard, Alexis Sanchez, David Silva, Sergio Agüero, Wayne Rooney, Harry Kane and Charlie Austin have been reliable thus far, but failed to breach the 3 point mark this week. However, new opportunities have emerged and some familiar faces underlined their status as fantasy football must-haves. We provide a run-down of the six big take-aways from Gameweek 22 below...
1) Diego Costa is essential: Costa fell out of more than 10% of the top 10,000 teams this gameweek, as managers clamoured to find room and budget for a fit-again Sergio Agüero in their sides. Costa's lack of assists, reluctance to score more than one goal per game, and fondness for a yellow card has been damaging returns and eroding the faith we placed in him. Well Saturday was a timely reminder of his worth: two goals, an assist and maximum bonus points made him the highest scoring player of the week. A look at his underlying statistics gives further cause for optimism – only Austin has had more shots on target in the last six gameweeks, and no striker has created more chances. It's a brave manager that continues to leave him out.
2) Sergio Agüero needs time. More than 180,000 managers transferred in the Argentinean this week, eagerly awaiting a return of his sparkling pre-Christmas form. Instead, he disappointed with a measly one point yield in a lethargic performance that mustered only one shot on target. The lasting memory is of Agüero pulling Kieran Gibbs' shirt for ten yards in a desperate demonstration of his lack of stamina in the second half. He now has two weeks to find form and fitness ahead of a vital showdown at Stamford Bridge. It may not be until the following week against Hull at home that we trust him with the armband again.
3) Stock up on Arsenal: Wenger got the monkey off his back with a highly impressive smash and grab at the Etihad that combined defensive steel with attacking verve. With Aston Villa, Spurs, Leicester, and Palace in the next four, now is an opportune time to fill your boots with Arsenal players. The defence looks transformed with Laurent Koscielny and Per Mertesacker re-united, but it's Hector Bellerin at 4.4m and David Ospina at 4.8m that offer the value. In midfield, Santi Cazorla is matching the returns of the more expensive Sanchez thanks to penalty duties. And up front, Olivier Giroud continues to deliver, with five goals in nine games played since his November return. 
4) Crystal Palace attack is a viable option: Alan Pardew is surpassing expectations at the outset of his Crystal Palace reign, with three wins out of three and two in a row in the Premier League. Whether he can sustain that level remains to be seen, but goals appear guaranteed, at both ends of the pitch. Pardew's swashbuckling style is certainly benefiting Jason Puncheon and Dwight Gayle, with 45 points between them in their last two games. It might be time to sell remaining defensive assets though, with lost clean sheets the price for further forays up front.
5) Liverpool's defence is tightening: Two clean sheets in the last two, and three in the last five. Is it time to invest in a Liverpool defender? It's a far-cry from last season's 4-3 thrillers, but Rodgers is starting to get the wins via 1-0s and 2-0s that are almost Mourinho-esque in their efficiency. Skrtel and Moreno both offer a threat up-top aswell as clean sheet potential.
6) Time to sell Villa assets: It's now over 500 minutes since Aston Villa scored in the Premier League and the barren run looks likely to continue with their next game away at the Emirates. No team in the top four divisions of English football has scored less goals. With Arsenal and Chelsea up next, clean sheets are unlikely too. This could be the time for the popular Brad Guzan, Alan Hutton, and Christian Benteke to leave our teams.
Independent Scout Pick review: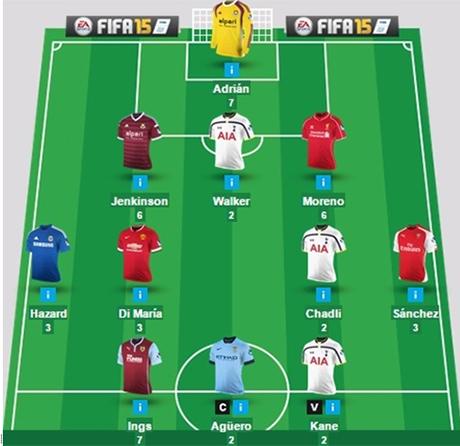 Strong defensive returns were offset by underwhelming attacking performances. Our double-up on West Ham defence paid rich rewards, with Moreno another clean sheet beneficiary. Midfield and up front is a sorrier story, with only Ings delivering meaningful points from the seven attacking players. Our offensive woes are compounded by the decision to captain Aguero who earned a single point in his first match at the Etihad since returning from injury.
Differentials: Elia and Baird paid handsome dividends to those willing to gamble, with 22 points between them. Yaya Sanogo looked less of a threat in his first match for the Eagles, scoring a single point as Gayle took the spoils.
Reuse content