After a few weeks of mixed returns from the Independent Scout, we unashamedly turn to FPL veteran and current world number one, Simon March, to help guide our strategy and reverse our fortunes ahead of Gameweek 25. Having made gradual progress through the leaderboard, Simon's Atletico Marchid** surged into the number one slot this week with inspired picks such as Sadio Mane and Kyle Naughton contributing to a twenty point cushion at the summit of the game.
We spoke with Simon to get inside the mind of a potential champion...
How long have you been playing Fantasy Premier League, Simon?
I first got into the game about six years ago when I was working as a strategist for Google. My job then was basically all about taking a bunch of data and refining it to optimise ad campaigns. That, coupled with a lifelong football obsession meant that FPL was immediately a great fit for me!
FPL is also an always-reliable source of office banter and has a great online community. I love that it draws not just on your football knowledge but also your ability to manage data, risk, assess probability etc. I honestly think it should be taught in schools!
And it does make football more interesting. I mean, how else could a Jamie O'Hara assist for Wolves Vs Sunderland make a Chelsea fan (like me) jump out of his seat cheering?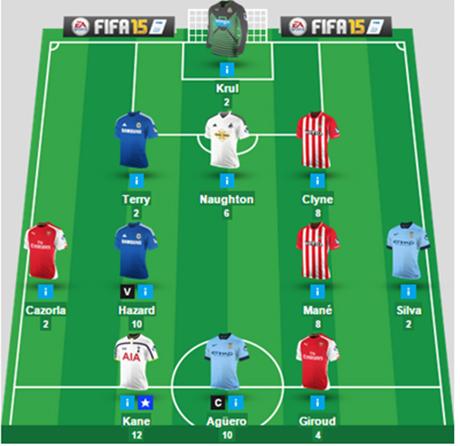 How much of your life does FPL consume? Are you a competent casual player, or an FPL addict?
There are definitely some signs of FPL addiction in me! Nowadays when I see a goal go in I instinctively think about what it means in FPL terms. I've gone to all sorts of lengths to make a transfer, including borrowing a stranger's phone at Tokyo airport because I had no signal and wanted to get Dimitar Berbatov in before he played QPR! A real low point was when, as a Chelsea season-ticket holder, I accidentally reflex-cheered a Ciaran Clarke goal for Villa at Stamford Bridge because I had him in my team. That got me some funny looks to say the least...
You've clearly got some FPL pedigree with two top 10k finishes in the last three years, but this year's efforts have taken you right to the top. What do you put down to the recent success?
I'd be lying if I didn't admit that luck has been a huge factor. I don't think it's possible to get near the top without more than a few things going your way.
The biggest conscious change in my approach this season has been that I've focused a lot less on team value than I did before. Previously I'd make early transfers just to jump on price-rises. This season, with all the low-priced but high-scoring players like Kane, Austin and Sigurdsson, team value has, so far, been less of an issue. As a result, I've been making later, more considered transfer choices than I had previously. I've also been trying to bank a free transfer whenever possible. The difference you can make to your team with two transfers instead of one can be enormous.
Having said that, this season is honestly the most casually I've approached FPL since I started playing (although that is obviously starting to change now!). I've not been over-thinking it. Maybe that's the key!
You haven't taken a hit all season. Is this a key part of your strategy?
I think I've maybe taken about four hits in all six seasons! It's probably more of a mindset than a strategy to be honest. When I look at taking a -4 hit, I immediately think of all the things that would have to go right in order for it to be worthwhile and I usually end up talking myself out of it. There's no right or wrong approach I think. Some FPL manager are artists when it comes to hits, others, I suspect, just do it because they enjoy it. In the end though, it's points that win you your leagues so they should be spent carefully.
What's been your biggest regret this season? Any missed bandwagons, failed benching strategies or bad captain picks that still keep you awake?
I think benching Harry Kane's 18 points against Chelsea is something that will haunt me for some time to come!
To be honest, I've barely made a good captaincy choice all season. This year, in the absence of Suarez, a firing RVP and with Aguero struggling with injuries, captaincy has been a real lottery. More than ever I think this season has been about the overall strength of your squad.
As the finish line gets a little closer, have you started following the other leaders, trying to work out their transfers, or are you concentrating on your own game?
It's a cliché but, for now at least, I think you have to play your own game. There are a lot of points left to be won and really not all that much separating 1st from 100th place. If you focus too much on a few other managers, you leave yourself exposed to the managers who you weren't looking at and who were gutsy enough to captain the huge Gameweek scorer that nobody else anticipated.
That said, I do admit to casting my eye across the other teams around me. I've always been lucky enough to play in competitive mini-leagues but it's quite a novelty when your 'rivals' are ranked in single figures!
Can you give the rest of us some gold dust for GW 25? Any tips or differentials that can help boost us up our mini leagues?
GW25 really could be a season-definer for many. Arsenal, Chelsea, City, United, Liverpool and Southampton all have strong fixtures and you could feasibly pick at least a dozen solid captains out of those. And that's not even mentioning Harry Kane who looks unstoppable right now! There's also Alan Pardew's Palace against his old team Newcastle. That feels like a story waiting to be written…
One thing that players might not have picked up on though is that we should know the line-ups before the deadline on Tuesday so there may be some advantages to be taken there. For me it'll be a true test of my FPL devotion as it'll be about 3am where I am!
Any other final words of wisdom?
I think something that might surprise people is that I rarely watch games or even highlights anymore. I've probably only watched about five whole games all season. The reason being that I now live in Singapore and we're eight hours ahead of the UK here so, unless it's an early kick-off, most games are in the middle of the night for me.
Obviously that creates its challenges but it also offers some advantages I think. While in the UK, I would watch every game I could and would often find myself thinking things like; 'Hmm, Marc Wilson is getting forward a lot here...' and acting upon it. Nowadays I probably look at football in the same cold and narrow terms in which FPL scores it. Not as fun maybe but perhaps it has helped!
Independent Scout Picks:
Freshly motivated by Simon's advice, we try and take the clinical approach of a Google strategist for Gameweek 25.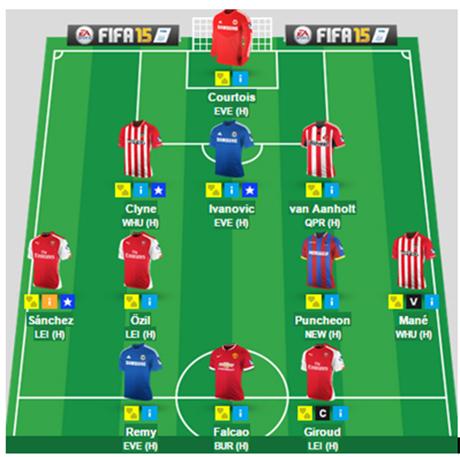 As guided by Simon, Arsenal, Chelsea, Manchester United and Southampton appear the order of the day, with home fixtures against Leicester, Everton, Burnley and West Ham respectively.
Arsenal have shown us what they can do at home, with a 5-0 thrashing of Villa last time out. As such, we use our three slots on attacking players, with Alexis Sanchez, Mesut Ozil and Olivier Giroud expected to be the chief point-takers.
Chelsea should be able to keep a clean sheet against the shot-shy Toffees, who have one goal in their last three games. Thibaut Courtois and Branislav Ivanovic are the picks, with the latter showcasing his goal-scoring credentials on Saturday. We also expect Loic Remy to make a goal-scoring return for Chelsea after Didier Drogba's ineffective display against Villa last time out.
Southampton won convincingly at Upton Park earlier in the season, and with another win and clean sheet against QPR on Saturday, the omens are good for Wednesday's home fixture against West Ham. We pick classy right-back, Nathaniel Clyne, in defence, and Sadio Mane in midfield, following four goals in five games for the Senegalese speedster.
It's hard to find a player in form at Old Trafford, but a home fixture against Burnley can't be ignored. Radamel Falcao at least seems to be trying and is as good a pick as any to find the net on Wednesday night.
Elsewhere, Patrick van Aanholt has a plum fixture at home to QPR, and Jason Puncheon can star for Alan Pardew in the manager's first game against Newcastle since leaving in December.
Differentials:
Jordan Ibe, Liverpool, £4.4m, 0.1% ownership
Callum McManaman, West Brom, £5.0m, 0.0% ownership
Victor Moses, Stoke City, £5.2m, 0.5% ownership
Reuse content