One of Lionel Messi, Cristiano Ronaldo or Franck Ribery will today be crowned as the winner of the Fifa Ballon d'Or.
But who is most deserving of the award?
Here, we take a look at each player in turn and analyse how they performed during 2013.
We also want to hear who you think should win the award. Take part in our poll below...
Cristiano Ronaldo
2013 spelled the end of Ronaldo's reign as the world's most expensive player, but the Portugal stalwart's statistics for the year suggest that he may well begin 2014 crowned as the world's best. In 52 appearances for club and country he notched an astounding 62 goals including eight hat tricks and looks a strong contender to take the Ballon d'Or away from Lionel Messi for the first time in four years.
Ronaldo was the last player to win the Ballon d'Or before Messi's four year domination of the award and the Real Madrid forward was in phenomenal form throughout 2013. He registered more shots on target than any other player across Europe's top five leagues, but it was not just his form in front of goal which stood out as he also contributed 15 assists to show that he can provide as well as finish. Impressive for a player often maligned for his selfishness on the pitch, although he managed the least number of passes out of the three Ballon d'Or nominees despite playing more matches.
With Lionel Messi's injury in November ruling him out until 2014, Ronaldo sniffed a chance to eclipse the Barcelona player and found arguably his best form of the year. The Real Madrid player beat his longstanding rival's record for number of Champions League goals scored in a calendar year that same month and became the first player in the Champions League's 22-year history to score nine goals in the group stage following his strike against FC Copenhagen. A record made all the more impressive considering he sat out the penultimate match in the group.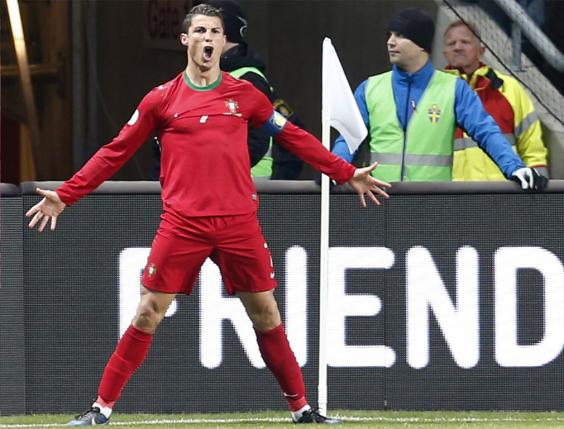 Just before Messi's injury, Fifa President Sepp Blatter claimed he preferred the Argentinean to Ronaldo and infamously suggested that the latter had "more expenses for the hairdresser" than Messi. Rather than allowing this to affect his mentality on the pitch, Ronaldo used it and Messi's injury to fuel his performances in the latter part of the year.
Away from club football, Ronaldo also shined for his country and his greatest triumph of the year on the international stage came in the two-legged World Cup play-off against Sweden. The Portugal captain scored four goals over the two games to single-handedly drag his team to the finals in Brazil, overshadowing early Ballon d'Or contender Zlatan Ibrahimovic in the process.
The one blot on Ronaldo's awe-inspiring year however is the absence of a trophy - barring Real's La Liga curtain-raising Supercopa win over Barcelona. 2013 was a year of being second-best for Real; runners-up in La Liga and the Copa Del Rey, they succumbed to losing finalists Borussia Dortmund in the semi-finals of the Champions League. But their star player will be hoping to start 2014 as a winner.
Franck Ribery
Bayern Munich's quintuple trophy winning side of 2013 will go down as one of the greatest football teams in history and Frenchman Franck Ribery's 52 appearances in 2013 show him as an ever-present player at the heart of the trophy-laden side.
Ribery himself admits he cannot compete with Ronaldo and Messi's dazzling goals per game ratios but he can boast the highest number of assists of the three in 2013 with 18, three more than both of his Ballon d'Or rivals and he created a staggering 149 chances. Ribery attempted three times as many dribbles and runs as Messi in 2013, created 50 more goal scoring chances than Ronaldo and provided 261 crosses for Bayern's formidable front-line to challenge for.
He was a crucial cog in Bayern's attacking engine, chipping in with 18 goals and completing almost 1,000 more passes than Messi managed for club and country. In late October Ribery broke a record for playing in the most consecutive unbeaten matches in the Bundesliga and his last game with Bayern before the winter break saw him stretch that run to 41 matches going back to April 2012.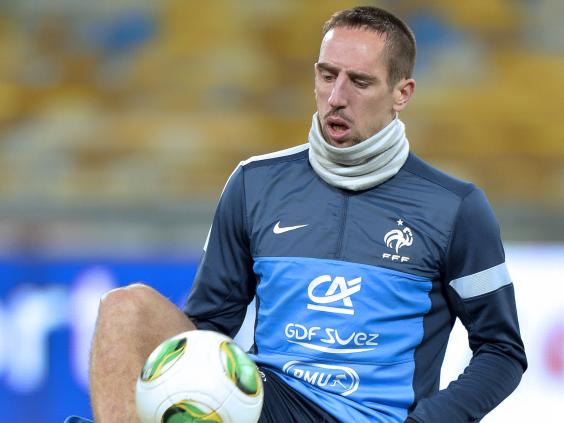 For his national side, Ribery scored an impressive four goals from five games and was instrumental in helping them become the first team in World Cup play-off history to overturn a 2-0 first-leg deficit in November as they beat Ukraine 3-0 in Paris. He was involved in two of the three goals and drew a foul from Yevhen Khacheridi which earned the Ukrainian a second yellow card and helped France see out the result.
Ribery was embroiled in controversy off the field as he faced trial with compatriot Karim Benzema in June facing accusations of having sex with an underage prostitute. The case was adjourned until 2014 and the Frenchman went on to be announced as the winner of Uefa Best Player in Europe award for his part in the 2012/13 season in August.
Ribery was on the losing side just three times in 2013 and there can be no doubt that Bayern Munich were the best club side on the planet last year, but Ribery will be hoping he can be voted the best player regardless of the quality he was surrounded by.
Lionel Messi
Lionel Messi, the player who attracts an endless stream of superlatives had yet another characteristically prolific year despite a couple of injuries including a hamstring tear in November which ruled him out of the remainder of 2013.
Barcelona were crowned La Liga champions for a 22nd time in June and Messi finished the season as top scorer with 46 goals. He cannot match the 2013 trophy haul of Bayern Munich's Ribery but he is one better than Ronaldo and set a record of scoring in 19 consecutive games including a run which saw him net against every team in La Liga.
It was not all plain sailing in Messi's personal life though as the Argentinean and his father were faced with serious allegations over tax avoidance and appeared in court in September as part of a tax fraud investigation. Messi was later exonerated and continued to put in fine displays at the start of the 2013/14 La Liga season.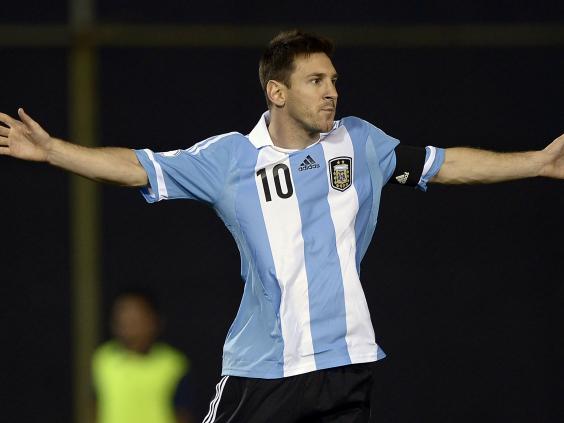 Captain of his national side, Messi took Argentina to a first-place finish in their South American World Cup qualifying group losing only one qualifier in 2013. He was the second highest goalscorer in qualifying behind Uruguay's Luis Suarez and netted a sublime hat trick - his third for his country - against Guatemala in a friendly match in June to see him surpass Diego Maradona's goal tally for the national side.
Often lauded as one of the greatest players of all-time, Messi boasted a shooting accuracy of 60 per cent throughout 2013 and registered 87 shots on target. He scored frequently for club and country and was integral in creating goals for his teammates with 70 chances created and 15 assists.
His record smashing goal tally of 2012 would always be difficult to follow, and last year's 43 goals from 43 games was a relatively "quiet" year for the diminutive Argentinean in comparison. But the forward continues to deliver every single time he steps onto the pitch and should not be ruled out of picking up a fifth consecutive Ballon d'Or.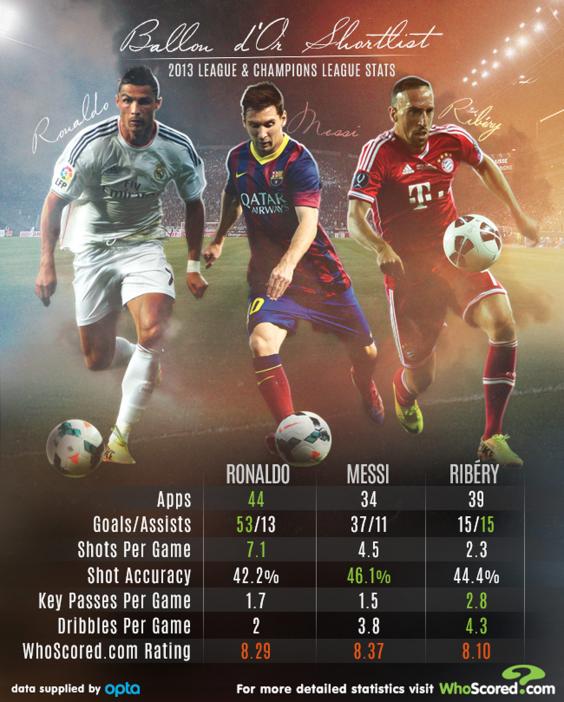 Reuse content