Fifa has been "shaken to its very core" by scandals that have "decimated our governing body", presidency contender Prince Ali bin al-Hussein of Jordan has said. 
His comments, prompted by the criminal investigation into a £1.3m payment to Michel Platini allegedly authorised by Sepp Blatter, seemed designed to present the Jordanian royal as an anti-corruption candidate for football's top job. But calls are growing for a football outsider – suggestions have included former United Nations secretary-general Kofi Annan or former New Zealand prime minister Helen Clark – to take control.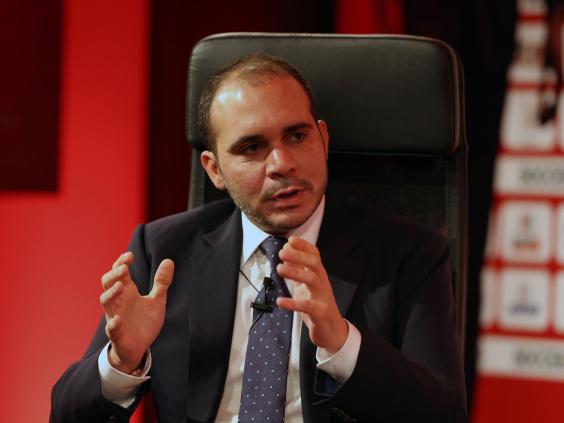 Swiss authorities began a criminal investigation into Mr Blatter's suspected payment of £1.3m to Mr Platini in 2011 for work the Frenchman is said to have carried out between 1999 and 2002. 
It was unclear why the payment was made so late, but this is likely to have been a matter for discussion when Mr Platini was questioned as a witness. Both men have denied any wrongdoing over the payment.
Campaigners said it was time an "eminent person" from outside sport took the helm at football's world governing body, because even executives who had not done anything wrong were tainted by their lack of action.
Prince Ali, who stood unsuccessfully against Mr Blatter earlier this year before a US investigation into an alleged £100m bribery and racketeering conspiracy involving Fifa officials prompted the Swiss official to announce that he would stand down, said: "The need for new leadership that can restore the credibility of Fifa has never been more apparent. 
"We have to accept that changing Fifa is not a matter of choice; it has already changed, shaken to its very core by the scandals that have decimated our governing body and cast a cloud over the organisation." He said Mr Blatter's decision to quit had started "the process of change".
Sepp Blatter gaffes and outbursts
Sepp Blatter gaffes and outbursts
1/10

Blatter's latest remarks, which have been met with widespread condemnation: "I would deny it. There is no racism, there is maybe one of the players towards another, he has a word or a gesture which is not the correct one, but also the one who is effected by that, he should say that this is a game. We are in a game, and at the end of the game, we shake hands, and this can happen, because we have worked so hard against racism and discrimination. I think the whole world is aware of the efforts we are making against racism and discrimination. And, on the field of play sometimes you say something that is not very correct, but then at the end of the game, the game is over and you have the next game where you can behave better."

GETTY IMAGES

2/10

Sepp Blatter was forced to apologise in December last year after he said gay football fans travelling to Qatar for the 2022 World Cup should "refrain from sexual activity". Blatter had dished out his advice in a bid to downplay the fact that homosexuality is illegal in Qatar.

GETTY IMAGES

3/10

Blatter sees his role at the top of football as most important, and so he should, especially considering his opinion that the world is obsessed only with football. "Even an unborn child is kicking," he once said, emphasising his point.

GETTY IMAGES

4/10

Blatter waded in on the John Terry/Wayne Bridge/Vanessa Perroncel debate last year. The Fifa president suggested that maybe England over reacted in stripping Terry of the captaincy following allegations about his private life. "Listen, this is a special approach in the Anglo-Saxon countries. If this had happened in let's say Latin countries then I think he (Terry) would have been applauded."

GETTY IMAGES

5/10

The Fifa president has regularly spoken out against the English game and what he sees as greed and excess. He accused the Premier League of gorging on the best international talent at the expense of poorer countries around the world: "In France they have an expression '1'appetit vient mangeant' [the appetite comes with eating]. It means when you are at a good table you like to eat more and more and more. And this is the success story of the Premier League."

GETTY IMAGES

6/10

Blatter disgusted the football world with disgraceful comments regarding Cristiano Ronaldo. When the now Real Madrid star was negotiating his move away from Manchester United, Blatter declared: "I think in football there's too much modern slavery in transferring players or buying players here and there, and putting them somewhere." The comparison to slavery caused widespread outrage.

GETTY IMAGES

7/10

The Fifa president offered his master plan on how the women's game can be made more appealing: "Tighter shorts," he suggested.

GETTY IMAGES

8/10

GETTY IMAGES

9/10

David Gold, when chairman at Birmingham, branded Blatter as "outrageous" after the Fifa president proffered his thoughts on the Martin Taylor challenge that left Arsenal striker Eduardo (pictured) with a broken leg: "It is shocking when you see how this player was attacked. It is not football. Football is a contact game but it is a game with rules. You have to have respect and what we witnessed there has nothing to do with football. This is to destroy another player, and that is not the aim of our game." These comments came despite Taylor insisting there was no malice and the Birmingham defender's explanation being widely accepted.

GETTY IMAGES

10/10

GETTY IMAGES
"We have an opportunity in February to carry that momentum forward. We must now come together and work to restore Fifa's credibility and reputation by bringing about the change that is so clearly needed," Prince Ali said. "I have heard from many member associations over the last 24 hours, and what I have heard gives me confidence that, working together, we can emerge stronger."
However a former Australian football official, Bonita Mersiades, of the New Fifa Now campaign – a group co-founded by Conservative MP Damian Collins – said that it was time to bring in people from outside the world of sport to run Fifa.
"I think more and more people are coming to the realisation every day that the only way forward … is for independent reform to happen," she said. "We all love football, that's why we're advocating for reform – independent reform by an eminent person who's not eminent in sport.
"There's so much of a job-for-life type attitude [in sport administration] and this is part of the problem Fifa has had – they became inured to what's right and what's wrong."
She said Prince Ali "only started to make a noise about this when it came up in presidential election contexts". "That's not to say he's not genuine. But where was he when all of these issues were going on?"