Switzerland's attorney general will on Wednesday reveal details of the investigation into money-laundering in the bids for the 2018 and 2022 World Cups for the first time since the sensational dawn arrests in Zurich three weeks ago.
So far, all that has been confirmed by the office of Michael Lauber is that 10 serving Fifa executive committee members have been questioned in "criminal proceedings" over the 2010 votes won by Russia and Qatar, in a statement published after several Fifa top executives were arrested at the Baur au Lac Hotel two days before Fifa's Congress.
Lauber will detail the scope of the investigation, which is understood to be based on Fifa's own investigation by the American lawyer Michael Garcia, and expand on what data and documents have since been taken from Fifa's Zurich headquarters in two separate visits by investigators in the last three weeks.
Contenders to replace Sepp Blatter as Fifa president
Contenders to replace Sepp Blatter as Fifa president
1/6 Michel Platini

Current president of Uefa. Voted for the Qatar World Cup, which makes position somewhat difficult. Asked Blatter to resign before elections.

Getty Images

2/6 Prince Ali Al-Hussein

The Jordanian was the only contender against Blatter when the elections took place. Managed to pick up 73 votes from the Fifa executive committee to Blatter's 133. Has already confirmed he will stand again.

PA

3/6 David Gill

The former Manchester United chief executive refused to take up his place on the Uefa executive committee after Blatter's re-election. 'My professional reputation is critical to me and I simply do not see how there will be change for the good of world football while Mr Blatter remains in post,' he said at the time.

Reuters

4/6 Luis Figo

Former Real Madrid and Barcelona player announced himself as a candidate for the most recent election but pulled out in protest at how it was being run, saying the process was 'anything but an election'.

AFP/Getty Images

5/6 Jerome Champagne

Also announced himself as president contender but failed to gain the minimum five nominations required. The Frenchman is a former Fifa deputy general secretary and has been a fierce critic of Uefa.

GETTY IMAGES

6/6 Michael van Praag

Dutch FA president was also a contender for president before pulling out in order not to split support between himself and Price Ali.

GETTY IMAGES
The attorney general's office has already confirmed it is investigating a 2010 match played in Qatar between Brazil and Argentina, which may have been used as a vehicle through which to make payments in the form of marketing and media rights to South American officials such as Brazil's Ricardo Teixeira and the now deceased Argentina Football Association chief Julio Grondona, in return for voting for Qatar as 2022 World Cup hosts.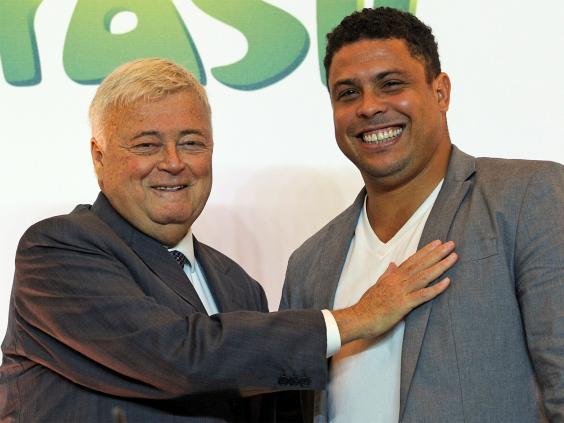 Teixeira, who until 2012 was head of Brazil's 2014 World Cup organising committee but stood down in the wake of serious corruption allegations involving the marketing company ISL, is also facing a criminal investigation in Brazil. Millions of euros are alleged to have been found in a Monaco bank account in Teixeira's name, which have been paid by Qatari construction companies who have benefited from the 2022 decision.
Fifa has also accused the Nobel Peace Centre, the body that awards the Nobel Peace Prize, of "not upholding the spirit of fair play", after it announced it would end its partnership with Fifa in its "Handshake for Peace" initiative.
This was arguably the outgoing president Sepp Blatter's favourite initiative, which compelled competing teams to shake hands before and after matches to "promote peace and fair play", and for which, several of his aides have said, he believed would win him the Nobel Peace Prize.
Reuse content