On Friday morning, Fifa faces one of the more critical decisions in its recent history: whether to make public its own report into corruption in the 2018 and 2022 World Cup bidding process – and it is thought it may spill the beans.
The report's author, the American lawyer Michael Garcia, who had agitated for it to be disclosed, resigned on Wednesday claiming his findings had been covered up. But there is a feeling among those close to Fifa's president, Sepp Blatter, that when the 25-strong executive committee of football's governing body vote on whether to publish the report, the result could be closer than first thought.
There is a view, held by powerful figures at Fifa, that Garcia is bluffing; that for all his complaints about the summary of his report, published by the head of Fifa's adjudicatory chamber, Judge Hans-Joachim Eckert, of its "erroneous representations" and its "edits, omissions and additions", Garcia's report stops short of calling for the vote for the bidding rights to be run again, or to recommend that Qatar or Russia be stripped of their tournaments. If there had been, this would be a conclusion Judge Eckert simply could not have ignored, so the argument goes.
Fifa's executive committee has no formal structures through which to hold a vote on this matter. There may not even be a vote, though it is widely expected. The reformers, among them the British representative, Jim Boyce, and Michel Platini, president of the European body Uefa, do not number anywhere near the 13 required on the executive committee to win the vote. One member has said there would be "people on the ExCo cheering" at the news of Garcia's resignation.
Eleven of the executive committee who in 2010 voted for Russia and Qatar have now left, in almost all cases under clouds of proven corruption. Those members inclined to vote "no" will not have had their mind changed by Garcia's resignation, but there are many who would be turned by the will of Blatter.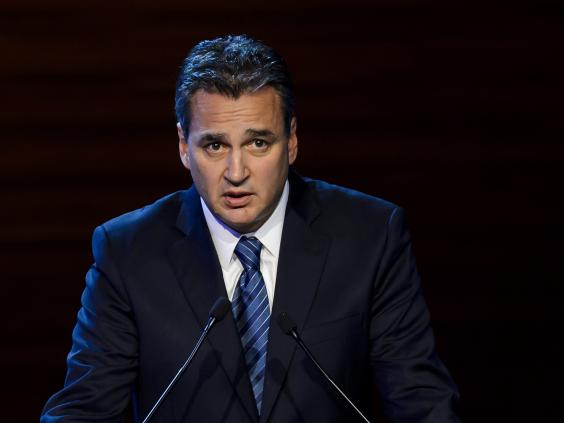 If Garcia's report contains no "smoking gun", publication is a chance to move on. But there are complications. For Fifa to publish the report would be a breach of its Code of Ethics which Garcia, Eckert and all 25 members of its executive committee signed only two years ago.
Article 36 says very clearly that reports and information obtained by the ethics committee, of which Garcia and Eckert were joint heads, must remain confidential. Germany's Theo Zwanziger has tabled a motion that will ask for this article to be amended, and the amendment backdated, which will have to happen for the vote to take place.
Until now, both Blatter and Eckert have made clear that there is no legal basis on which the report can be made public, even in redacted form.
Fifa's executive committee will have to vote on whether to publish the report without having actually seen it. Should it be published, it will have to be heavily redacted to keep the anonymity of those who spoke to Garcia in confidence.
Two key whistleblowers, from Australia and Qatar, have already complained to Fifa that, even though they were not named, Eckert's summary made it clear they had cooperated with Garcia at significant risk.
Where the report is critical of a particular country's bid, there may also be demands to protect individuals implicated. That would leave a report so redacted as to be almost irrelevant.
For the first time, Blatter's post-committee press conference will not be streamed online, with officials privately admitting the aggressive nature of the press's questions and the social-media backlash would not present a balanced picture.
Reuse content