Only the performing monkeys in their Real Madrid kit, dressed up like Cristiano Ronaldo and turning somersaults in the square, remind you the galacticos are in town.
It is easy to forget that it is nominally the Club World Cup which has drawn the footballing world to Morocco. Here in Marrakech, it is not the hotel for Gareth Bale and James Rodriguez that has two deep lines of police outside it. Instead it is the home of football's other galacticos; not the bright stars of the sporting firmament, but the black holes.
They are the men and women – but mostly men – of Fifa's executive committee, a first-class, five-star, travelling city state that exists in permanent crisis, and who meet in secret to decide how much they ought to care about the latest bit of revulsion visited upon them by a world that, quite ironically, keeps falling more deeply in love with the sacred thing they have stolen; football.
Winston Churchill used to stay at La Mamounia, Marrakech's finest hotel, where the executive committee met today, and will again tomorrow, led by their embattled head, Sepp Blatter.
When Churchill met Franklin D Roosevelt at a summit in Casablanca in 1943, he insisted the American president join him for the five-hour drive to Marrakech. Roosevelt was adamant that he did not have time. "I must be with you when you see the sun set on the Atlas Mountains," Churchill insisted, and off they went.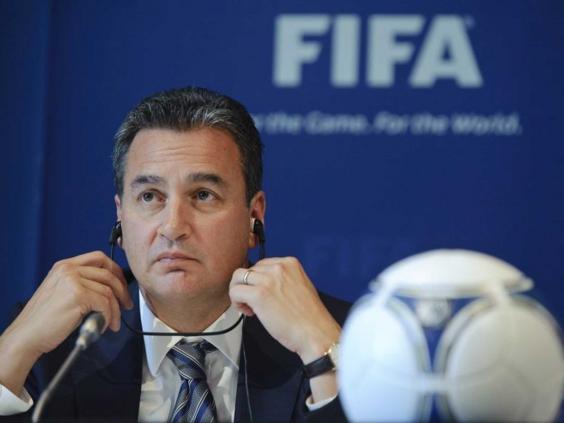 It was the very same sight that Michel Platini, the president of Uefa, was enjoying at the end of a languid lunch in La Mamounia's gardens on Wednesday, when the muezzin's call to prayer began and the assembled journalists, who had until that point been free to come and go as they pleased, suddenly all reached for their mobile phones.
Michael Garcia, Fifa's chief corruption investigator had walked, claiming the world governing body's culture could not be changed and his work exposing corruption had been deliberately misrepresented.
It was the British press who broke the news to Platini, reclining in his tracksuit. Uefa's general secretary Gianni Infantino borrowed a telephone and read Garcia's long statement aloud.
Platini, seen as a reforming force within Fifa, one of the few good guys but who nevertheless voted for Qatar to host the 2022 World Cup in the searing summer heat, called it "a new failure for Fifa".
Garcia had been joint head of Fifa's new ethics committee, a body, which Platini said, "had been set up to increase transparency at the organisation". Now he had resigned, essentially accusing its other joint head, the German judge Hans-Joachim Eckert, of complicity in a cover-up.
Though the details are hard to come by, Fifa's executive committee is expected to hold a vote on whether Garcia's report into corruption in the 2018 and 2022 bidding processes should be made public. It's a complicated matter. All 25 members signed its code of ethics two years ago, which makes very clear that reports from the ethics committee should never be made public – it should serve as Fifa's confessional chamber.
But exceptions – and redactions – can be made.
Not long after Garcia's bombshell, journalists were suddenly no longer welcome at La Mamounia. Issa Hayatou, the head of the Confederation of African Football,  was, apparently, unhappy at the presence of the BBC cameras, which is hardly surprising. Hayatou was particularly unhappy when Panorama pointed them at him in 2010, with a document in their hands which alleged he had taken cash over the awarding of World Cup TV rights.
Those who were outside weren't getting back in, either.Those who were inside briefly had only £22 sandwiches on which to survive, until they too were removed. Then, en masse, the police arrived. What does it matter? The Ronaldo monkeys still jump in the square. Fans as passionate as any other are here – of New Zealand's Auckland City FC of San Lorenzo in Argentina. The reach of football is just about beyond comparison with any other force on the planet.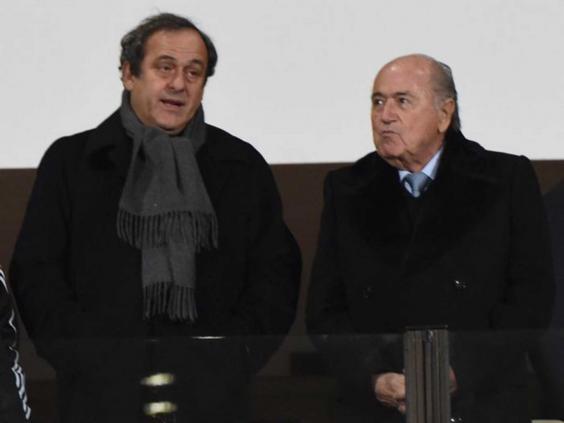 For them, Blatter is not the head of football, Lionel Messi is. They vaguely know about the dark forces that lurk out of sight, just as they know not to walk the winding alleyways that lead off the souks late at night.
History, it is fair to say, looks kindly upon Churchill. Even what he viewed as his greatest single mistake, returning Britain to the gold standard in 1925, was supported by a sentiment with which many now will sympathise – that money should be backed up by something tangible and real, that it should not be an abstract concept to be alchemised for malign ends by greedy bankers. "It will shackle us to reality," Churchill said at the time.
The passion of the fan in the street, the souk and the strasse is football's gold standard.
The world's unconditional love for the game is the simple, priceless commodity that backs up the billion-dollar deals, the favours and the back-scratching, the gala dinner here, the conference there. That, in the end, is what is being bought, sold, prostituted and exploited. It doesn't have to be this way.
The executive committee has no formal mechanism through which to hold a vote. It is not absolutely certain there will even be one, though it is widely expected. This morning, after its private meeting, president Blatter will face the press, and we will find out whether Fifa has completely unshackled itself from reality.
Reuse content