Former Liverpool striker Luis Suarez has again denied ever racially abusing Patrice Evra when the Frenchman was at Manchester United.
READ MORE: Suarez counting down the days to Barca debut
Suarez, now at Barcelona after a £75m summer move, was handed an eight-match ban after being found guilty of racially abusing the left-back in October 2011; he was also handed a £40,000 fine.
But speaking in an extensive interview with his new club, the Uruguayan continues to deny he did anything wrong.
"When I say I'm sorry it's because I regret something. Being sorry implies regret," he told Barcelona's official magazine.
"But they have also sometimes judged me on things that aren't true, such as the racism thing. I was accused without evidence and that's what grieved me the most."
Suarez has served several length bans in a coloured playing career, including a seven-match ban for biting PSV's Otman Bakkal, a 10-match ban for biting Chelsea's Branislav Ivanovic and a four-month ban after biting Italy defender Giorgio Chiellini at the World Cup; Suarez is still serving that ban until 25 October.
The 27-year-old has apologised for those incidents but still denies any wrongdoing against Evra.
"The others were actions when it was me who did wrong. I accepted that and begged forgiveness, but the racism thing, when I was accused without evidence, that did upset me."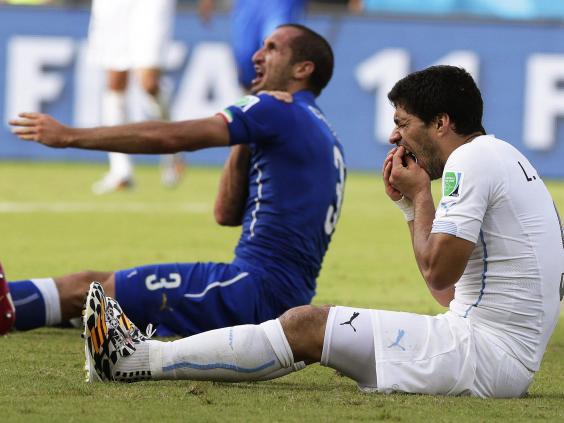 Speaking about Chiellini he said: "It is good to accept that you have made a mistake and that's what I did. I left it a few days because you have to remember that I'm only human and sometimes it's hard to face the truth.
"I found it hard to take in and to realise what I had done. Those were days when I didn't want to know about it. I just wanted to be with my wife and children, who supported me through that time. I didn't want to listen to anybody, or speak to anybody. I didn't want to accept it."
Reuse content