A young boy when France won the 1998 World Cup, Francis Coquelin, like many of his generation, grew up dreaming of becoming the next Zinedine Zidane. It took a while to realise that Arsène Wenger wanted him to be Claude Makélélé; but even then a proper audition for the role came about only because of a freakish crop of injuries.
Such has been the 24 year-old's success, it now seems unthinkable that Arsenal would go into Saturday's FA Cup final against an enterprising Aston Villa without Coquelin laying down his anchor in midfield. An overnight sensation after seven years at the club, he is even being spoken of as the long sought-after replacement for Patrick Vieira. 
A year ago such talk seemed fanciful in the extreme. The dramatic final against Hull City showed how far down the pecking order he was as Arsenal played Mikel Arteta and Aaron Ramsey behind Santi Cazorla, Mesut Ozil and Lukas Podolski, with three more midfielders on the bench in Jack Wilshere, Mathieu Flamini and Tomas Rosicky.
Coquelin was not even in the country, but on holiday in France after coming to the end of an unhappy loan period in the Bundesliga with SC Freiburg. Previously farmed out to Lorient (the Brittany version, not the East Londoners), he was given one League Cup game last September against Southampton, playing out of position at left-back, before being sent to Charlton Athletic.
Arsenal exits: Players out of contract or reportedly set to be sold this summer
Arsenal exits: Players out of contract or reportedly set to be sold this summer
1/7 Abou Diaby

OUT OF CONTRACT: The perennially-injured midfielder will be out of contract and is not expected to be handed a new contract. However, there are reports that a pay-as-you-play offer could be made.

Getty Images

2/7 Damian Martinez

OUT OF CONTRACT: The goalkeeper has been on loan at Rotherham most recently.

GETTY IMAGES

3/7 Mikel Arteta

OUT OF CONTRACT: The veteran midfielder has missed much of the season due to injury, making it difficult to convince Arsenal to give him a new deal. However, the Spaniard is expected to still be at the Emirates next season is some capacity.

GETTY IMAGES

4/7 Theo Walcott

RUMOURED EXIT: The England international will have a year to run on his current contract this summer with talks ongoing about signing a new one. If no agreement can be reached, Arsenal may look to cash in while they can.

EPA

5/7 Wojciech Szczesny

RUMOURED EXIT: Whilst set to play in the FA Cup final due to Wenger's selection policy, Szczesny may not feature for Arsenal again after that. Poor form and being caught smoking saw him lose his place to David Ospina and with Petr Cech possibly arriving this summer, Szczesny could depart.

GETTY IMAGES

6/7 Joel Campbell

RETURNING LOANEE: After a promising World Cup, Arsenal opted not to send the Costa Rica international straight out on loan. But after failing to make an impact in his limited opportunities he went to Villarreal in January. Arsenal are understood to be prepared to let Campbell leave permanently this summer.

GETTY IMAGES

7/7 Lukas Podolski

RETURNING LOANEE: Having been allowed to go to Inter Milan in January, it appears there is no place for Podolski at Arsenal. Despite a healthy goal return, Wenger is simply not a fan. Will have a year to run on his contract this summer.

GETTY IMAGES
"I had a discussion with the boss at the beginning of the season," he recalled on Friday. "He said 'let's see how it goes until December and we will have another chat'. I went on loan, I was thinking I might get a call because of injuries, but I got the green light to extend at Charlton."
It was at that point, with the thought forming in his mind that his future could lie away from the Emirates, that the green light turned red when Ramsey joined Ozil and Wilshere as hors de combat. Not that he was exactly greeted as a saviour or rushed into the team: in successive matches over Christmas his appearances as a substitute amounted to three minutes, eight minutes and two minutes.
The thought occurred that his development might have been better served playing regularly at Charlton, where the then-manager, Bob Peeters, was building a whole strategy round him as the defensive linchpin.
Coquelin said: "It was true that I wasn't happy when I came back. I was playing regularly, even if it was in the Championship, and I was a bit frustrated  to be on the bench.
"He [Wenger] came to me and said 'you don't look happy'. I said 'yeah, it's true'. Liverpool away and QPR I thought I was going to start and I was on the bench again, and then, out of the blue, against West Ham, [came] the game that I didn't expect to start. We were sixth. West Ham were fifth, massive game. He plays me."
Arsenal won 2-1 at Upton Park and, just as importantly, Coquelin (right) was widely perceived to have eclipsed Alex Song (once another supposed successor to Vieira).
At last he was being given a proper chance in his proper position, subsequently playing every league game for four months until enjoying a rest in the goalless draw against Sunderland last Wednesday. In February, there was the reward of an extended contract too.
Wenger's explanation for the transformation is: "He lost his way a bit and wanted to be more of a playmaker, more box-to-box and a more creative player, then he came back to what his real identity is.
"He has shown some absolutely remarkable mental strength because he accepted going to Charlton for a month to show he can play."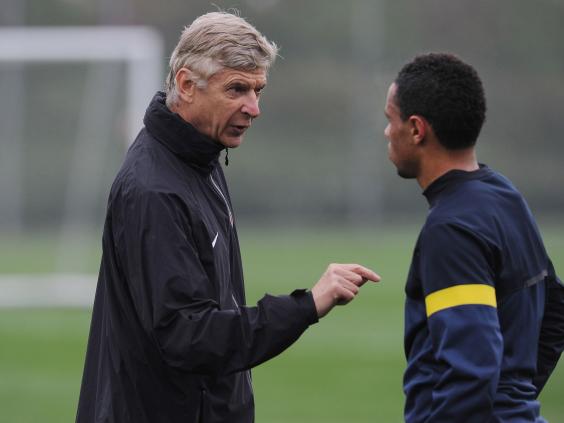 Coquelin, however, insists any tactical indiscipline stemmed only from trying too hard to impress. "When you don't get that opportunity to play, as a young player you tend to overdo it," he said. "You want to show you can do a lot of things. You think you might not get another chance. But now when you get older, you understand you need to stick to what you are good at."
He is equally adamant that it was unfair to judge him on that day in August 2011 when Arsenal suffered a humiliating 8-2 defeat by Manchester United that left them 17th. "I was at the Under-20 World Cup, I had three days holiday and came back. So if I am coming back from a month-and-a-half of competition and I get three days holiday it means Arsenal have no players. So I knew it was going to be tough."
Armand Traoré never played for the club again after that dreadful afternoon. For Coquelin, leaving the Emirates at any time in the following two or three years would have been hard to take.
"I would have been frustrated, really disappointed not to have a run of games. But if someone said tomorrow, 'you have to leave now', I would be, 'okay, at least I got the chance to show what I could do'."
The considerably more likely conversation will be about how he is to disrupt the Aston Villa midfield in pursuit of the medal his belated blossoming deserves.
Reuse content