Former Chelsea midfielder Frank Lampard bought 16 New York City FC tickets for fans after a chance meeting with British supporters at the club training ground.
Lampard, 37, was unable to make his debut against Toronto FC because of a calf strain, but spent $500 sending 20 Brits who are in the US on a summer coaching camp.
The club train on the same facility as the summer camp and 20-year-old Megan Nicholson, from Shetland, explained how it all came about.
"We had been on a tour of the New York City training ground and facilities when we spotted Frank Lampard and David Villa in the car park," she told Talking Baws.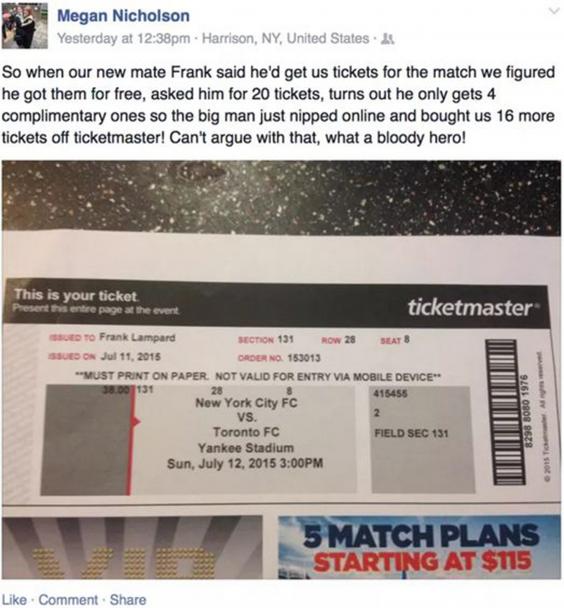 "They happily signed autographs and when Frank spotted our accents, he asked what we were out for. He was really chatty and more than happy to talk to us.
"One of the girls in our group cheekily asked if we could get tickets for the Toronto FC game, but he explained he only gets four complimentary tickets per game and there was 20 of us. He paused for a minute before telling us to wait in the car park for a minute while he went back inside.
"After a moment or two, he came out and asked for one of our names before telling us he'd ordered 16 tickets through Ticketmaster in the ticket office.
"He explained he'd given the girl in the ticket office his card details and that we just had to pick them up before the game. We were all in shock and couldn't thank him enough. He's a lovely guy."
Turns out the tickets cost around $500. The group also picked a great game to watch as th match ended up in a thrilling 4-4 draw.
Reuse content