Whatever concerns there might have been that it might be unfamiliar territory for the nation's finest football broadcaster were instantly allayed in the first 11 words of BT Sport's Champions' League coverage last night: "This broadcast is brought to you in association with Walkers Crisps."
Yes, BT may have gambled everything to steal the exclusive rights to European football from Sky and ITV (though steal may not be the best word to described an acquisition that has cost £897m), but the lengths to which a Leicester crisp manufacturer has gone to make their man Gary Lineker feel at home are just as remarkable.
Walkers Crisps, mixing it with Heineken and Gazprom. That's quite the cocktail.
If the most common criticism of Britain's finest football broadcaster is that, left for too long in the familiar company of his Match of the Day  chums, things have a tendency to go a bit golf club, it was a thoughtful gesture from Glenn Hoddle to put the new face of European football at ease  by dressing for the  occasion as though he were in one.
It's hard to imagine Messrs Shearer or Lawrenson getting through a full 45 minutes of build-up in which a mint shirt paired with brush felt in earthy green can pass unmentioned.
Yet there was no recourse to the sort of nails-down- a-blackboard, sartorial-themed banalities that Hoddle regularly swats away from Robbie Savage on this same channel most Saturday mornings.
The dynamic didn't seem to allow for it, and that's a good thing. When it comes to live football broadcasting, the traditional model is that of a willing idiot of the Chiles archetype, eager to deploy his own considerable ignorance in the cause of extracting actual football insight from the assembled Keanes, Dixons, O'Neills and so on.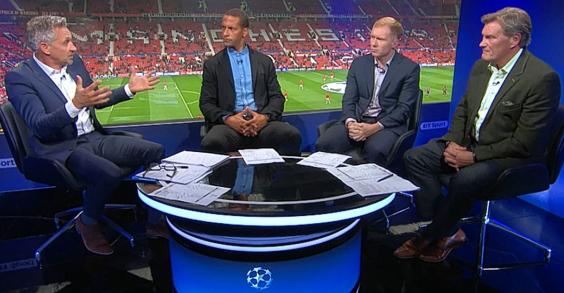 That last night's trio, Paul Scholes, Rio Ferdinand and Glenn Hoddle, were in the company of a clear equal in the footballing pantheon kept the discussion remarkably straight down the middle, which is at least where they all liked to play the game. These three were free from all desire to score weepingly unfunny points off one another, in favour of talking about the actual game.
If you are sitting in Old Trafford, discussing how far Manchester United have fallen from their peak, in the company of two men who have brought football's largest trophy back to this very club, the opportunities to reach for the safety of the classically grating, self-deprecating banter are low indeed.
It also didn't need the constant adverts for Dorito's Roulette to remind that this move is a gamble for Lineker – though they helped.
Manchester United 3 Club Brugge 1 player ratings
Manchester United 3 Club Brugge 1 player ratings
1/14 Sergio Romero

A less than impressive display from United's No1. Could have got down quicker to palm out Carrick's deflected effort and was very lucky his calamitous error from a Darmian back-pass was not punished. 5/10

GETTY IMAGES

2/14 Matteo Darmian

A smart, energetic display by the right-back. Unlike his colleague on the other flank he got back smartly to cover the pacey Diaby but did not allow Brugge's threat to curb his attacking enthusiasm. 7

GETTY IMAGES

3/14 Chris Smalling

Another rock-solid performance from the centre-back, who showed sharp positional sense when Brugge looked to counter. 7

4/14 Daley Blind

Looks to be an ideal centre-back in a Van Gaal side, he brings the ball forward neatly from the back and, whilst his pace was at times exposed, he positioned himself well. 6

5/14 Luke Shaw

Consistently found wanting defensively as Dierckx slipped in behind time and again. As exciting as he can be in attack he was a liability at the back. 5

6/14 Morgan Schneiderlin

Already looking like the foundation on which United can build their midfield in the years to come. Intercepted and tackled well, providing the energy and drive his more senior colleagues could not. 7

7/14 Juan Mata

Though he remains a creative threat he looks somewhat neutered on the right flank. His game was rather one-track, drifting infield and passing the ball elsewhere. 6

GETTY IMAGES

8/14 Michael Carrick

Lacked the pace to deal with Brugge's counters and on more than one occasion panicked when the opponent's pressed high up the field. Put himself in a poor position as he deflected in the opener. 4

GETTY IMAGES

9/14 Adnan Januzaj

Failed to build on a pleasing appearance at Villa Park, with wayward passing and poor decision-making marring his game. Once more his willingness to go down under the slightest of contact blighted his performance. 5

GETTY IMAGES

10/14 Memphis Depay

What a thrilling performance from the forward. From the moment he crafted his wonderful opener, beating five players before firing in, he played with menace and drive. Deserved a hat-trick and with more patience in front of goal he would have had it. 8

GETTY IMAGES

11/14 Wayne Rooney

Two contrasting halves from the United skipper. In the first he was anonymous and off the pace. In the second he looked re-energised, with a beautiful back-heeled flick from a Shaw cross showing he still has the skill to wow. 6

GETTY IMAGES

12/14 Bastian Schweinsteiger

Shielded the back four without much difficulty in the second half. He still looks very slow but showed real leadership, pointing and positioning his colleagues throughout. 7

GETTY IMAGES

13/14 Javier Hernandez

An energetic addition late on, his hard-running forced Brugge defender Mechele into a careless foul; the red card he received effectively ended the threat of an equaliser. 6

GETTY IMAGES

14/14 Marouane Fellaini

His 10 minute cameo may have decided the tie. The opposition could not deal with his physicality and his headed goal gave United the breathing room that they may well need. 7

GETTY IMAGES
The single characteristic that unites all those that make it to the high plateau of national treasuredom tends to be that the public trusts them. At the summit of the mountain Lineker is ascending with the speed of a Nepalese Sherpa is Sir David Frederick Attenborough, OM CH CVO CBE FRS FZS FSA. That man occasionally hints at the thousands of offers from advertisers he has politely declined, because he knows each such thing diminishes the certainty with which people believe what you say.
The Lineker portfolio is small – crisps, the Beeb and not much else. Embracing BT Sport's taste for requiring its hosts to do such things as pose closed questions to its pundits and seek out "BTS Yes or BTS No" by way of a response will diminish him, fast.
But there was none of that. It was also all seemingly a little low budget. There cannot, after all, be all that much budget left. No swooping graphics, soaring music, just a simple studio and some rather stayed, polite conversation.
That BT was once one of the national monopolies, and now an extension of the Lineker-Walkers axis is a sign of the times. He will have also realised rather quickly that, with all these adverts, this is easy money. As big a break for Gary as any of the dozen or more he promised to see us after.
Reuse content