Former Manchester United defender Gary Pallister has revealed that he and former team-mate Roy Keane did not speak at all during his final season at the club.
The pair fell out during a pre-season trip to Marbella and almost came to blows and although Pallister admitted the incident was "handbags", it lead to a cold relationship during the 1997-98 season.
Pallister, now 49, also said they managed to keep the incident from Sir Alex Ferguson.
The defender who left for boyhood club Middlesbrough that summer, said it could have been resolved if the pair were not so stubborn and that the pair get on now.
"We just had a fall out on a pre-season tour," said Pallister, who won nine major trophies with the club, including four Premier League titles.
Seven players Manchester United regret letting leave
Seven players Manchester United regret letting leave
1/7 Diego Forlan

Forlan was absolutely useless at Manchester United (aside from a double against Liverpool that United fans still sing about). The Uruguayan took eight months and 29 games to get his first goal and managed just 10 league strikes in the 18 months he was at the club before being sold to Villarreal. However, he would go on to be prolific in Spain, first with Villarreal and then Atletico Madrid. At the 2010 World Cup he even won the player of the tournament award.

GETTY IMAGES

2/7 Jaap Stam

The Dutch defender spent three seasons at Old Trafford and won three league titles and the Champions League. Despite that he was allowed to leave after making some controversial comments in his autobiography. Sir Alex Ferguson thought it made sense to sell him to Lazio because Stam had appeared to 'lose a little bit' anyway. However, he was superb in Italy and Fergie later conceded 'in playing terms it was a mistake'.

3/7 Paul Pogba

Pogba was just beginning to emerge at Manchester United when he left the club for Juventus. He was accused of disrespecting the club and United arguably didn't do all they could to keep him. It didn't take long for the Frenchman to establish himself in Italy and he's now valued at around £60m.

GETTY IMAGES

4/7 Gerard Pique

Having snatched Pique from Barcelona's youth academy, in 2008 he returned to the Nou Camp. The Catalan side matched a £5m buy-out clause for the defender and United respected the Spaniard's wish to return to his homeland. The then 21-year-old would develop into one of the best defenders in Europe and win numerous titles with Barcelona, plus the Euros and World Cup with Spain.

GETTY IMAGES

5/7 Patrice Evra

More recently, Evra was allowed to leave the club. The Frenchman spent eight years at the club but was deemed to be a fading force and sold to Juventus for £1.2m. In retrospect, Manchester United must have wished they could have called on his experience during tough spells of the most recent campaign, whilst suggestions that he's past his best have been ridiculed by his role in taking Juventus to the Champions League final.

Getty Images

6/7 Carlos Tevez

'Welcome to Manchester' was how Manchester City celebrated signing Tevez, who just the season before had been at United. The Argentina international left Old Trafford after difficult talks that resulted in the player informing the club he wouldn't be staying. Having let a player who helped them win two league titles and the Champions League slip through their grasp, he would go on to win the Premier League and FA Cup with their nearest rivals.

GETTY IMAGES

7/7 Paul McGrath

Wanting to rid Manchester United of its booze culture, Ferguson let McGrath, who appeared to be drunk during a TV interview, leave for Aston Villa for a mere £450,000. A couple of years later he won the PFA Player of the Year award and helped Aston Villa beat Manchester United in the final of the League Cup.

GETTY IMAGES
"We ended up not speaking. It was weird. It wasn't like we hated each other. We were just both stubborn enough not to say, 'Here...'. We should have both put our hands out after that and got on with it.
"We laughed about it at the time, but we just wouldn't be the one to say, 'Let's forget about this'. That's how stubborn we were.
"But when I left to go to Middlesbrough, I went to get my stuff out of the dressing rooms at The Cliff and Roy was walking up the stairs as I was walking down. He started laughing, I started laughing.
"We shook hands and he said, 'I wish you all the best, big man' and we started talking again after that. Something as daft as that, two people being stubborn."
Pallister was speaking in Dublin, where Keane is currently helping Martin O'Neill to prepare his Republic of Ireland squad for Sunday's friendly against England, at the launch of Ford's exclusive '152' Summer Sales Event.
He added: "The last time I saw him was over at one of the Champions League games. He came to the hotel and we sat down for a coffee and a chat and a catch-up. He's good company.
"I admire Roy for the way he is and the fact he always speaks his mind. He's forthright in his views and says what he feels - whether that's always right or it's wrong, you've got to admire that."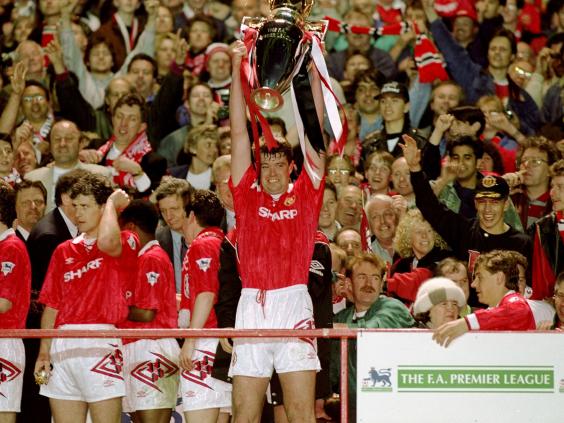 United old boy Andrew Cole revealed during a visit to Ireland last year that he saw Pallister and Keane come to blows in Marbella on his first pre-season trip with the Red Devils, although the central defender played down the incident, which left the Irishman looking for his watch.
Pallister said with a smile: "That was a good night. His watch fell on the floor. He was more concerned about that. It must have been a very expensive one.
"It was handbags. It kind of happened on a players' night out. You hear things and things are said and I don't think there were any connections with any punches.
"But we managed to keep it quiet from the gaffer - that was always important."
For all that, Pallister retains a huge admiration for Keane and is confident he will return to management in his own right before long
He said: "I'm delighted to see him doing well - I'm delighted to see all the guys I played with who have gone into coaching or management do well. He evokes a lot of media coverage, does Roy.
"I got on great with him while I was at United. We had our ups and downs at times. I think he's a very strong character.
"I would expect to see him back in management in his own right eventually, but I think he will be very good for the Ireland team right now."
Additional reporting from PA
Reuse content