Former Fulham midfielder Giorgos Karagounis has said he will never forget the love and admiration he received from the Cottagers' fans.
The Greek legend spent two years at Craven Cottage where he wore the white shirt 39 times and managed to steal countless hearts in south west London.
The 37-year-old has now hanged up his boots after an incredible World Cup but has not forgotten Fulham and their loyal supporters.
He told The Independent: "The love I got from the fans will always have a special place in my heart.
"I always hold those kind of memories dear and I will never forget that special devotion."
'Kara' said it was a good experience as it is always a great thing for a footballer to make it to the Premier League.
However, he noted that a number of changes, such as the dismissal of managers, during his last months in London had a negative effect on the club.
The team were relegated in May after 13 years in the Premier League and struggled this season in the Championship until Felix Magath was dismissed.
Much have been said regarding the German's methods but Karagounis did not find him eccentric and insisted that he should not take all the blame for the team's situation.
"He (Magath) was not ready for that kind of step.
"He had different beliefs and it was hard for him to contribute to the team.
"His ways didn't help but things were already difficult."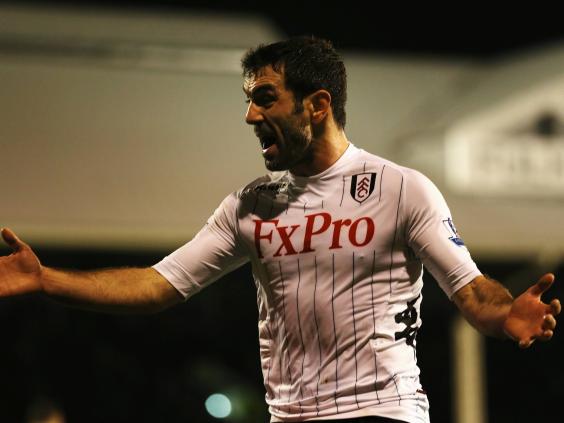 The former midfielder's last stand took place in Brazil where Greece came a whisker away from qualifying for the quarter-finals.
The Greek said that the National's appearance last summer was equally as successful as the Euro 2004 triumph because it established them as one of the best in the world.
"2004 was fantastic, no one expected it as it was the biggest shocker.
"However, in the next 10 years we reached an unbelievably high level and we were regularly present in the big competitions."
Now he has taken a new role on Greece's coaching staff next to former Chelsea manager Claudio Ranieri.
The team is struggling as it has failed to pick up a win in qualifying and has lost two out of three matches to Northern Ireland and Romania.
But Karagounis argues that the team is undergoing a major transition, which is not always easy, as many players left and a new managers was appointed.
"We didn't start well but we have faith in the team and the coach.
"There is plenty of talent in the team but we need to restore the old character and mentality because talent is not always enough."
The former Fulham veteran believes that better results will come and hopes that that the hard work over the last 10 years will not end here.
Reuse content