Which one are you? "Active Adrian", "Busy Dad Darren", or maybe "Five-A-Side Faisal"? I was "90-Minute Noah" once, but admit to being more a of a "Me And The Kids Martin" these days. One day I expect I'll be "Gets Me Out Of The House Gordon".
These are six of the 10 "customer typologies" formulated by the Football Association following extensive market research as it seeks to increase amateur participation. After decades in which the parks game was more or less left to function by itself while the FA focused on the professional side, especially the England team, the national body is now actively attempting to grow the game at grassroots.
This is in part driven by outside agencies, such as Sport England which measures participation levels and dispenses (or withholds) grants accordingly, but also by a recognition that this is its responsibility.
In recent years the FA has finally woken up to the reality that amateur 11-a-side adult football, left unaided, is withering away, despite the boom in popularity of the televised professional version. As The Independent highlighted in the autumn, the parks game is in crisis. Poor facilities and rising costs have combined with changing lifestyles, notably increased weekend working and greater parental involvement by fathers, to create a steady drain of players. Between 2009 and 2014 2,360 adult male teams packed in the unequal struggle to raise a side and pay the bills; an eight per cent drop.
Today, at the FA's HQ, St George's Park, Ross Antrobus, the FA's Head of Customer Insight, will address the FA Grassroots Leagues Conference on "The changing world of adult football – How can leagues respond to changing participation patterns?" "90-Minute Noah" and "Clubman Colin", the bedrock of the parks game, will feature in his presentation, but so will "Kickabout Kyle" and "3G George", the players who do play some 11-a-side football, but not often enough.
"Maintaining current players and getting former ones back is the thrust of conference," said Antrobus. "Outside the speaking slots, workshops cover the role of facilities, volunteers, technology and governance, in addition to my work around what the 'customers' of football want from the playing side of the game."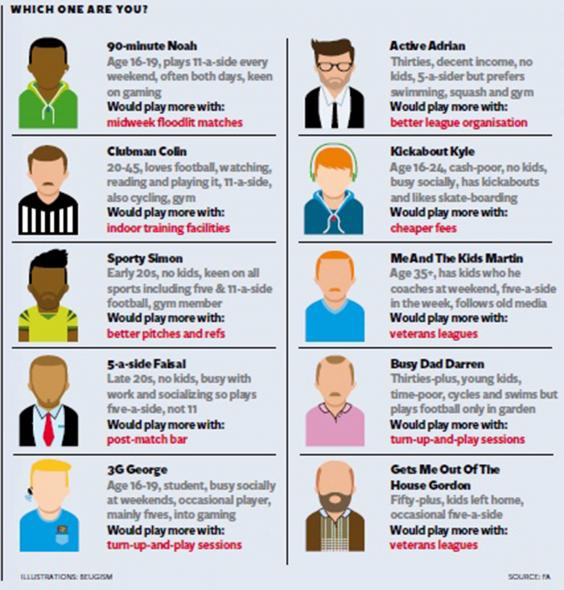 The profiles, if "Me And The Kids Martin" is any guide, are largely accurate. Those in this group play regular five-a-side, motivated by the desire to keep fit and socialise afterwards. But at weekends they coach their children rather than play. The majority are 35-plus, have  a youngest child aged five-11, spend about five hours a month playing football and part of 10 days a month doing sport generally. This group is more likely to coach, volunteer and officiate at games. They also sail and cycle.
Of course, like horoscopes, you can always find something that fits in a profile, but apart from messing about in boats much of the rest personally resonates.
What interests the FA in particular is what deters people in this group and the others from playing more frequently, what could persuade us to play more, and how we can be reached to be persuaded?
"Five-A-Side Faisal", for example, would play more often if there is somewhere convenient he can socialise with his team-mates afterwards. Indeed, an on-site bar is as much a part of the secret behind the success of multi-pitch centres like Goals as decent surfaces and changing rooms.
Besides the demand for better pitches and facilities – a familiar grassroots lament and an issue belatedly being addressed – many respondents wanted more flexible 11-a-side football, such as the turn-up-and-play sessions being trialled by the Cambridgeshire FA. Part of this weekend's conference will be looking at the practicalities of this.
The FA study – "Exploring the Male Football Universe in England" – which features "Sporty Simon" and co, also identifies how these players can be reached. An advert in PC Gamer may catch the eye of "90-Minute Noah" while "Gets Me Out Of The House Gordon" listens to Talksport. The discerning "Clubman Colin" reads The Independent but "Sporty Simon" is more easily reached via the MySwimfit app.
Some may feel the cost of such in-depth research would have been better spent on playing facilities, but given that last year Sport England slashed £1.6m from their grant to the FA after a drop in participation figures, it should be cost-effective.
So whether you are "Kickabout Kyle", "3G George" or "Busy Dad Darren", prepare to see an advert luring you back to the game you once loved to play every week, and might do so again.
Reuse content