Greg Dyke has responded to Heather Rabbatts' criticism of the commission that the Football Association chairman set-up to tackle the current state of the England team, after the board member accused the governing body of "letting down so many black and ethnic minority players" in a public letter.
Rabbatts was critical of the all-white, all-male task force suggesting that "the opportunity to lead an informed debate on the future of English players has been singularly damaged" and also that the lack of diversity "has exposed the FA at a vital moment."
However, in another public letter released on the FA's website Dyke wrote to say that suggesting they had never considered an ethical balance among the group selected would be an unfair claim.
"I do accept we made a mistake announcing only part of the membership of the Commission when we did, but to suggest we never considered the ethnic balance of the Commission is unfair," said Dyke.
"We originally had Clarke Carlisle as a member but the PFA decided they would rather have their new Chairman on the Commission and we also identified other individuals from the BAME community who we felt would add strength and value to the Commission.
"Unfortunately, as they are active in football on a day-to-day basis, they felt the time commitments would be prohibitive. As you know, we still want to see people with relevant experience from the BAME community on the Commission and giving evidence to it."
Dyke added that had the furore over Roy Hodgson's dressing room 'space monkey' joke not arisen earlier this week, the final two or three members on the commission would have already been announced.
"The make-up of the Commission has been moving for some time but I did explain to you and the Board that we planned to appoint two or three additional members and would have done so this week had the issue of Roy Hodgson's dressing room comments not blown up," admitted Dyke.
The 66-year-old then went on to add a personal tone to the letter, in which he appeared to have regretted Rabbatts' need to make her feeling public.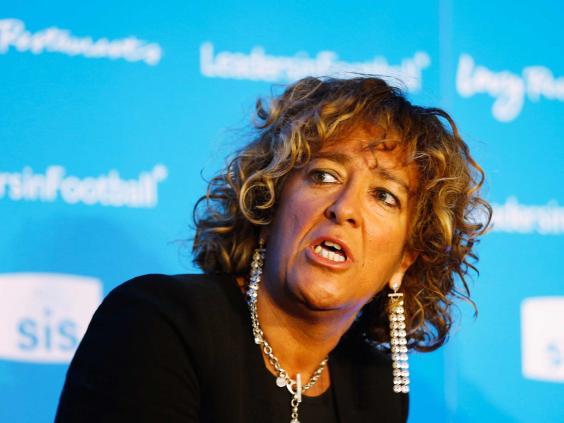 Dyke wrote at the beginning of his letter: "I recognise your strength of feeling on this issue but I am sorry that you felt that you had to make your concerns public."
He added: "Heather, we go back a long way, we've been friends for a long time and I'm sorry if this has been a difficult issue for you but, as you know, the aim of the Commission is two-fold.
"The first is to try and strengthen the England team going forward. The second is to ensure that talented English kids, whatever their ethnicity or creed, are able to fulfil their potential to play at the highest level in English football, something which currently we are not sure is happening.
"If we can make some progress towards achieving both these aims it will have done a good job."