We should never have been allowed to get so ahead of ourselves, but what a pity that exactly two months from now there will be no return to Parliament for the Right Honourable Sulzeer Jeremiah Campbell MP.
Sol, as he is marginally better known, has sadly ended speculation linking him with the safe Kensington seat in west London, simply stating: "My ambitions lie elsewhere in the political arena."
What a pity indeed. The Palaces of Westminster have everything that would be required as a halfway house for the safe re-entry of retired footballers into wider society and we had hoped Campbell might be the vanguard of the movement.
Having spent a decade and a half in a world where being a convicted drink-driver, racist or rapist is no barrier whatsoever to the unconditional adulation of millions or the accumulation of vast wealth, a mandatory five-year term in Parliament as a form of national service is an excellent idea.
Arsenal's 2004 'Invincibles': Where are they now?
Arsenal's 2004 'Invincibles': Where are they now?
1/11 Jens Lehmann

German goalkeeper, who played every match of the unbeaten run rejoined the club on loan in 2011, coming out of retirement. Now aged 44 and retired for a second time

2/11 Lauren

Right back retired in 2010 after playing in the Spanish second division for Cordoba

3/11 Sol Campbell

Rejoined Arsenal in 2010 before finishing his career at Newcastle in 2011

GETTY IMAGES

4/11 Kolo Toure

Now at Liverpool after leaving Arsenal to sign for Manchester City

GETTY IMAGES

5/11 Ashley Cole

Went on to win more major honours at Chelsea, including the Champions League, but out of contract with the Blues in the summer and joined Roma

GETTY IMAGES

6/11 Robert Pires

Happily retired now but can occasionally be seen training with the Gunners

7/11 Patrick Vieira

Currently U-21 coach at Manchester City

GETTY IMAGES

8/11 Gilberto Silva

Plays for Atletico Minieiro in Brazil. Still trains with Arsenal during off-season

GETTY IMAGES

9/11 Freddie Ljungberg

Retired from the game in 2012 after stint in Japan

GETTY IMAGES

10/11 Dennis Bergkamp

Assistant manager to Frank de Boer at Ajax

GETTY IMAGES

11/11 Thierry Henry

Rejoined Arsenal in 2012 on loan from New York Red Bulls, but announced his retirement from the game in December 2014 after his contract expires

GETTY IMAGES
There, on a salary in no way commensurate with your skills or workload, it really doesn't matter whether you restore peace to a small country, devote your life to the advancement of women or science or badgers or anything at all; if you want an easy life you will still have to spend the weekends pretending to be an estate agent at parties.
That said, Campbell in particular is better versed in vitriol than the average footballer. Better indeed than the average politician. Who could possibly forget that when Campbell swapped White Hart Lane for Highbury in 2001, one Shaun Woodward, MP for Witney, was embarking on an equally poisonous defection – from Tory to Labour – yet only one of the two men had to spend the next seven years reporting death threats to the police.
And let's not forget, Campbell is an avid campaigner. There's his Kids Go Live charity, giving tickets to top sporting events to inner-city kids of the type he once was in Plaistow, east London. This is a man born into actual, real disadvantage, not just cursed with middle-class guilt and a burning desire to go to Oxbridge, make a load of money in the City and then in your forties pretend to want to do something about the unfairness of it all. And having scored two disallowed winners in major international tournaments, can there be anyone alive with a keener sense of injustice?
Unfortunately, though – and this we fear is Campbell's Aristotelian fatal flaw – his Achilles metatarsal, in the life of public service that one day awaits him, is that despite all this he is at his most exercised by matters of his own naked self-interest.
Even David Cameron and George Osborne have the nous to claim "We're all in this together", as they drive their armies of slave labour into Poundland, from which the only beneficiaries are their private equity mates on Wall Street, who pocketed £150m from its partial sale three weeks ago.
Yet Plaistow boy Sol has been driven into the political realm most noticeably to fight Labour's proposed mansion tax, which threatens his Chelsea home and, he claims, has turned him and other unfortunate multiple-mansion-owning types into "sitting ducks". ("They have gone too far now," he said. "This needs to be nipped in the bud.")
Simultaneously, he can, he says, mobilise "the black vote", and no doubt that's true. There is a large Afro-Caribbean population that live in near poverty in social housing in the north of his would-be constituency, who only enter into the public consciousness for a few days each year at Notting Hill Carnival time, when they samba their way past the multi-million-pound front doors of half the Tory Parliamentary party.
It's hard to imagine these people being all that motivated to start banging their steel drums in defence of Sol Campbell's property portfolio, but who knows? If he can pull that off, then the Tories could be as invincible as Arsenal once were.
One really dodgy place for a World Cup is... Russia
As we continue to recoil in horror at the thought of a World Cup in December in seven years' time, there can be no one who finds the absurdity of it all more hilarious than Vladimir Putin.
Of the many reasons to object to the Qatar World Cup, human rights abuses and the whiff of corruption far outrank the disruption to one season of Premier League football. Yes, Fifa's total disregard for the rest of everyone and everything else to make this tournament happen in a country so entirely unsuited for it is important, as it is so beautifully revealing of just how venal and greedy and shameful and cravenly pathetic that organisation is.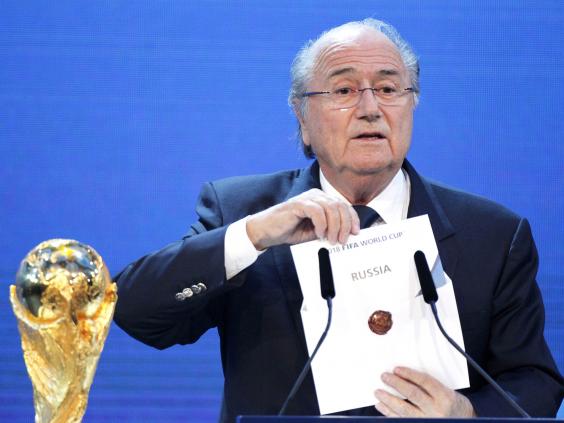 But in the meantime there's Russia 2018. And when it comes to corruption and human rights abuses, there is a country that makes tiny Qatar look even smaller. It was Russia, not Qatar, who we now know told Fifa's anti-corruption investigators they were sorry but their computers had all been wiped – the 21st-century equivalent of a hungry dog left unattended by the freshly completed homework.
And three years from now, when it'll be Vladimir Putin handing that little golden trophy to the Germans in the Moscow night, how many more opposition politicians will have been shot dead on the streets in front of the miraculously obscured CCTV cameras? How many more journalists will have been murdered on their doorsteps? How many more sovereign territories invaded and defectors radioactively poisoned on foreign soil?
Qatar is seven years away, and it's definitely happening. So, for the time being, it really is time we started to talk  about Russia.
Reuse content