Malky Mackay has spent weeks in the solitary confinement of his pariah status, preparing what he might say, if the chance to manage a football club might come his way again. He was contrite and articulate on Wednesday, and did not take the bait when the chances to discuss victimhood were put his way at his first press conference. There would be laughable irony about what has come tumbling out from the man who hired him, in the past 48 hours, if only it were funny.
Dave Whelan provided the kind of mildly excruciating, unreconstructed talk on Wednesday which belonged in the 1970s. Today he gravitated into something quite different: an extraordinary discussion of Jewish people and Chinese nicknames - in the course of a conversation about Mackay's texts - which you imagine would have left the Scot in a dark room with the lights out and a pillow over his head. Mackay finds himself dragged deeper and deeper into an abyss. 'Poetic justice,' those who do not want to see him back in football management will say. But they are wrong.
There's nothing quite like a demon in football, of course - someone we can all agree is a disgrace to the game - and Mackay justifiably joined the ranks when he sent the three text messages which belonged to the sewers.
But for how long should he remain a pariah? For as long as we think it takes for him to be chastened by the realisation of what he has done, apologise, attempt to understand the damage done – and to change? The right certainly exists in an intelligent society to do wrong, learn from it and be granted a chance of redemption. But no-one seems to want to know whether Mackay has undergone that process, though there are very many people in the unreconstructed world of football who have read Mackay's texts and thought 'there but for the grace of God.' The messages are indefensible but the difference between them and him was that his mobile phone was seized and he got found out. A lot of people have conducted themselves differently since Mackay was exposed.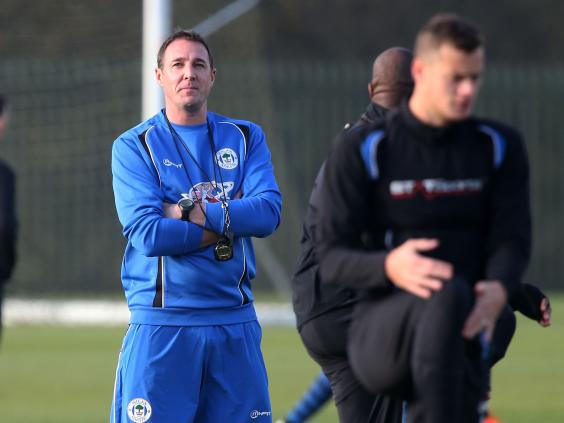 Those who actually looked him in the eye on Wednesday afternoon heard him effectively shout Whelan down, as the old man plunged into suggestions that the new manager's private text messages were no one else's business. "I now know that, public or private, it doesn't matter. I shouldn't have done it," Mackay insisted. Then he spoke with contrition around a table with press journalists - briefly interrupted while the embarrassing boss, 35 years his senior, clattered and gabbled at the back.
Mackay's words were background detail today, in a press conference which was characterised as the 'Dave and Malkey Show.' The anti-racism organisation Kick it Out (KiO), which does immensely good work, did not want to discuss what he had said.
KiO say Whelan should not have hired Mackay before the Football Association concluded its inquiry. Wigan's move – and the FA's stasis – are hardly the manager's fault.
The way Whelan speaks makes Mackay the least convincing imaginable witness to the fact that his new manager is "not a racist." But I venture to say that there is difference between a racist and the perpetrator of a racist act, however vile. I've seen a fair few of the former. They resided in the suspicion-fuelled white sink estates and posh villages of northern England, which were rich pickings for the British National Party in the last decade. And they reside throughout sport. An event at the House of Lords today, heard that only three per cent of the people serving on the boards of British sporting bodies are from black and minority ethnic communities. A full 30 sports have no senior BME representation at any level, the Sporting Equals new report - "Who's on Board?" revealed. Innate suspicion and exclusion: that's racism.
Mackay's Wigan press conference adds up to nothing, you might argue. These events are an exercise in self-publicity. And they generally are. So it is worth adding that the process of investigating Mackay, in the past few months, has encompassed trawling around players who might attest to him being a racist. I have found none. That seemed to say something, before Whelan's garrulous garbage drowned it out.
Reuse content